3/14/03 - "SXSW", Austin, TX, Stubb's BBQ
Incomplete setlist:
Rockets - 4:14
American Flag - 4:09
I Dont Blame You - 3:16
Good Woman - 6:46
Fool - 5:00
Sad, Sad Song - 3:52
Dead Leaves And The Dirty Ground - 3:52
Total Time: 31:09
This was the 23rd performance of the tour. The band is now in Texas to play a concert as part of the SXSW festival. The concert took place at in the back yard area of Stubb's BBQ.
Appearently the whole concert was videotaped by a fan who was kind enough to post some excerpts on youtube. Thank you for sharing this! Hopefully the whole thing will be made available one day. The recording was made fairly close to the stage and mainly focuses on Chan but there are plenty of shots of the other band members. The video quality is pretty good, for youtube anyway. There are a couple small cuts in some of the songs but they seem pretty minor. The sound is in stereo and all the instruments are heard well.
The video is on youtube in 4 parts, one of them includes some White Stripes video. There is also some video from 9/17/04 as well. You can find them here:
https://www.youtube.com/user/chasspeed/videos?query=cat+power
"Rockets". This is a nice rocking version with some great singing from Chan. We can see that Margaret is playing bass with band on this. There are a few short cuts in the video, but otherwise mostly complete.
"American Flag". This cuts in on the opening notes. There are some good close ups of Chan. Unfortunately the video cuts out before the end of the song.
"I Dont Blame You". This begins with a short clip of Chan saying, "Thank the lord, it's hot". The video then cuts right to the 2nd verse and continues to the end of the song with Coleman adding a nice country sounding guitar flourish. Some nice close ups in this as well.
"Good Woman." The video cuts in, missing the beginning notes. Chan begins the first verse but abruptly stops to ask, "Do you think this is too slow?". The band then restarts the song and there are several shots of the rest of the band who are all adding backing vocals. The song ends alittle awkwardly, but is not bad.
"Fool". Again some nice close-ups of Chan. We get to see that Margaret is on bass for this one and again she sings along with Chan. Following this Chan says, "What's your sign?"
"Sad, Sad Song". This is no cut in the video as the band goes into this song after "Fool". It's a good version of the song.
"Dead Leaves And The Dirty Ground". Coleman sings along with Chan on this White Stripes cover. Margaret plays violin as well. This was the last song of the concert. It's not a very good cover. There are a few more versions from later in 2003 that are better. Chan ends the song saying "I have to go now", and then noodles around on her guitar for a moment before saying "Sorry", and waving to the crowd as she leaves the stage.
Video captures -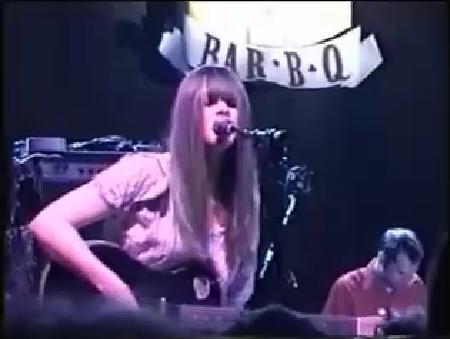 Photo from flickr -
http://www.flickr.com/photos/sammich/2079797/sizes/o/in/photostream/
Review from Austin Chronicle
http://www.austinchronicle.com/music/2003-03-14/149554/
SXSW Live Shot
Music Showcase
By Christopher Hess, Fri., March 14, 2003
Cat Power
Stubb's, Friday, March 14 Clear skies and perfect temperatures made an evening of music in Stubb's big back yard seem like the perfect thing. The line that formed around the corner and down the block for the early set by Cat Power suggested that many had the same idea. Her new album, the formidable You Are Free, and all the accolades thrown its way even months before any of it saw the light of airwaves, surely had something to do with the throngs in attendance as well. This was a highly anticipated set, as Chan Marshall, the sole force behind Cat Power, has over the course of just a few albums become something of an icon in the indie rock world. Her music is unique and odd -- often obsessively quiet and moody to the point of exhaustion -- and her persona has taken on a life of its own. She's also known for spotty live performances: Songs and sets abandoned or sabotaged in the face of dissatisfaction are not odd occurrences. This evening's set started out languid, building slowly to a loudness not often attained in her shows. For a while, it seemed, there was rocking. A sultry blues treatment of "I Don't Blame You" off the new album led to a brief visit to Moon Pix material, and then it became apparent that all was not going well. Marshall's reply to the enthusiastic applause was, "Oh, that sucked, and you know it." A brief attempt at a solo song with piano was abruptly aborted, and an attempt at the blues grinder "Dead Leaves on the Dirty Ground" was cut short as well. "Sorry," she said, sounding sincere but resolved. She rose from her chair, bent to the mic for another "Sorry," then left the stage. Oddly enough, no one seemed to mind.

Cokelike




Messages

: 3538


Thanks

: 17


Date d'inscription

: 2012-02-14



---
Permissions in this forum:
You
cannot
reply to topics in this forum