9/18/04 - Austin, TX, Zilker Park, "Austin City Limits Festival"
This was the third date of the five date tour of the south. Chan appears on the second day of the 3-day "Austin City Limits Festival", 9/17-19/04. Again, she plays solo. I dont really know, but it being "Austin City Limits", I assume someone taped this in some form. I'd like to hope so.
2 Pictures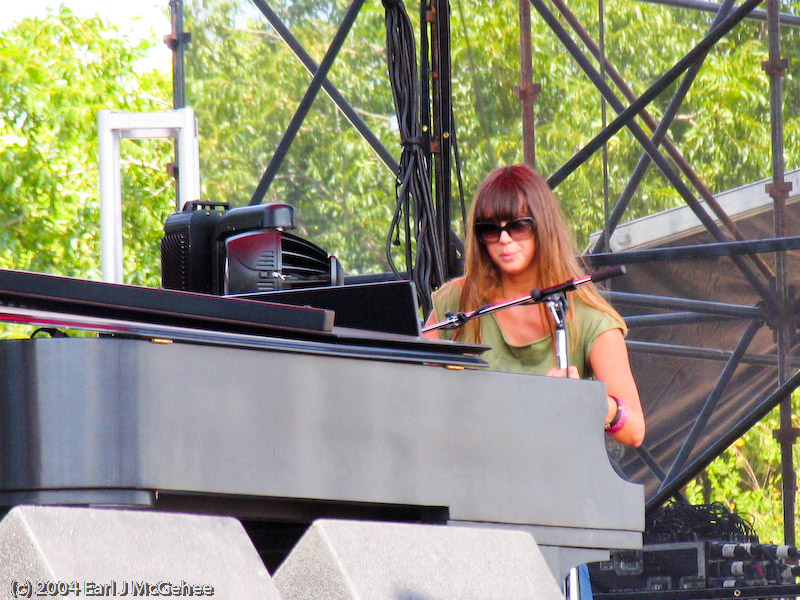 ----------------------------
2 Pictures and Review
So, we were all excited about the possibilities that Cat Power would bring. She has a reputation for melting down during performances. She also has an interesting voice and could put on an amazing performance. To add to the fire, the band playing all the way across the field was playing loud enough for her to tap along to it for a moment. What we got was a very interesting performance; depression in 95 degree heat and slow slow monotone type depressing music at that. She didn't really melt down, but did end the set a few minutes early and apologized for a crappy performance. Highlight of the set was a slow, almost Nico'ish version of Satisfaction. We both would love to see her in a small club somewhere and get a better feel for her music.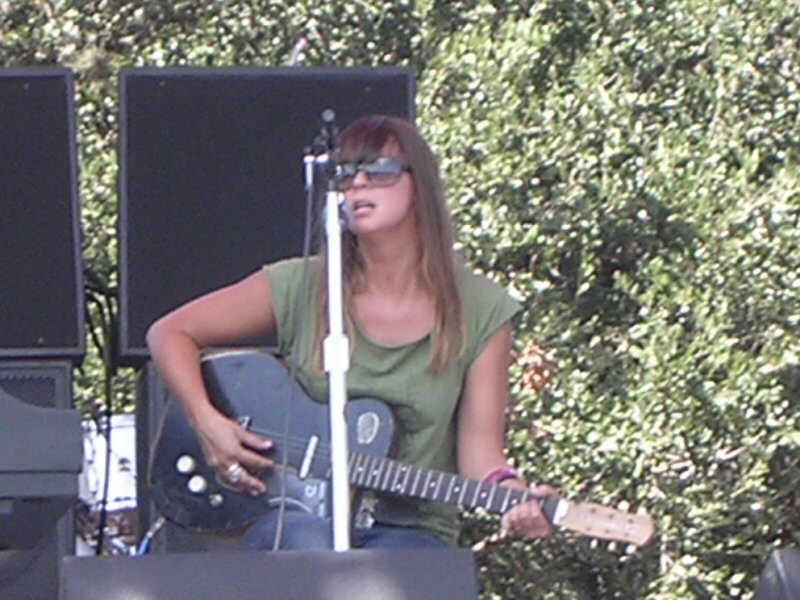 --------------------------------
4 Pictures and Review
Open your mouth up wide. Now, exhale deeply. Finally, make noise instead of just exhaling. This is how Cat Power (a.k.a. Chan Marshall) sang, except that she opened and closed her mouth. Her voice was moving, mournful, and cathartic at the Austin City Limits Festival Saturday afternoon.
The singer/songwriter is known for her stage fright, and stage managers surrounded her before the show. Their main task was to keep Marshall calm and on stage, it seemed. As the concert began, Cat Power displayed eccentric tics. Marshall wore large sunglasses in the shade and was meticulous in the execution of her songs. She started songs over if she wasn't happy with them.
As the concert progressed, she loosened up, though. The sunglasses came off, she had the audience sing happy birthday to her soundman, and she even joked around with the audience a bit.
She was a one-woman band. Her soft delivery kept the audience silent and hanging on her every word or noise. Sometimes, it was hard to decipher her lyrics. Her voice was sculpted towards tales of heartbreak, abuse, and insecurity. She also spoke of inner peace and personal freedom.
Marshall kept her songs above water despite strumming one chord over and over again a number of times. Maybe it was the strength of her voice. Maybe she was trying to build up an emotional immediacy. Either way, the songs were enjoyable, but they were also emotionally draining. The sadness in her voice took energy out of me after a while. I was almost glad when the concert ended.
When Marshall switched to piano, her songs were just as effective. The concert was a success.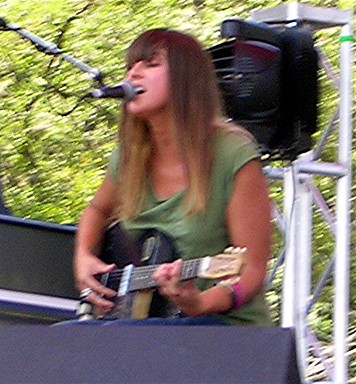 ----------------------------
Matador Forum Member Reviews
The show looked like it was Woodstock or something. There were 8 stages, 75 thousand people on saturday and the temperature was about 100. Around 1 pm, Cat Power played for an hour on one of the two biggest stages. Having never seen Cat Power play, I didnt know if it would be her, her and a group or what. It was just her. Listening, it was hard to believe it was just one person. The vocals seem to make time stop or at least suspend itself. The hour went away before it began. The joints were simple arrangements - all either vocals and piano or vocals and clean electric guitar. But the voice took me to a different place. Towards the end of the set, she cooled off a few up front like Ozzy Osbourne tossing a few beers in to the crowd.
----------------
As for Chan's performance, her act doesn't seem to translate well into the outdoor music fest atmosphere. She's an intimate singer performing intimate songs. A huge stage and 70,000 people (at the entire fest to be fair) is not intimate. The DMA performance was though. But I'm glad that many people were able to be exposed to CP at ACL.

Cokelike




Messages

: 3538


Thanks

: 17


Date d'inscription

: 2012-02-14



---
Permissions in this forum:
You
cannot
reply to topics in this forum