4/16/03 - Newport, KY, Southgate House
Incomplete setlist:
Good Woman
I Dont Blame You
Knocking On Heavens Door
This was the 41st performance of the tour.
Short Review from Matador Forum Member
Last night was the first night I got to see Chan live and I was kinda freaked out. She didn't apologize, she didn't even really say much, it seemed the lead axe man was talking for her. It was like she was wasted or something, very bizarre. Granted, the crowd was rude, with people in the back chatting incessantly, but most of the crowd was up close straining to hear.Anyway, not how I imagined my first Catpower show. I will still buy the albums, and will give another show a try if they come close.
Pictures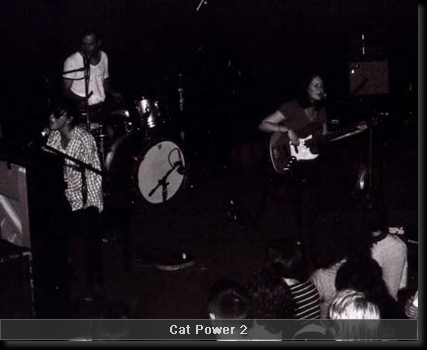 Poster -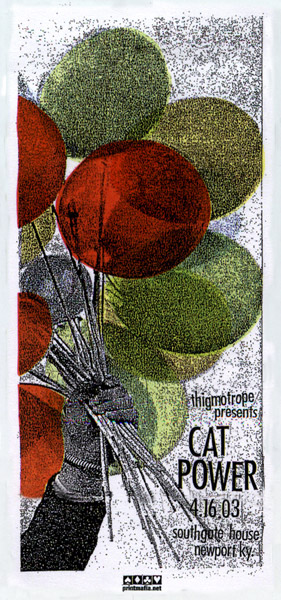 Fan review by Jon Calderas-
http://web.archive.org/web/20040611064940/http://moonpix.com/reviews/fanreview.php4?ID=13
A surprisingly strong, meltdown free show from Cat Power. This was a much different show than the last time I saw Chan at Old Town School of Folk Music in Chicago in April 2000 (where she played solo shows on guitar and piano).
There was much more energy on stage and the addition of a second guitarist, drummer, and multi-instrumentalist (woman on violin, bass, back up vocals and keyboard) helped flesh out the material. The version of "Good Woman" was amazing, it reminded me of the quiet intensity that Nick Cave can summon at will.
'Don't Blame You' was stepped up and amped out a bit, almost like a 60s pop tune. And a Dylan cover showed up near the end- although it took a couple runs through the chord progression to catch on what it was. I won't ruin it for you.
The first 50 minutes or so were full band with Chan seated and hiding behind her Lou Reed via Peter Laughner sunglasses. Then the band left the stage and Chan played several tunes on guitar and piano for about the same length of time. It was engaging, but a lot of people took the opportunity to talk all over the set. The only time she took off her sunglasses was to face the piano and play some songs. I like that.
At the end of her solo set, she put the glasses back on, picked up her guitar and started riffing on a slow, familiar chord progression. She kept playing as the rest of the band came on and charged through another cover (again, won't ruin it for you, but it was from one of last year's best albums).
Overall, a really good show. The full band stuff was solid and as good a show as I've seen this year, maybe the best yet. The solo quiet stuff didn't work as well in the venue, but you may get lucky. I liked it, but I wish the audience had more respect for when an artist tries quieter material.
Before the show, I was standing near the back of the bar when Chan walked past me. I had a CD with me on the off chance that I got to see her. I asked her if she could sign the insert for 'Moonpix'. You read so much stupid press about people, I wasn't sure how she would react. I hesitated because I thought she would get that 'deer in the headlights' look or run like a scared rabbit. Instead, she softly said, 'Sure' and asked my name, talked to me a bit. I told her how much I enjoyed the new album and the show she did at Old Town a few years back.
She was super nice, polite and accommodating - she seemed really grateful that people appreciate her work. I said, 'Good luck with the show' . She looked at me from behind those Foster Grants and wryly said in that
cracked voice, '..or break a leg as they say' .
She smiled softly, put her hand out, and gave me firm handshake before heading back to her dressing room to get the band. I can still feel the pressure from her hand fading.
Cheers,
Jon Calderas

Cokelike




Messages

: 3538


Thanks

: 17


Date d'inscription

: 2012-02-14



---
Permissions in this forum:
You
cannot
reply to topics in this forum