9/12/06 - Atlanta, GA, Variety Playhouse
Setlist (unsure exactly what was played):
Soul SerenadeThe GreatestLiving ProofLived in BarsCould WeEmpty ShellWillieThe MoonIslandsWhere Is My Love *Who Knows Where The Time Goes? *Wild As The Wind *I Dont Blame You *House Of The Rising Sun *Since You've Been Gone (Teenie Hodges)Naked If I Want ToSatisfactionCross Bones Style - Nude As The News MedleyTracks Of My TearsCrazy
* solo
This was the 52nd performance of the year. This would appear to be the first performance of ''Crazy'' with the band. 
Here's what the setlist below says, I think some of these were just choices and that she didnt play all of them. And I do wonder about ''Colors And The Kids'':
Soul SerenadeThe GreatestLiving ProofLived in BarsCould WeEmpty ShellWillieThe MoonIslandsWhere Is My Love I Found A Reason *Wild As The Wind *Maybe Not *House Of The Rising Sun *Love And Communication *Ramblin' Woman *Since You've Been Gone (Teenie Hodges)Naked If I Want ToCross Bones Style - Nude As The News MedleyColors And The Kids I Dont Blame You *Blue Moon - All I Have To Do Is Dream Medley *John, John *I Cant Give You Anything But Love *
* solo
http://www.flickr.com/photos/foocow/242135070/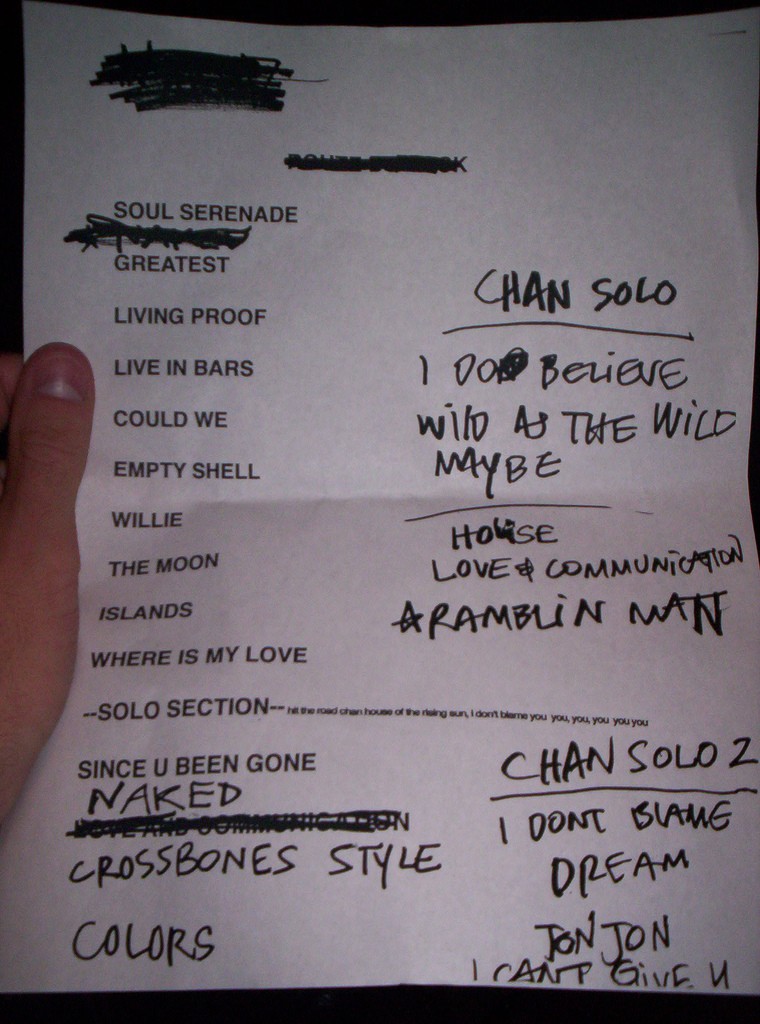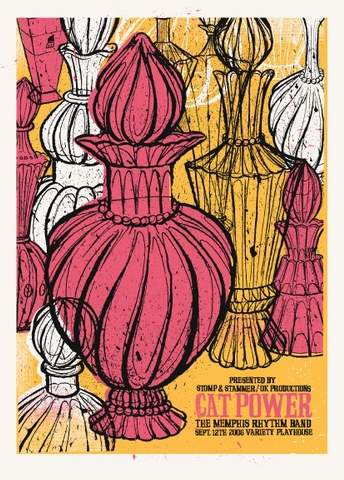 --------------------------------------------
Review
http://www.pastemagazine.com/articles/2006/10/cat-power.html
I had heard that Chan Marshall, a.k.a. Cat Power, is a notoriously stage-frightened and tortured performer, so when a back-up singer of the Memphis Rhythm Band announced, "Ladies & Gentlemen, Cat Powerrrrrrrrrrrr!!!!" I expected a reluctant and sheepish girl to come cowering to the microphone, fumbling with her hands, bangs over her face, head pointed downward.
Boy, had my informants misled me. [Really, they hadn't. I have discovered that Cat Power is just recently sober and has taken on a new, happy and lively stage persona.] The girl got down. She danced. She laughed. She hugged and kissed her bandmates. She waved giddily at fans. She pantomimed every lyric. For most of the show, she was downright goofy.
The show kicked off with "The Greatest," the title track off of her latest album, on which she teamed up with several rhythm and blues bastions to give her sultry and solemn songwriting a bed of lush violins, percussion, bass, organ and horns. Cigarette in hand, and taking drags between verses, Marshall let flow her strikingly smoky vocals effortlessly. During the instrumental segments, she took the opportunity to loosen up her melancholy lyrics with a chicken dance across the stage.
Crowd enthralled, Marshall and the band glided beautifully through most of The Greatest, lush, vibrant and lively throughout. Marshall remained center-stage, back-lit with red bulbs, incessantly waving her arms, swinging her hips and strutting around on stage.
Following the contemplative "Lived in Bars," she picked up her guitar for "Willie" and proceeded to take off her modest button-up shirt to reveal a black scoop neck body suit underneath. Asking the concert goers if they liked her hair extensions, Marshall claimed the locks were "Asian," following with her best Yoko Ono impression. A little odd, perhaps, but needless to say, the audience was charmingly wrapped around her little finger.
Light-hearted moments aside, Marshall did settle down to pensiveness for a few numbers during which the Rhythm Band left her alone on stage to retreat into herself and the piano. She performed the sparse piano number "Where Is My Love?" along with Nina Simone's powerful "Who Knows Where the Time Goes?" and the lone You Are Free selection, "I Don't Blame You."
Closing out the show, the band returned and kicked it up to high-energy level for Teenie Hodges' "Since You Been Gone," as well as old Cat Power numbers "Cross Bones Style" (from Moon Pix) and "Naked, If I Want To" (from The Covers Record).
A particular highlight came at show's end, when Marshall covered Gnarls Barkley's hit summer jam, "Crazy." Masterfully, she took the biggest pop song of the year and transformed it into a sparse and introspective number. Standing alone on stage, she stripped the song to its vocals only, bringing out the lyrical poignancy that gets glossed over in the Gnarls radio hit:
Even your emotions had an echo in so much space/ Who do you, who do you think you are/ Bless your soul, you think you're really in control.
The band eventually came in to carry the song through, but still left the lyrics to dominate - truly an unexpected and delightful cover from the unexpectedly happy new Chan Marshall.
-------------------------------
Review
http://cup-of-coffey.blogspot.com/2006/09/power-of-cat.html
The main event was Cat Power, performing at Variety Playhouse (my favorite music venue in town). The Connecticut beloveds and the Northwest doppelganger warned me that I might be sorely disappointed since Chan Marshall's performances had been pretty rough the last few years. I'd heard that she was on the wagon, though, so I was confident that I was going to see a great show. So confident, in fact, I skipped the sure bet of seeing R.E.M. perform in Athens last night. (Don't feel sorry for me, lovelies; I'll see the original Berry/Buck/Mills/Stipe lineup perform on Saturday.)
Thank you, Chan, for kicking our aural asses last night and proving the naysayers wrong. She was amazing — sultry, ethereal, fun. She's a shy one and her dance moves were cute yet stilted in the beginning, and it was fun watching her warm up and let go.
I judge musicians on the covers they perform. It's a great way to discover their influences and get a feel for their love of music. Cat Power hit high marks all night long. One of the sultriest versions of "House of the Rising Sun" ever and a damn good "Satisfaction." Nina Simone (I'm too sleepy to remember which one!) and "Tracks of My Tears." And she stole the show with her cover of Gnarls Barkley's "Crazy."
Cat Power was backed up by the Memphis Rhythm Band. Oh. My. God. What a great twelve-piece — yes, twelve — band. Listening to them, I felt as if I were in the Stax recording studios.
Too wound up after the show, I went home and danced around my living room until about 2 a.m. — windows open, raindrops backing up Cat Power on the stereo. Finally wound down enough to head upstairs, and the rain lulled me to sleep.
----------------------------
Review
http://www.keenlyobserved.com/2006_09_01_archive.html
 I've long groused that if Chan Marshall wishes to make her living playing gigs - you know, that system wherein you take money from the public to perform music, and then deliver on said promise - that she learn to do so already. Notorious for disappointing (and for a certain demographic, titillating) her audience with faulty stops and starts, oozing the consequences of unspoken personal strife, a walking disaster (or was it some kind of elaborate joke?) - the notion of her playing a successful show - hell, even completing an entire song, much less making it shine, brings to mind that classic headline from The Onion:
HOLY SHIT, MAN WALKS ON FUCKING MOON
Well, among this hometown crowd, at last, something was different. Everything was different. She was doing it. Not just one tune, but two, three, the whole damn set, even the solo numbers. And she did so gloriously. The surreal sight of watching her display onstage emotions other than doubt, insecurity or apologetic frustration elicited first wonder, then pride among those present. She explained the transformation herself midway through the set: "I'm sober...hello!!" 
Serving as support system and dazzling on their own terms, the Memphis Rhythm Band buoyed Marshall's elegant delivery with full-bodied, easygoing soul power. Nine or ten strong from my vantage point, these veteran players punched up their Greatest numbers with a lively, authoritative presence, spiking "Willie" with sharp background vocals, gently rolling "Living Proof" into being, and making it clear that their collaboration was one nourished by tremendous affection.
Chiefly responsible for creating a sultry vibe with vocals as smoky as one of her Parliaments, Marshall turned playful, dramatic and physically free. Goofy and joyful, she cracked jokes, quoted Arrested Development and periodically waved to familiar faces, mimicking both horse and chicken at times and generally shaking what mama gave her. Just as quickly, though, she silenced the crowd with "Where Is My Love" and a forlorn "House of the Rising Sun," and hypnotized them with the witchy "Cross Bones Style." Reverting to form, Marshall morphed her Jagger posturing into a churning, wildly reworked version of her take on "Satisfaction," something it appears that she's attained in abundance (enough to follow that number with a sly, pointed interpretation of Gnarls Barkley's "Crazy"). In short, this evening made up for every fumbling "I'm sorry" in the universe.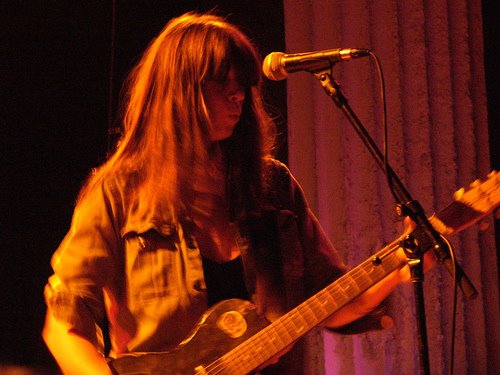 ----------------------------------
Living Proof:
------------------------------
http://www.flickr.com/photos/beardenb/242788889/in/photostream/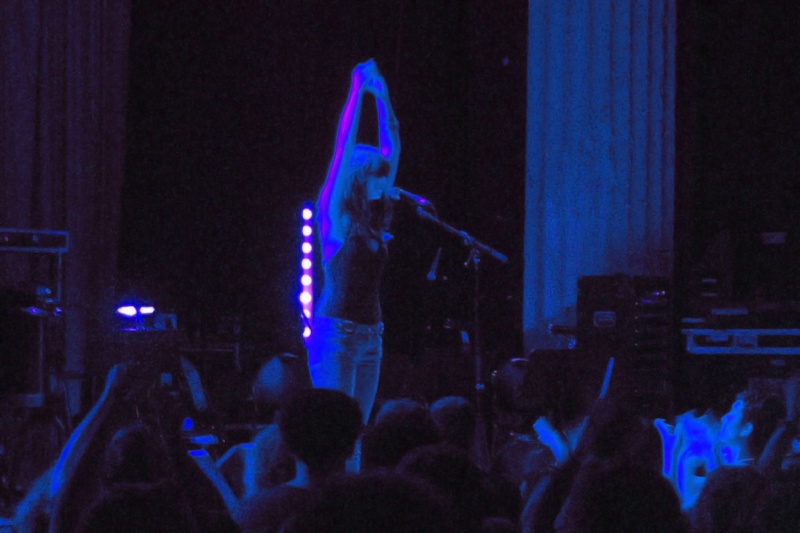 ------------------------------
http://www.flickr.com/photos/96875515@N00/242093078/in/photostream/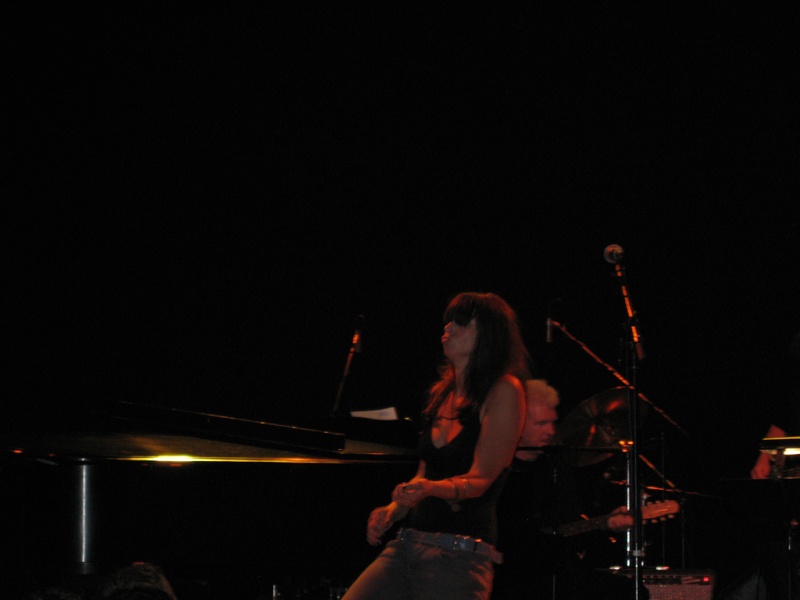 Cokelike




Messages

: 3538


Thanks

: 17


Date d'inscription

: 2012-02-14



---
Permissions in this forum:
You
cannot
reply to topics in this forum