We can use this topic for various interviews from the other members of the band (past and present).
First up, Spotlight on...
NICO!
http://tomtommag.com/2013/01/nico-turner-is-cat-powers-percussionist/
Nico Turner has been playing percussion with Cat Power for the last few months to support the release of Sun, last Chan Marshall's album. We asked her about that experience and her future plans.How would you describe the experience of touring with Cat Power?
It has been fantastic. Every day we wake up and are excited to see everyone. We've all been working really hard too, which is inspiring, to be a part of a team, part of a family, and know everyone around is giving 299% and doing their absolute best… It's exciting.
Tell me an anecdote or special moment that you have had during the tour.
One late night, I can't remember what city we were in, but we had a bit of a drive ahead of us. We all piled into the bus and somehow Gregg (Foreman) started a dance party. Imagine, a bus hurdling down a highway late into the night and inside it 7 people are triumphantly raising their fists and singing (more like yelling) the lyrics to songs like "Gloria" or (insert every great song title here).
Another moment I love is one of first shows in Ithica, NY. Chan went down into the audience, house lights on, and handed people flowers while the band riffed on "ramblin' woman" the audience was so happy and gracious and we just played. It was definitely a moment worth smiling for. Could have stayed there all night.
What drum kit have you been using?
C&C drum co. graciously helped us out with a custom black matte with gold trim kit. Alianna (Kalaba) is playing a full kit, while I have a stand up set up with a snare, floor Tom, Dream splash cymbal and I'm also triggering samples from our Alessis drum pad In a set up that was inspired by friends of mine, a fantastic band called EXITMUSIC.
What are your plans for next year?
Plans for next year are hopefully more touring. I'd like to finally settle into a place of my own. Recording new music is definitely on the horizon. I'm planning on molding a general burst of creative ideas.
Recommend us some music that you are listening to these days…
I'm always listening to old hip hop and blues rock. But a good friend has turned me on to Wild Nothing, and I've also been listening to Suicide (Mr. Pharmacist's influence), Avan Lava, Sister Crayon has a new EP coming out that is on repeat right now. I got Chelsea Wolfe's 'Unknown Rooms: A collection of Acoustic Songs' at the beginning of tour and can't get enough of it.
Photo by Nico Turner
Interview by Cati Bestard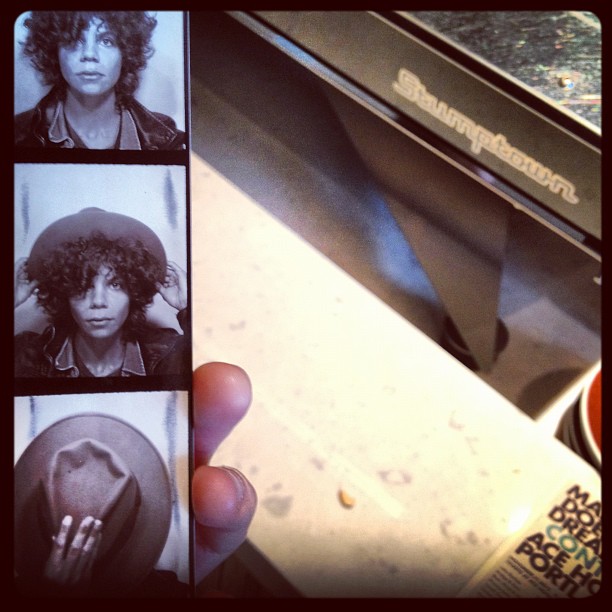 Cokelike




Messages

: 3538


Thanks

: 17


Date d'inscription

: 2012-02-14




Cokelike




Messages

: 3538


Thanks

: 17


Date d'inscription

: 2012-02-14



Nico in 2008! 

Cokelike




Messages

: 3538


Thanks

: 17


Date d'inscription

: 2012-02-14




Cokelike




Messages

: 3538


Thanks

: 17


Date d'inscription

: 2012-02-14



Nico:
http://blogs.dallasobserver.com/dc9/2013/12/nico_turner_interview.php
Cokelike, your video is on page 2!  
"Do you have a solo album in the works?I am recording in January. I think I will have some time off then. I am planning on recording some solo stuff around then."
You could understand that she has a commitment to record with another artist and that she might use the time to record something of her own too. And if you remember, Chan talked on stage about recording something in january... 
Nicolaoua wrote:

Cokelike, your video is on page 2!  

 
Neat! Also cool that she will record some stuff. I'd really like to hear a version of the song where she sings something like ''whatever you want...''.

Cokelike




Messages

: 3538


Thanks

: 17


Date d'inscription

: 2012-02-14




Cokelike




Messages

: 3538


Thanks

: 17


Date d'inscription

: 2012-02-14




Cokelike




Messages

: 3538


Thanks

: 17


Date d'inscription

: 2012-02-14



Recent Interview with Gregg:
http://www.laweekly.com/music/whether-djing-or-touring-with-cat-power-gregg-foreman-honors-rocks-roots-7279879
I am not sure if I've ever read about or heard the story of how you and Chan Marshall started working together. How did you two meet?
Let me take it back: I met her in Miami when I was DJing and hanging out. I had moved to South Florida to live a way of life I don't live anymore. I had a really dark period from about 2000 to 2005. To make a long story short, I got a call from a friend who's in the band Blues Explosion and was asked if I had any interest in playing with Cat Power. I said, "Yeah, I like Cat Power." It was supposed to be two weeks playing some shows. He told me Jim White from The Dirty Three will be in it, and I said yes. She wanted to meet up with me, so I met her at some spa in Florida and we hung out. We got along really well and before I knew it I was in a rehearsal in New York City with a bunch of people. What was meant to be two weeks is now going on 10 years.
How did you come to be her music director?
In the period when the last record was released, I became music director to help her put together a band that had a lot of female vocals. She also wanted me to not only find the right musicians but help show them what to do, all of that kind of stuff. So that's what I did. We held auditions, which is something I'd never done. ... But we got a band together, then we had to put the show together for the road, and it was a really interesting experience. I am happy to be a part of anything Chan Marshall does. I am a big fan of her as a voice and a bigger fan of hers as a human being. It took a lot of work, but it was really good work.

Cokelike




Messages

: 3538


Thanks

: 17


Date d'inscription

: 2012-02-14



Similar topics
---
Permissions in this forum:
You
cannot
reply to topics in this forum