7/27/06 - Santa Monica, CA, McCabe's Guitar Shop
Incomplete setlist:
(first show)
Satisfaction
(first or second show)
End Of Concert
- 0:45
These were the twenty-sixth and twenty-seventh concerts and ninth and tenth solo performances of the tour. You can see Chan wearing a tye-dyed shirt in the video below.
Short Comment And Video
She told the crowd that she wanted to be a curator. Afterwards, a guy from a museum came up and gave her his business card. She was pretty happy.
End Of Concert
, 0:45:
Google Video
[Note: If someone finds a way to add this google video on this page, like I do with the Youtube ones, please let me know.]
---------------------------------
Picture and Review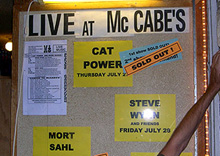 So with a few in us, its about time to hit McCabes for Cat Power. They have that backroom that feels perfectly set designed with general store Americana, but you can actually play and buy (for some serious coin) the guitars hanging on the wall. Place used to strike me as pretentious; now I dig it. Either Im mellowing out or have made one too many trips to Sam Ash. Probably a bit of both. So its a 9 pm show-time (plus some of the expected [desired?] Chan me-time before actually starting). Forgetting the venue itself, the show has the feeling of a special event. Theres about 175 people in this room, easily the smallest crowd before whom she'll play anywhere this year. (Go flickr her + Bonaroo or Coachella to see the masses she can draw). She comes down the stairs, barefoot, in a McCabes tie dyed T-shirt and what she calls her skinny jeans. The room is attentive and appreciative, maybe a bit too reverent. Its quiet to the bone, as if everyone is silently trying to out-appreciate each other, like an art gallery crowd. She starts with a few on her familiar beat up Danelectro, then gets on the upright house piano for a few, alternating this way for almost 2 hours. She is very good tonight. The set is about half from her last 2 LPs and a mix of older stuff, with her "Satisfaction" cover thrown in there for kicks. All the smoking is doing wonders for her voice, her huskiness is perfectly ripened. (Kids: Dont listen to what anyone else tells you, smoking is damn cool.) When shes in the song, she stays in there and holds the room. In between songs, theres just the right amount of loveable goofiness with some tangential storytelling, which may or may not be a manifestation of some OCD, not that it matters. Hell, I'd be disappointed if she just went up there, sat down, didnt say shit, played the songs and went home. As much as you're there to hear the tunes, with some artists, you're just there to be in the room, just be in their company for a couple of hours. A lot has been made of her maturing as an artist, but that's all bullshit talk. (Anyone starts using words like mature or relevant for that matter needs to check themselves.) Just because more recently her records and performances go down easier doesnt mean a thing really. She remains one of the few performers whose shows Id left early, but that wasnt because I wasnt enjoying it, but more because I couldnt handle it, physically or otherwise. At this point, you've got to put her in an elite class of singular singer-songwriters that includes types like PJ Harvey and a few others I cant think of right now.
Coming out of McCabe's, sweaty from the intentionally non-A/C'd room (come on–how much can you possibly make off selling bottled water?), the cool Pico Blvd air feels great, Blue Bus fumes and all. The 11 p.m. shows crowd is lined up on the sidewalk and I catch more than a few of them looking up at our early shows exiting crowd to see if they can get a hint of what to expect, kind of like when you come out of a movie or rollercoaster.

Cokelike




Messages

: 3538


Thanks

: 17


Date d'inscription

: 2012-02-14



---
Permissions in this forum:
You
cannot
reply to topics in this forum