11/6/06 - Berlin, Germany, Volksbuhne
Setlist:
The Greatest - 3:32Living Proof - 3:50Lived In Bars - 4:32Could We - 2:33Empty Shell - 4:04Willie - 6:24The Moon - 4:37Islands - 4:29Where Is My Love - 3:53Who Knows Where The Time Goes? - 4:57Wild Is The Wind - 4:36House Of The Rising Sun - 6:15Ramblin' Woman - 5:04I Don't Blame You - 3:49Remember Me - 4:29John, John - 3:42Naked, If I Want To - 4:57Cross Bones Style - Nude As The News - 4:43Satisfaction - 4:42Crazy - 6:22The Tracks Of My Tears - 3:46Oh, Time - 3:55Paths Of Victory - 3:47I Can't Give You Anything But Love - 2:38Total Time: 1:45:47
This is the 68th performance of the year. This concert was recorded by RBB Radio 1 and aired on the program "Winternachtskonzerte" on 1/1/07. An excellect copy of this broadcast circulates in FLAC format. This concert along with 11/3/06 and 11/20/06 are all worth hearing for fans of the MRB era.  Additionally, there is an audience recording that runs 134 minutes. But I do not have a copy of that. Anyone?
Review - https://www.gaesteliste.de/konzerte/show.html?_nr=1390
Review - https://www.popfrontal.de/pages/artikel/cat_power_061106.html
Review - https://taz.de/!322739/
The Greatest (audio only):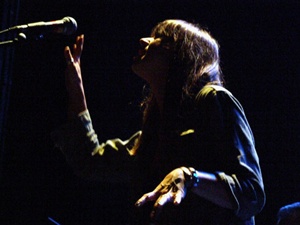 Cokelike




Messages

: 3538


Thanks

: 17


Date d'inscription

: 2012-02-14



Similar topics
»
6/23/13 - Berlin, Germany, Huxley's
»
10/28/18 - Berlin, Germany, Astra
»
11/4/15 - Berlin, Germany, Columbia Theater
»
4/16/18 - Berlin, Germany, Mercedes-Benz Arena
»
7/15/19 - Munich, Germany, Backstage
---
Permissions in this forum:
You
cannot
reply to topics in this forum