3/4/03 - NYC, Irving Plaza
Incomplete setlist:
Taking People
Cross Bones Style
I Dont Blame You
Can I Get A Witness?
The Dirty Leaves And The Dirty Ground
Chan is now in NYC for 2 shows (3/2/03 - solo and 3/4/03 - band) and then heads to the midwest and south to finish up the first leg of the North American tour. This was her 15th performance of the tour. She played 33 performances in 6 six weeks in February and March 2003. The show appearently had a late start.
39 Photos by Kevin Mazur/WireImage -
http://www.gettyimages.com/Search/Search.aspx?contractUrl=2&assetType=image&family=Editorial&p=%22cat+power%22+2003#2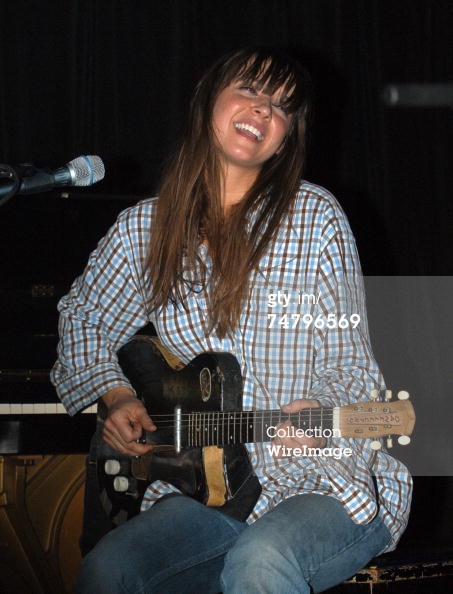 5 Photos by Melody Nelson -
http://www.melodynelson.com/photos/catpower.html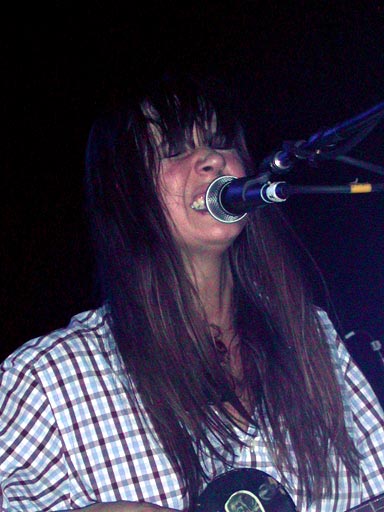 Matador Forum Discussion.
http://forums.matadorrecords.com/archive/index.php/t-245.html
Review from the New York Times -
http://www.nytimes.com/2003/03/11/arts/rock-review-can-a-thousand-people-be-together-and-lonely-at-once.html?ref=catpower
ROCK REVIEW; Can a Thousand People Be Together and Lonely at Once?
By BEN RATLIFF
Published: March 11, 2003
It's common to praise a pop performer by saying that she made a concert into a kind of idealized party. But the Cat Power show last Tuesday night at Irving Plaza replicated the feeling of how most parties are.
About a thousand people -- young, attractive, short-haired, well-behaved, full of ideas -- came in with bright moods, drinking, talking, smoking, packing the place. After two hours the crowd thinned out into those who were desperate or lonely or without anything better to do.
And all through it there was this noise coming from the eastern side of the room, an aimless, moaning sound, not unlikable, like an improvised lullaby sung by a mother who had run out of verses.
It was Chan Marshall, the singer, songwriter and conceptual artist of sorts. (Cat Power is the stage name for whatever form her music takes.) She had a quiet band: Margaret White on violin and bass; Coleman Lewis on lonely, tasteful guitar fills; Will Ratesi playing a drum set with brushes. Ms. Marshall sat on the side of the stage in darkness, awkwardly strumming a Les Paul guitar, occasionally turning to a spinet piano. There were no solos; her songs tend to have no bridges or key modulations; they just doggedly repeat.
Part of her appeal comes from the notion that you could be her, if you had the nerve: she appears to have less musicality than anyone currently making a living from song. This is not correct. She is more beautiful than the average person, and her soft, emotionally resigned, adenoidal sigh -- not far from Beth Orton's -- can be lovely. There is talent in there, somewhere. She offers the promise that the show is about her listeners: their need to congregate, to stand in the darkness, to soak up one another. But she is a pop star, and of course her shows are really about her and her misery.
The psychodrama seems unnecessary. The original songs she performed pushed the trope of vulnerability to the point of feeling like a child; they included ''I Don't Blame You,'' from the new album ''You Are Free'' (Matador), forgiving an unnamed performer for not wanting to play to her audience. The songs contained all the abstract stubbornness one needs to know about her. And her cover versions -- ''Can I Get A Witness?,'' the White Stripes' ''Dead Leaves and the Dirty Ground'' -- were brutal revisions, boiling everything down to a feeling of rootlessness and fatigue.
Review from Village Voice (also 3/2/03):
http://www.villagevoice.com/2003-03-11/music/get-yourself-free/
Get Yourself Free
Fool for the Kitty
By Emma Pearse Tuesday, Mar 11 2003
"I'm sorry, it's my fault. Can I get some more reverb? I'm sorry. Sorry." Amid blue lights and smoke to a sold-out crowd at Irving Plaza last Tuesday. On the new album's best track, "Fool," Marshall sings, "Come along fool/It's not that it's bad/It's not that it's dead/It's just that it's on the tip of your tongue/And you're so silent." Like PJ Harvey and Hope Sandoval, Cat Power is a storyteller. But until The Covers Record, Marshall was telling her own sad story. "Where should I hang my head?" she asked at the outset of Community,her fame-gathering third album. But that record was less interior than its predecessors. The Covers Record was about Marshall the musician—here's me in the music of the greats. Everything was still mottled and beautiful, even on boot-scooting Dylan tracks.
But now, in a self-flagellating career, the silent one—the "disconnected"—is a "fool/ Trying to live and laugh all the time/Sitting alone with your tea and your crying." "Fool" is finger-plucked and lighthearted, full of reverb. Marshall is not condemning her subject who just can't get it out. "We all do what we can," she sings in "Maybe Not."
"Oh, leave him alone": in defense of a verbal fan at Irving Plaza last Tuesday night. "We're all fuckups." "Don't you want to be free?" Cat Power asks every fool in "Baby Doll." Marshall does. The claim to freedom threading through the 14 tracks of You Are Free is about the self-consumed artist's climb outside of herself. In "Free," a round of Marshall's sweet-to-biting vocals spits the word. "Everybody/Come together/Free."
"Don't worry, it will be over soon. Can I get some more reverb? Sorry. Sorry" to a half-empty crowd at Irving Plaza last Tuesday. "Red red fire is what you breathe," "Baby Doll" goes on. Soft, sweet tones rocking back and forth. "Black black black is all you see."

Cokelike




Messages

: 3538


Thanks

: 17


Date d'inscription

: 2012-02-14



Similar topics
---
Permissions in this forum:
You
cannot
reply to topics in this forum