9/10/06 - NYC, Irving Plaza
Setlist (early show): 
Soul SerenadeThe GreatestLiving ProofLived in BarsCould WeEmpty ShellWillieThe MoonIslandsWhere Is My LoveI Found a Reason" *Wild Is the Wind *Maybe Not *House of the Rising Sun *Love and Communication *I Can't Give You Anything But Love *Since You Been Gone (Teenie Hodges)Naked If I Want ToCross Bones Style - Nude As the News MedleySatisfactionCrazy (sung along to the PA)
* Solo
These were the 50th and 51st performances of the year. At this point Chan has completed the solo tour started last month and joins back up with Memphis Rhythm Band for most the remaining tour dates for this year. As of 2013, there has yet to be another solo Cat Power tour. 
Notably, the setlist includes some numbers being played for the first time by MRB, ''Naked If I Want To'', ''Satisfaction'', and the ''Cross Bones Style - Nude As The News Medley''. The medley would go on to be included in the shows with the MRB, but no further. The others, ''Naked" and "Satisfaction'' went on to be included in some DDBB setlists throughout 2007 and 2008. ''Crazy'', is sang by Chan along with the PA which was playing the song. However, maybe this was the inspiration to add it to the setlist, as it will appear in her concerts soon after this show. 
There is a recording out there somewhere of one of these shows, but I do not have a copy to review. Does anyone have this?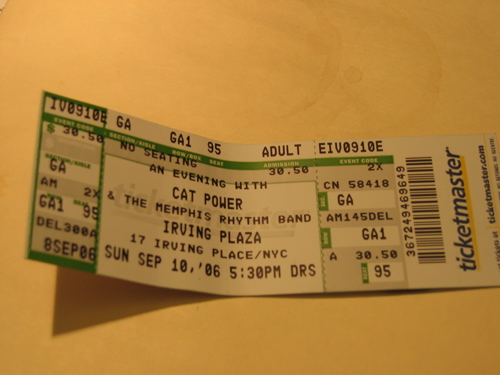 -------------------------------------
Review (early show)
http://www.billboard.com/articles/news/57190/cat-power-the-memphis-rhythm-band-sept-10-2006-new-york-irving-plaza
We can now make two distinctions in the Cat Power/Chan Marshall live history: the pre-"Greatest" era and the post-"Greatest" era. The former has been documented ad nauseam, what with Marshall's proclivity for shambling shows featuring incomplete songs and on-stage meltdowns. Those days seems to be long behind her, as she's found solace with the Memphis Rhythm Band, whose members include some of classic R&B's prized session musicians.
If all it took was a few more people on stage for Marshall to realize her true potential (or at least a shot of confidence) better late than never. The 180 she's done reflects a woman who has embraced her quirkiness, learned how to command an audience and become comfortable enough to have fun on stage -- something pre-"Greatest" Marshall seemed incapable of. 
Throughout her set, she waved to friends in the audience, smoked cigarettes while sipping tea, mimed and danced, but any antics were largely overshadowed by the flawless execution of songs from "The Greatest." It also helped that the background singers remained in the background, rather than overpowering Marshall like they did at a New York gig this summer.
Marshall had a few problems with the monitor during "Living Proof", but once the slow ballad "Lived in Bars" kicked in, the necessary adjustments appeased her and there went the only hiccup. "Willie" incorporated a nice string introduction that's unique to her live show, and set opener "The Greatest" featured a long, repetitive piano intro that served to build up suspense.
The real surprise came towards the end, when Marshall introduced old favorites with new Memphis Rhythm Band arrangements. "Cross Bones Style" almost had a "James Bond" theme quality about it, morphing into a haunting, eerie arrangement of the even more rare "Nude As the News." She also deftly handled covers of "House of the Rising Sun" and "Wild Is the Wind."
The show ended with Marshall serenading the crowd in a seemingly impromptu, fast-skat of Gnarls Barkley's "Crazy," which was drowned out midway by the PA playing the original. But she remained on the side of the stage, dancing and mouthing along. The power of post-"Greatest" Marshall is clearly rooted in the premise that a little help from her friends is all she ever needed. 
----------------------------------------
http://www.matadorrecords.com/matablog/2006/09/12/cat-power-irving-plaza-910/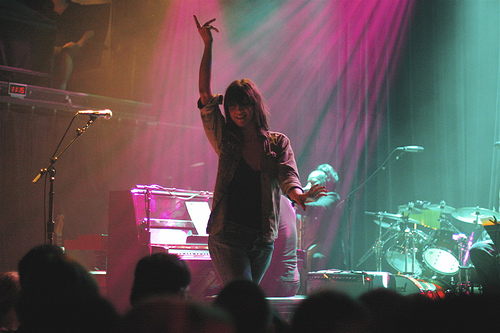 ----------------------------------------
Review (early show)
http://brothercyst.blogspot.com/2006/09/cat-power-good-irving-plaza-bad.html
Last night: Cat Power concert at Irving Plaza. At the end, when the concert seemed to be over, she kept singing and they lowered a screen down in front of her face while she was still singing, blocking her from the audience. She peered around it and continued to sing for a minute or two, but to Irving Plaza I say: very poorly handled, my friends.
Chan Marshall herself: all smiles. Backed up by the Memphis Blues Band. Her voice in terrific shape. On-stage freakouts of the kind about which I'd been warned in advance were not to be seen (no squirrel-chasing), and her childishly inept twitch-dancing was actually pretty sexy. Without the band, she played about four songs combined into one on piano, starting out on "I Found a Reason" and wandering into the others. Then the band returned and "Naked if I Wanted To" became "Nude as the News" and, later on, a seemingly spontaneous cover of "Satisfaction." Then the band started leaving and she began to sing "Crazy" by Gnarls Barkley, which is a much, much better (and less annoying) song when sung by Cat Power.
--------------------------------------
Review (not sure which show)
http://www.nytimes.com/2006/09/20/arts/music/20cat.html?ref=catpower
Performing at Irving Plaza last week, she playfully plucked and strutted with a sly grin, as if to say, "I see you seeing me, and I like what we see." Sure, audiences saw trademark kooky behavior, some awkward fidgeting, but she made it through her set, words and music intact.
--------------------------------------
It appears 2 songs from the concert were posted here, but no longer available:
http://thelambliesdownonbroadway.blogspot.com/2006/09/cat-power-memphis-rhythm-band-irving.html
--------------------------------------
Review (first show)
http://pattynet.net/forum/viewtopic.php?p=36247
Okay, so I am now officially a Cat Power fan for life. 
First of all, the woman really does have some crazy kinda feline balance to be able to twist her body every which way on one foot, and on top of a 4" heel! She definitely has the most unique (and entertaining) moves of any musician I've seen since Joe Cocker. 
Second, she truly is insane, in a fun and self-deprecating kinda way. 
And third, that voice! Unfortunately, it wasn't really mixed high enough to always come through clearly over her 12-piece Memphis Rhythm Band last night. They are without a doubt a great bunch of musicians, but personally I don't think she really needs the entire James Brown treatment and I think I liked the four songs she did unaccompanied best because I could just lose myself in her singing. 
Anyway, she did a great set for her early show at Irving Plaza last night for a sellout audience. They made me check my camera, but still photos don't really do Chan justice anyway. Her band opened with two instrumentals, and then they started the intro to The Greatest. The intro went on for a whole lot of bars, and I was beginning to think "oh no, she freaked out backstage", but finally she walked out with a cigarette and a drink in a styrofoam cup, both of which she held onto during the song but (thankfully) got rid of after it was over. She was wearing an open olive-colored shirt over a low-cut black tank top, a lavender scarf, jeans with cuffs rolled up about 4" at the bottom (and a STAGE sticker stuck on her ass, lol), and black stilettos. The scarf came off first (and was put to use for some dance moves), followed by the shoes, and finally the shirt. She looked great and seemed very relaxed throughout the show and often talked to the audience (and waved to us up in the balcony) and did all kinds of hilarious pantomimes with the band, although she apologized profusely whenever they ran into minor problems with the sound. 
They played most of the songs on The Greatest and Chan did an amazing cover of House of the Rising Sun during her solo segment. They played Naked If I Want To and a killer Satisfaction from the covers album, and also did a big-band version of Nude As The News which I didn't think worked real well. She ignored the venue's cues to wrap up and attempted to do an extra song, but management brought up the lights a few bars into it because there was another show waiting to come in (Booo! but she continued singing along to the house music for another minute behind the curtain, lol)
I was tempted to stay for the second show but I really had to get some sleep. Catch her if you can, I'm already looking forward to her next stop in New York!
---------------------------------
Review (first show)
http://www.wonggawei.com/2006/09/cat-power-memphis-rhythm-band-irving-plaza-nyc-10092006/
Cat Power, along with the Memphis Rhythm Band played two shows at Irving Plaza last night; I attended the first. I have a lot of thoughts on the show so let's get right to it.
I really only have two complaints about the performance, one of which was through no fault of her own. "Love & Communication" – while she pretty much ripped through the entire album with the band backing her up, that was the one song I really wanted to hear her sing with the band. The combination of the lyrics to the song and the haunting sound the band creates behind her was the perfect end to her show at Town Hall back in June. Instead, "Love…" was relegated to Name that Song status and while I liked her acoustic performance of the song, what point is there to having the band that collaborated on the album with her present, if she doesn't utilize them? Because, let's face it, as great as Chan is on "The Greatest," the southern soul sound of the Memphis Rhythm Band really makes the album what is is.
The second complaint? This show was nowhere near as good as her first tour of the year in which she played two shows in consecutive nights at Town Hall. There was a greater amount of interaction between Chan and the band at that show where they all benefited from a larger stage. By comparison, the stage at Irving Plaza was cramped and it was difficult to take in the band in their entirety – you could hear them but you couldnt necessarily see all of them. She was also more focused at Town Hall though the nerves she showed last night was still minimal by her standards.
Speaking of Chan and her oh so infamous stage fright, there were moments during the solo portion of the show where she seemed to lose focus and she reverted back to the Chan of old – nervous, fidgety, peculiar – but when the band was on stage, helping to center her, she was nothing short of amazing. Her voice is among the best there is with equal parts sultry/sexy and vulnerability. It's clear that she's finally figured out how to perform on stage without flaking out, even if it requires the crutch of having a large band on stage with her. Hey, whatever it takes, right?
--------------------------------------
10 Pictures (not sure which show)
http://www.flickr.com/photos/swanssongs/241183954/in/photostream/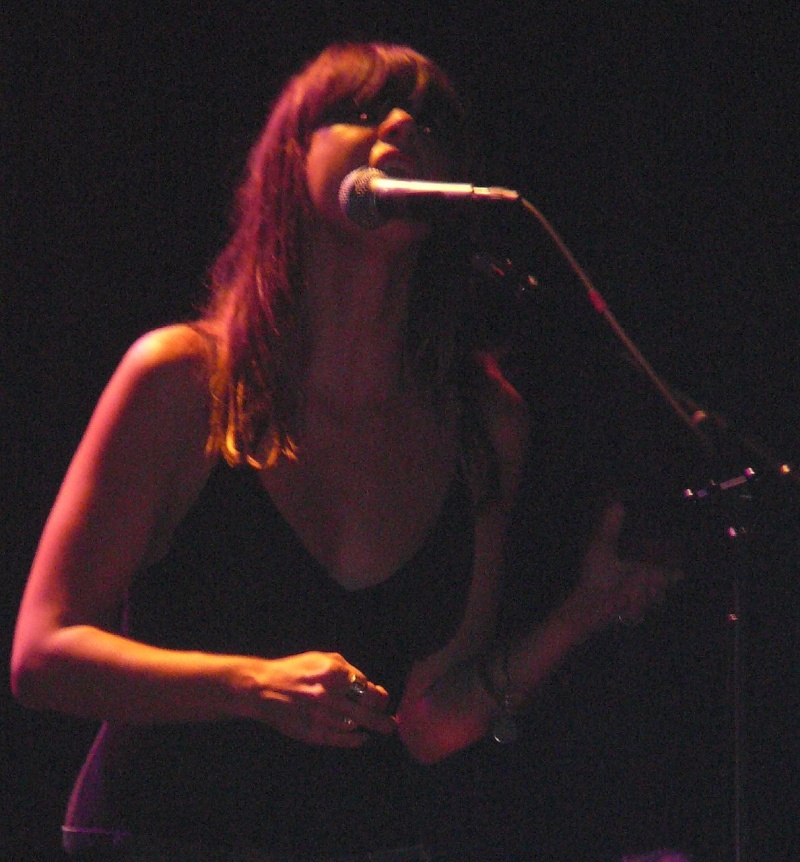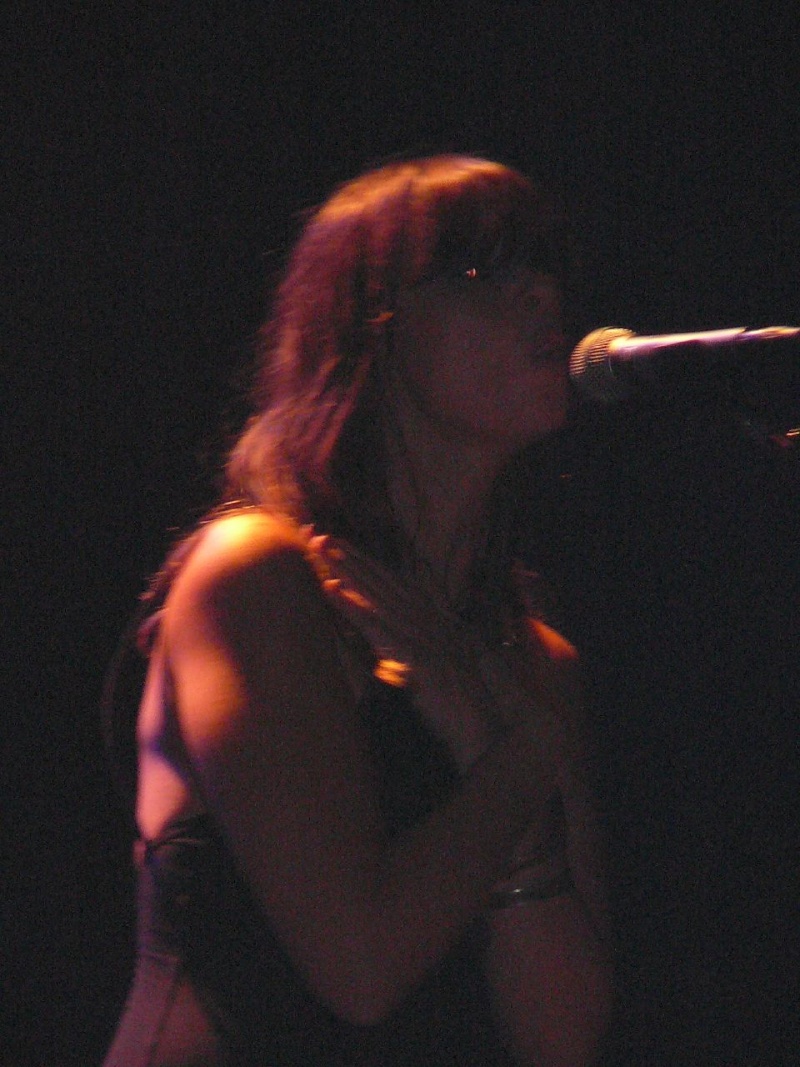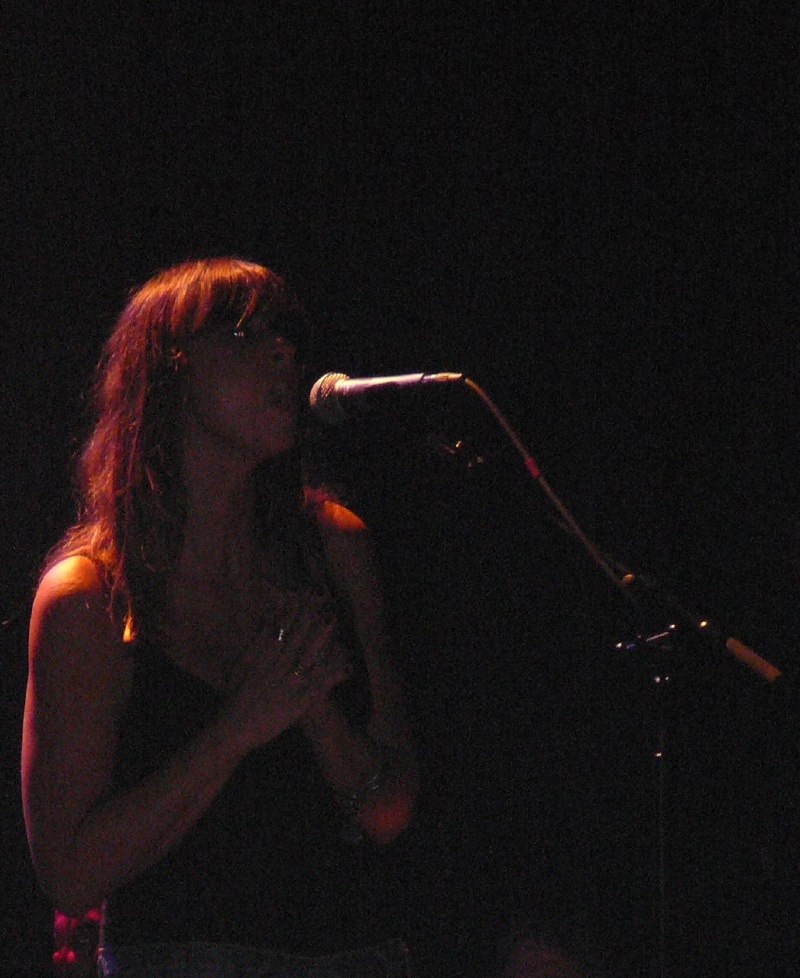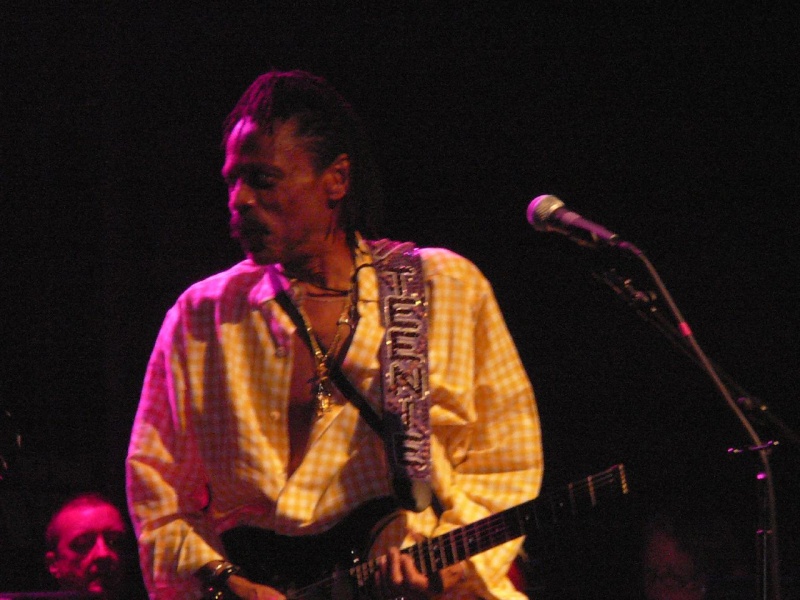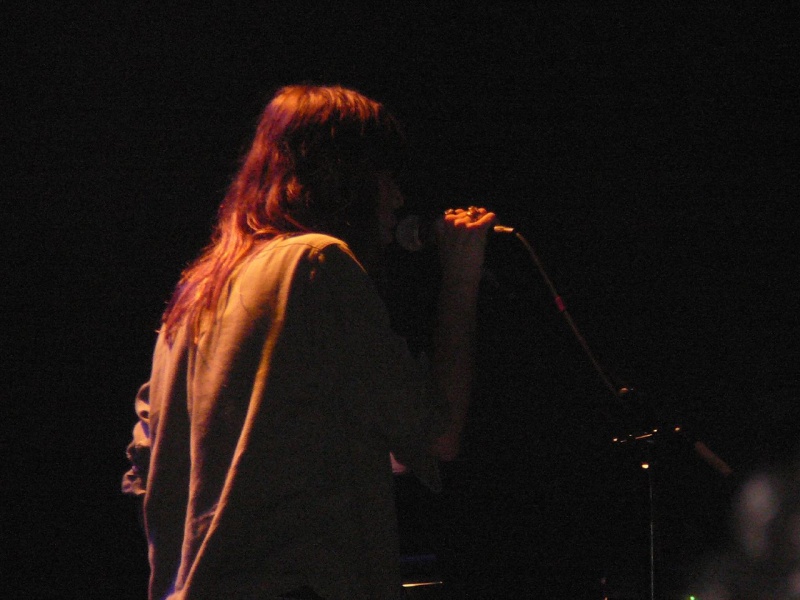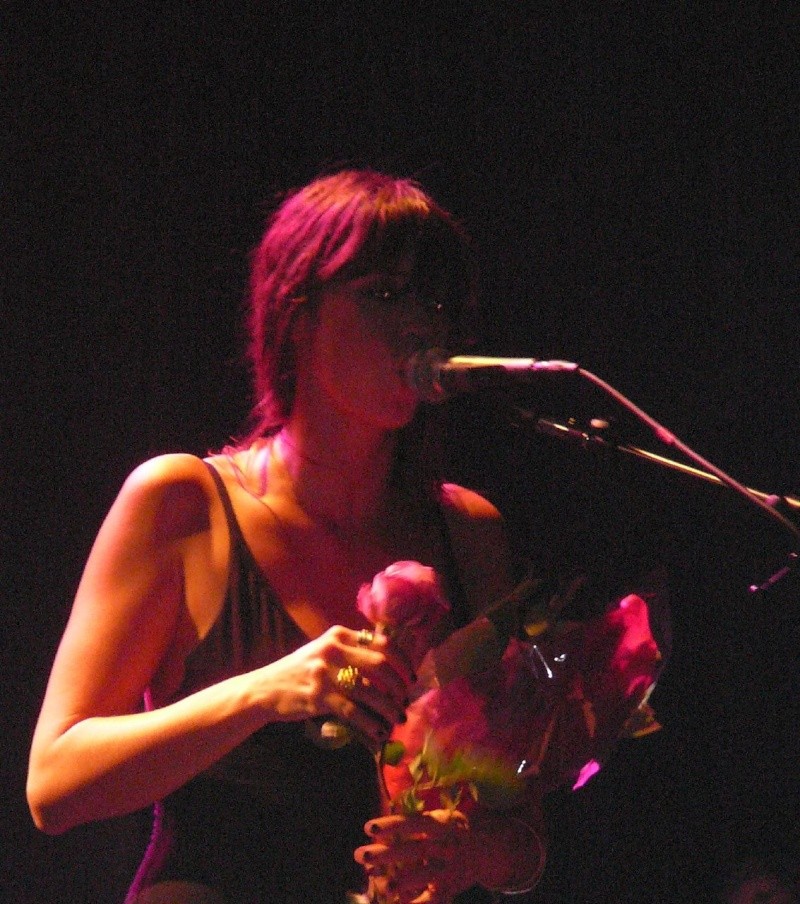 -----------------------------------
Review (not sure which show):
http://www.salon.com/2006/09/30/marshall/
So when Marshall put on two sold-out, back-to-back knockout performances at New York's Irving Square Plaza in mid-September, it felt like a historic event, the triumphant turnaround that had long been hoped for. Finally, the Queen of Sadness seemed happy to be onstage and capable of delivering a performance that matched the nuance and depth of her recordings.
Marshall's made no secret of the fact that sobriety is a big part of this "whole new idea of a life, " though when she appeared onstage at the first of the Irving Plaza shows — a verse late, lighted cigarette and coffee in hand — it seemed for a moment like the old Cat Power had returned, and the audience's apprehension was palpable. But when the band launched into the title song from "The Greatest," an amazing thing happened — the backup vocalist went ahead and sang the harmony line without her, and it was as though with that simple gesture she had given Marshall just the boost she needed to come out of herself. Marshall started out affecting cockiness — gesticulating erratically, prancing and self-mockingly fluffing her breasts before she finally made her way to the microphone for a tentative finish. But by the time the band moved into "Living Proof," a song well suited to the lush instrumental accompaniment, Marshall's confidence was real, and she took a moment afterward to greet the audience with a broad smile and a Southern drawl that was not self-mocking at all: "Heyyyyy Y'all!"
Marshall has a tomboy's troubled attitude toward being beautiful. When during the Irving Plaza show she did another mock fluffing of her cleavage, she excused her antics by saying, "We all try, right?" When the audience laughed appreciatively, it was the cue she was hoping for: "Guys don't have to try, and it pisses me off. But we all have to wear perfume and makeup, because we stink and we're ugly, right?" It was an effective device, comic relief from the gravitas that would immediately follow as she sat down at the piano to play a heartbreakingly beautiful solo, Nina Simone's "Wild Is the Wind."
During the best moments of the Irving Plaza show, it sounded less like Marshall was carrying a tune than riding one, at times getting tugged away by subtle melodic nuances as though at any moment she might be swept away onto another song entirely. Her guitar solo of "Love and Communication," for instance, sounded at one point like it might become Leonard Cohen's "Hallelujah." She can also take a song you've heard literally a thousand times before and make it sound totally new — a feat she pulled off with a heart-wrenching cover of "Rising Sun," another version of which was released on a four-song live EP. She made it her own by switching up the lyrics slightly to more closely match recent history:
My mother was no tailor
She stole my everything
My father was a music man
Do you really know what that really means?
There are many houses in New Orleans
We call the rising sun
It's been a life of sin and misery
Oh god, I am done
She took off a pair of pumps she'd put on during an earlier song and played air drums with them before bowling them off the stage while moving into an encore of "Satisfaction." On the recorded version of "Satisfaction," in a voice that sounds certain of failure, Marshall trails off while repeating the refrain "I'm trying, I'm trying…" During the Irving Plaza show, the words became the chant of someone who was actually enjoying the work, a cheerleader on a chain gang. That night, Marshall actually sang the refrain, "I can't get no satisfaction," which was funny both for being so raucous, and because it seemed so obvious that she finally has.
-----------------------------------------
Short comments (first show)
http://www.mediabistro.com/fishbowlny/the-new-face-of-chanel-cat-power_b3477
...During her set at Irving Plaza a few weeks ago — one that ended with Marshall on all fours singing a sultry, impromptu karaoke version of Gnarls Barkley's "Crazy" because she had run past curfew and the club had cut the band off and flipped on the house music.
-----------------------------------------
The Greatest 1 (second show):The Greatest 2 (second show):The Moon (first show):I Found A Reason (first show):Love And Communication (not sure which show):Naked If I Want To (first show):Cross Bones Style + Satisfaction + Crazy (first show):
All of these are snippets - 
https://www.youtube.com/user/bornaunicorn/search?query=cat+power
Crazy (first show):
In this video (as described in the reviews above) you can see them actually lower the curtain on her while she is singing along to the PA, playing "Crazy" by Gnarls Barkley:

Cokelike




Messages

: 3538


Thanks

: 17


Date d'inscription

: 2012-02-14




Cokelike




Messages

: 3538


Thanks

: 17


Date d'inscription

: 2012-02-14



Similar topics
---
Permissions in this forum:
You
cannot
reply to topics in this forum