11/29/13 - Portland, OR, Hawthorne Theater

Setlist (incomplete):
Satisfaction 
Hate
Bully - with Nico Turner on piano
Good Woman
Metal Heart
I Dont Blame You
The Greatest
The Moon
Fool

This is the 83rd performance of the year and the 24th solo performance of the year. Nico Turner is the opening act.
Last edited by Cokelike on Tue 3 Dec - 1:39; edited 6 times in total

Cokelike




Messages

: 3538


Thanks

: 17


Date d'inscription

: 2012-02-14




Cokelike




Messages

: 3538


Thanks

: 17


Date d'inscription

: 2012-02-14




Cokelike




Messages

: 3538


Thanks

: 17


Date d'inscription

: 2012-02-14



Review:
http://www.wweek.com/portland/blog-30968-live_review_cat_powe.html
I'm not entirely sure what happened, but I'm convinced I can't fully capture it. 
Friday evening at the Hawthorne Theater saw one of indie music's most beloved figures play a an unforgettable two-and-a-half-hour solo set. Most of the attention of late surrounding Chan Marshall, aka Cat Power, has been on newest record, Sun. Perhaps her most upbeat and triumphant album to date, Sun seemed to portray a sturdy and settled Chan Marshall, an audible victory over a dark history of shaky performances, cancelled tours and substance abuse.
On Friday, with little more to accompany her on stage than a piano and a guitar, Cat Power bravely turned herself inside out and exposed whatever it is we music writers have been trying to diagnose her with since the mid-2000s. It was a roughly cut set of fragile original songs, gorgeous covers and scatterbrained bits of songs. It swayed back and forth from raw and pretty to tense and fractured. And while many writers pine for a show like this—wherein there is genuine struggle, audience backlash, an artist seemingly on the brink—at least from a reporting standpoint, it would be selfish and lazy to highlight just the plight.
Which there was. Marshall fidgeted throughout, an awkward dance stemming from supreme stage fright. She changed her mind on songs less than a minute in. She struggled to find chords. She bantered in half-sentence confessions and was at times incoherent. She jumped from topics like milking cows to astrology to her favorite brown lighter. "Are you mad at me?" she asked her sound guy countless times, in between requests for more vocal delay. Tuning and re-tuning her guitar was her own sort of nervous tick. Finally, Marshall grabbed two additional microphones, lassoed them together and sang into three for a good portion of the rest of the set. 
Musically, there were priceless moments. Her transition from the Stones' "(I Can't Get No) Satisfaction" to "Hate" was seamless. Her rendition of "Bully," wherein opener Nico Turner joined her on stage, was heartbreakingly sincere. And her live takes on great studio songs like "The Greatest," "The Moon" and "Metal Heart" were even more bewitching in the flesh. Times like this, Marshall virtually paralyzed the crowd with her enchanting muggy voice. It's a voice so rich and powerful it's hard to attach it to this extremely vulnerable persona.
There's a filmic metaphor that applies to Cat Power. That ever-present scene where the hero is up against the wall trying to diffuse a bomb or remember a password before shit hits the fan. Marshall's shaky playing style—skimming just a few lines of songs, especially from You Are Free—created a palpable tension in the room. And even though you've seen the hero escape trouble like this countless times before, you still find yourself in a sweat, uttering encouraging remarks. And then, with a fluttering vocal maneuver, guttural guitar riff or elegant piano phrase, Marshall would save the world.
Regrettably, a few audience members spoke up at the wrong time. They interrupted Marshall's soft but immensely powerful act, causing her to abandon entire tracks. Visions of the recent Fiona Apple debacle came to mind, but unlike that show (or so I read), the upset fans here didn't even pretend to care about Marshall's health. Instead, they simply wanted louder material, and the need for it apparently outweighed any sort of human decency.
There's an element of audience guilt at a show like this. Some of the greatest songs come from the darkest human corners, but the process at large is rarely witnessed live. You feel like a stranger—an invader, even. Cat Power has a history of hiding under bands or cover songs or background media. And as much as she might prefer touring behind one-sided glass, I'm grateful to have been invited into a fragile, complicated place she has every right to keep hidden.
This was a troubling show on many levels. Elliott Smith was known for his unpredictable performances. Cat Power's show was a certain sibling, equal parts brittle beauty and supreme sensitivity. The crowd hung on until the very end—roughly 12:25 am—partly to see what she might do next but more so, I think, to hear that occasional gust of remarkable soul that very few musicians are capable of.

Cokelike




Messages

: 3538


Thanks

: 17


Date d'inscription

: 2012-02-14



Review
http://elevenpdx.com/live/catpower2013?utm_source=rss&utm_medium=rss&utm_campaign=catpower2013
Indie songstress Chan Marshall (AKA Cat Power) recently graced Portland with her presence. The notoriously eccentric performer played a stripped down solo set that was nothing short of stunning. At times nervous, and at times goofy, Marshall took the Hawthorne Theatre's stage armed with nothing but a guitar, piano and a whole lot of incense. Following the release of last year's synth-driven Sun, it was lovely to see Marshall show her heartbreakingly raw talent again. Few performers can compel a room as she does with her smoke-filled voice and vulnerable lyrics. Fans frequently interrupted her set with "WE LOVE YOU CHAN!" and other endearing cries as if to let her know that it was okay to be so naked on stage. It was a performance that seemed to be on edge most of the show with lots of false starts and the possibility of abruptly ending at any time. But Marshall delicately navigated through the show for over two hours with silly jokes and a burning cigarette in hand. It was a beautiful performance and she should be praised for showing her bones to a packed house. Well done Chan, well done.

Cokelike




Messages

: 3538


Thanks

: 17


Date d'inscription

: 2012-02-14



Review and Pictures
http://krisk1986.tumblr.com/post/71600270146/cat-power-live-hawthorne-theater-november-29th
I remember getting some heat back in High School for liking Cat Power. Not that any of the people giving me grief had heard Chan Marshall's music. They just thought it was funny that an overweight, bearded, male who was otherwise into Hip Hop would be into a musician named Cat Power. 
No matter, I continued to listen and have enjoyed every release with the exception of Sun (which I admittedly need to give another listen). Naturally, I had heard everything I needed to know about Cat Power's live shows. Stage fright and substance abuse had caused countless thousands to waste their money going to a show only for Cat Power to be incoherent and leave halfway through. This kept me from seeing Cat Power for a long time. It should have kept me longer.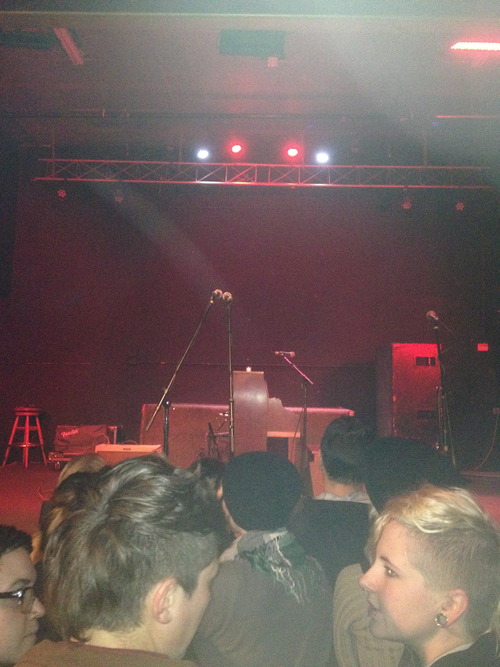 Waiting…
Nico Turner was up first and immediately ran into issues with sound quality. Initially I blamed the sound quality of the venue (which is notoriously bad). Later that night, I scoured the internet for reviews of this tour and found out that my experience was not an isolated issue. Apparently preparation is as passe as sticking to the stage time. 
And who has time for sound checks when you arrive a full hour late, anyway? Chan hit the stage and quickly launched into a rousing cover of "Nico Turner Asks the Sound Man to Add Reverb.". This was followed up by minutes of trying to tune her guitar, and finally music.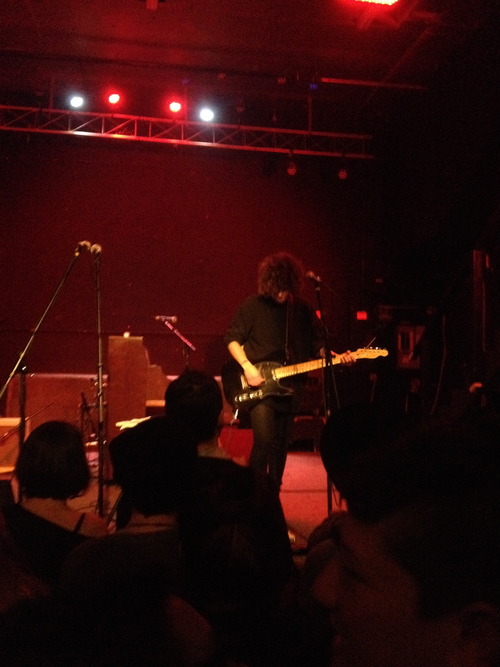 Nico Turner. 
When Marshall marshaled (heh) the nerve to play a full song, the concert was admittedly pretty good. Her voice is just as great live as it is on record. Songs like "Good Woman" "I Don't Blame You" and "Fool" all sounded great. One of the key issues with the concert was not the songs, but the fact that Chan frequently interrupted them to tell inane stories. "The Greatest" is one of my favorite Cat Power songs. I was excited to hear it. I was not excited to hear it interrupted three times so Chan could lose her place due to telling a hopelessly incoherent story about "the guy who used to own the place across from Powells." 
Later in the show when sound issues posed an issue again, Marshall meekly let out a "you're mad at me." Some of the more devoted fans screamed that this was not the case. I wasn't surprised later to find that this happened at multiple shows. What we have here is Cat Power shtick. It's troubling that Chan can play a full tour of subpar shows with the same issues, give the same excuses, and beg for sympathy in the same way and face little to no backlash from a huge segment of her fan base that will serve as apologists for literally everything she does wrong. It's recycled, selfish, and a slap in the face unknowing suckers like me who paid $30.00 for a ticket.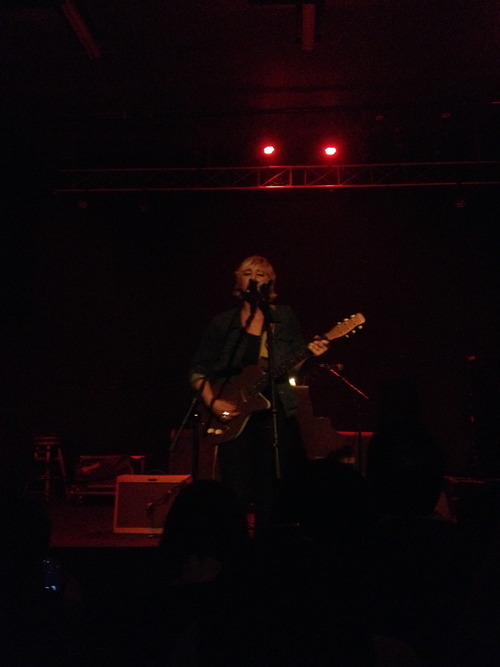 "Ladies and Gentlemen, for my encore, 'Nico Turner asks the Soundman to Add Reverb." 
After the multiple interruptions, the show just got sad and awkward. Worse, it was boring. I remarked to my friend that I was ready to leave when she was. She replied "Let's just stay for another song…if she ever plays one." She eventually did and the euphoria of being able to leave after it ended was one of the better parts of the show.

Cokelike




Messages

: 3538


Thanks

: 17


Date d'inscription

: 2012-02-14



Similar topics
---
Permissions in this forum:
You
cannot
reply to topics in this forum