9/13/06 - Chicago, IL, Vic Theater
Setlist (incomplete):
Soul SerenadeThe Greatest (sound problems)The GreatestLiving ProofLived In BarsCould WeEmpty Shell
Willie
The Moon
IslandsWhere Is My LoveI Dont Blame You *House Of The Rising Sun *Love And Communication *John, John *Since You're Been Gone (Teenie Hodges)SatisfactionCrazy
* Solo
This was the 53rd performance of the year. 
A clip of "Lived In Bars" was posted on Myspace. 
------------------------
Review
http://www.stereogum.com/3423/cat_power_sobers_up/news/
I just saw her September 13th, 2006 in Chicago. She had the Memphis Rhythm Band with her, they played the first half of the set with her (almost everything from The Greatest) then left her to play some solo material. She handled it well, abandoning only one song ("Love and Communication") and doodling a bit on the piano. I'd seen her solo once before and she struggled to get through even one song w/o interuptions. So to compare and contrast, a lot better these days. But she sure didn't seem sober, that may be because I'm used to the comotose Chan and last Wednesday she was dancing all over the stage like a nut.
-----------------------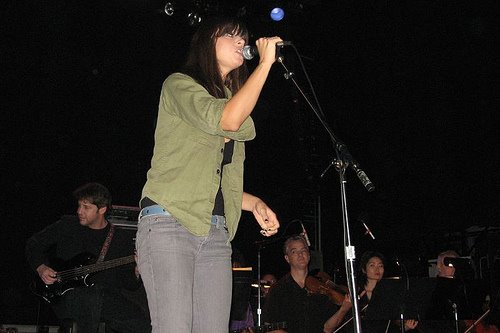 Review
http://radiofreechicago.blogspot.com/2006/09/live-review-cat-power-vic-theatre.html
Cat Power's reputation certainly precedes her. Though I'd never seen her live before this night, countless tales of her extreme shyness and constant onstage meltdowns definitely left me intrigued to witness the disaster that was supposed to be her stage show. I was almost disappointed to learn that in the past year, the formerly fragile chanteuse seemed to gain some confidence and energy on stage, or at the very least had finally got on the right medication. After canceling her tour last spring due to the always ambiguous "health concerns," my curiosity only grew. Finally, her Chicago date was rescheduled and I got my chance to assess Chan Marshall's mental state for myself. After a late start, the Memphis Rhythm Band's eight-plus members made their way out to play a couple of jazzy numbers on their own before they launched into the intro to "The Greatest" and Chan emerged in jeans, a button down shirt, and the most ridiculous pair of five-inch heels I've ever seen. "They were a gift from a friend of my in France," she later told us. "He got them for free. He didn't want them- he's a small queen. He doesn't wear heels." Barely into the song, she started looking flustered and tapping the monitors before making a big "T" with her hands and forcing the band to quit so the sound guys could fix whatever monitor situation was bothering her. "What, a meltdown so soon?" I thought. But the band merely took it in stride, starting the song over again once Chan was satisfied, and she enthusiastically took to the mic to showcase her incredible voice. From then on Chan and the band ripped through the majority of The Greatest while she paraded around on stage, taking her shoes on and off, buttoning and unbuttoning her shirt, completely incapable of standing still or keeping her arms at her side. Even with the slowest numbers, like "The Moon," she still danced around with her hands waving around out of time. It was as if as long as she kept moving, she'd be fine. As Chan closed out the final notes to "Where Is My Love," the band slowly left the stage one by one, leaving Chan alone on stage to kick off Cat Power, Part II- the Solo Show. Without the burden of a band to rein her in, Chan took full liberty in letting her quirks show. Moving back and forth between the piano and guitar, she traipsed her way through pieces of her back catalog for at least an hour, playing songs at half-speed, stopping mid-tune to adjust her seat, frustratingly cutting songs off halfway through only to launch into another one. At one point she told us she was going to sing a new song about "a city that wasn't Chicago," but some form distraction led her to a five-minute monologue about the city, Arrested Development (complete with a pretty good Gob imitation), her shoes and the saying "what's up, chicken butt?" before finally getting back to the music after audience members started yelling out song requests. It wasn't until a few minutes later that I realized she never even played the song she was introducing! But even if hardly anyone in the audience got to hear a full rendition of any of their favorite older songs, no one seemed to care- the audience seemed to love everything that came out of her mouth. I guess when all you have to live up to is crying and back-turning, it doesn't take much to excite long-time Cat Power fans. Low expectations are the key to success. The Memphis Rhythm Band returned to the stage after Cat Power's solo ruminations to beginCat Power, Part III- The Covers Portion. After letting the band do their own thing for a song that sounded like a blues version of Kelly Clarkson's "Since You've Been Gone," Cat Power rejoined the stage to do a number of high-energy covers, including The Rolling Stones' "Satisfaction" and every band's favorite cover song of the moment, Gnarls Barkley's "Crazy." Again, with the band behind her, Chan limited her ramblings and idiosyncrasies, letting the music once again come to the forefront and showing that Chan really can be a great performer when she wants to be. As "Crazy" came to an end, Chan had several of the members stand up with her for a final bow. While the band slowly filed off the stage, Chan wandered around the stage and lingered by the mic, seemingly unable to leave. It seemed ironic how a woman who spent so many years trying to get off the stage now didn't seem to be able to leave it. I left the show with mixed feelings; Chan's voice is amazing and it's definitely fun seeing her enjoy herself on stage (especially in the form of her Mick Jagger impersonation), but at the point when her antics take precedence to the music, it becomes too much. When you're getting lost in the delicate piano chords of "I Don't Blame You" and she suddenly drops everything to run over to her guitar, it leaves a little to be desired.
---------------------------------
Pictures
http://www.flickr.com/photos/rfc/sets/72157594285822639/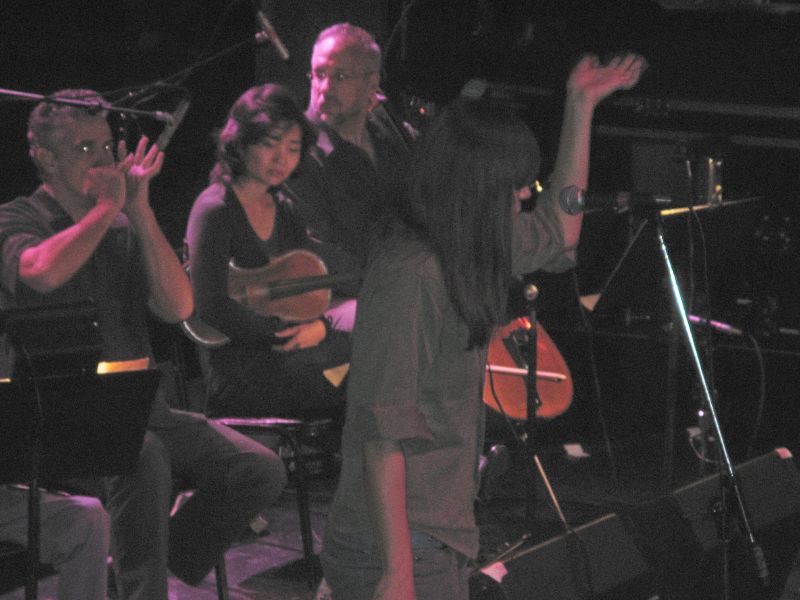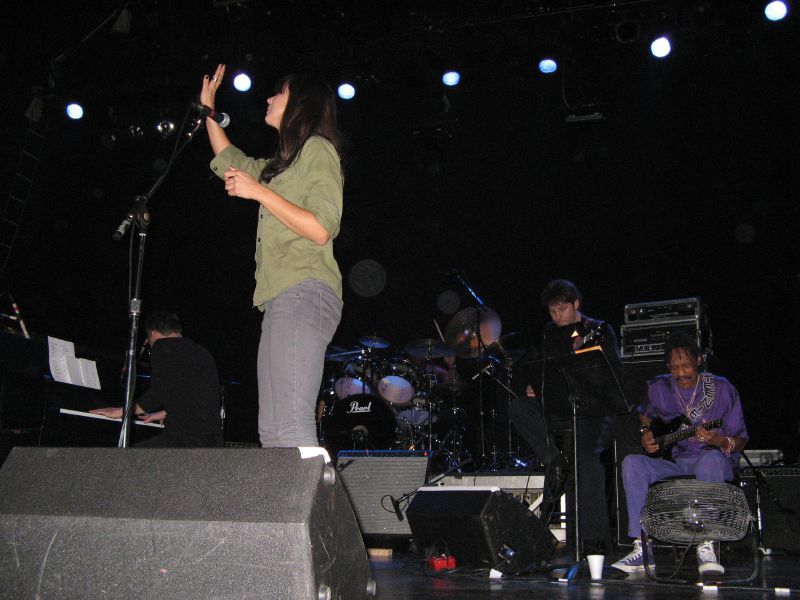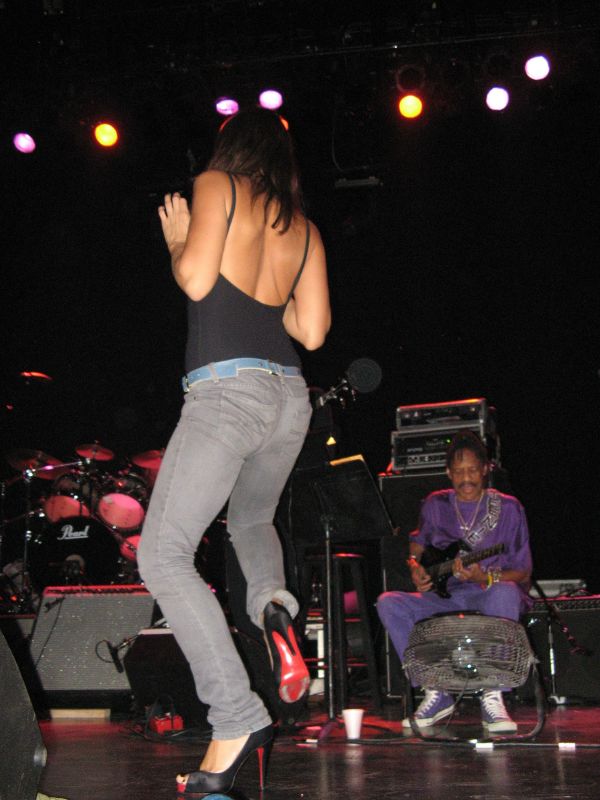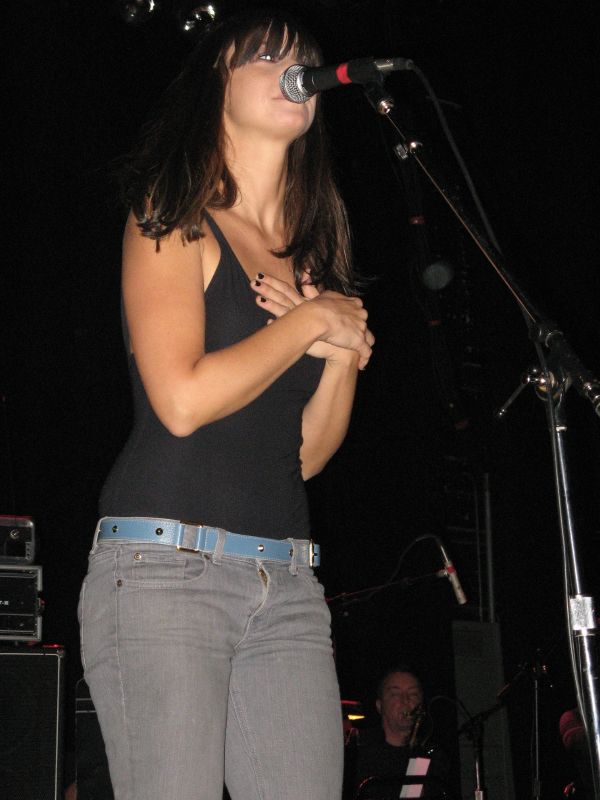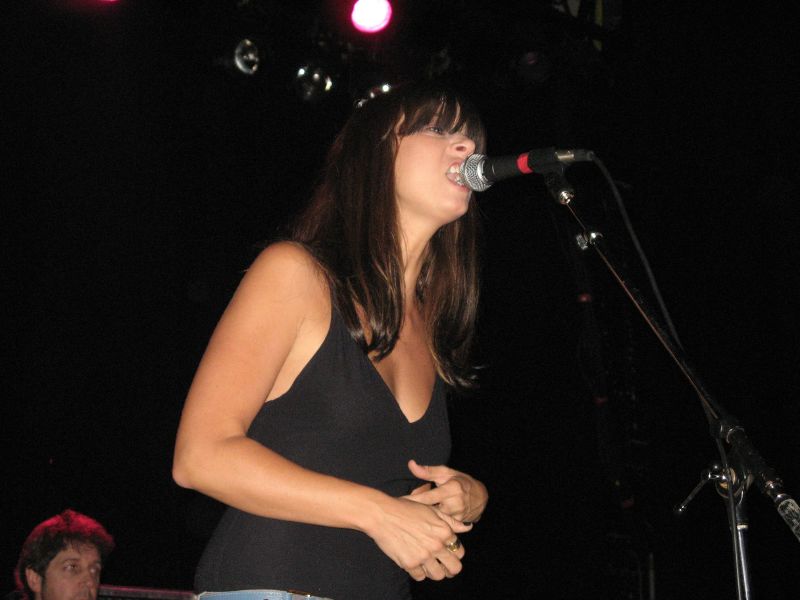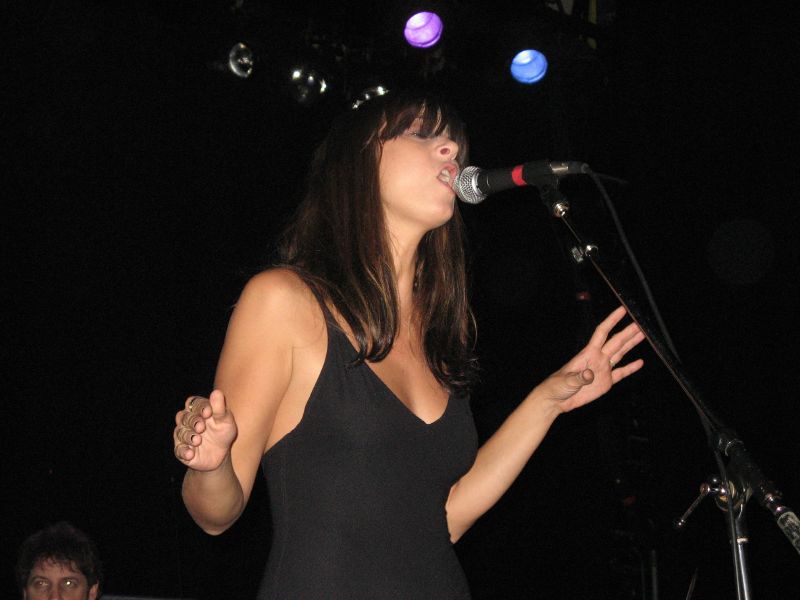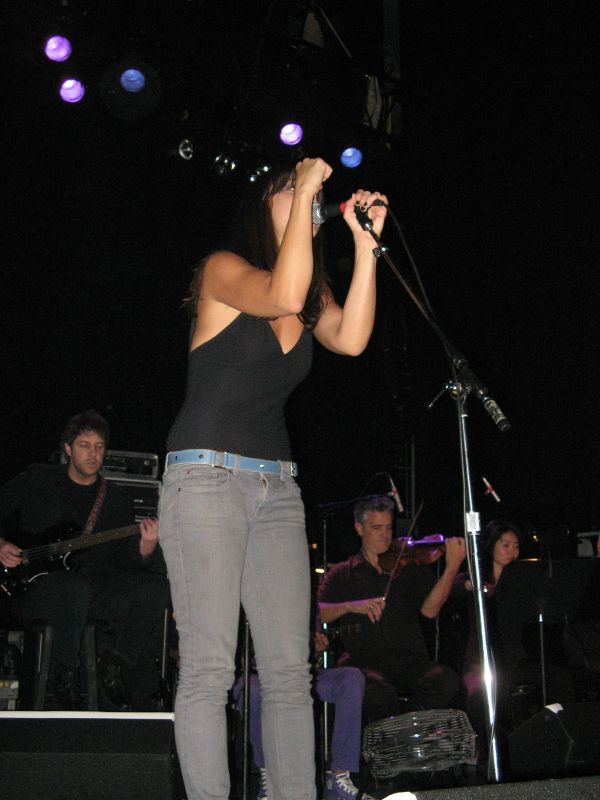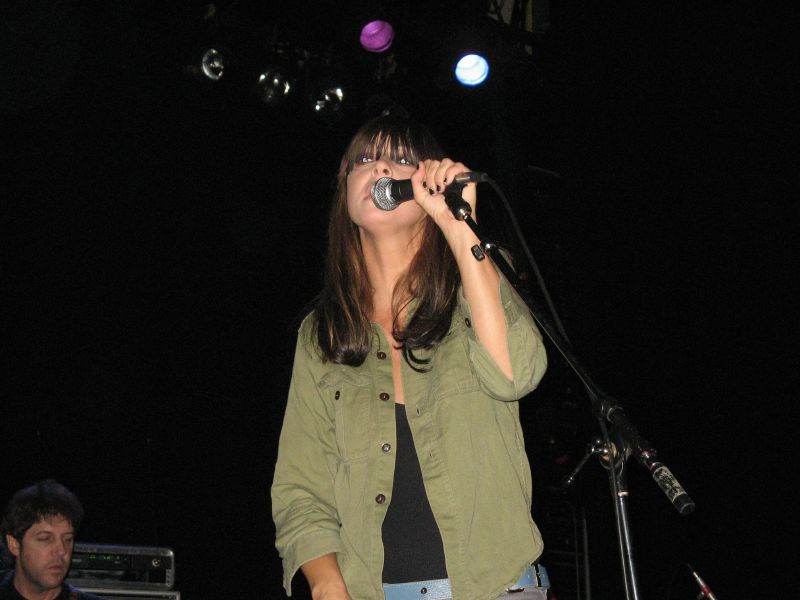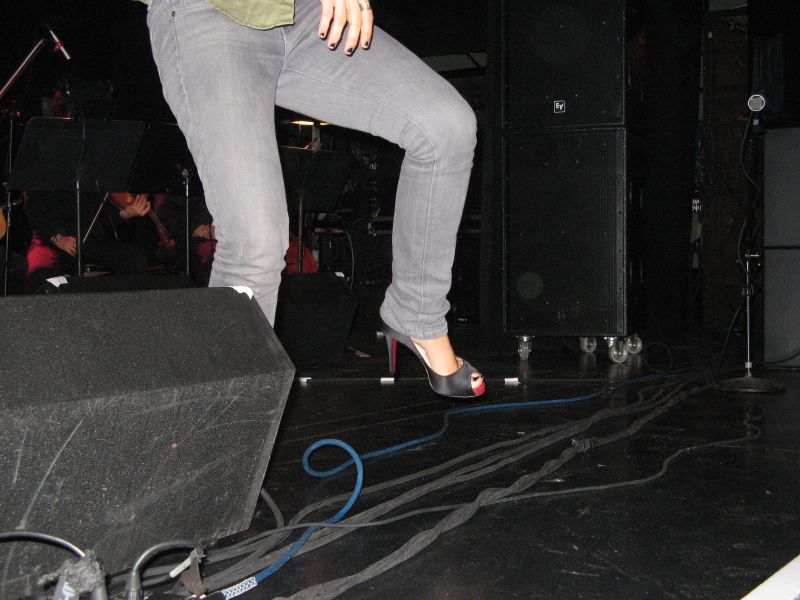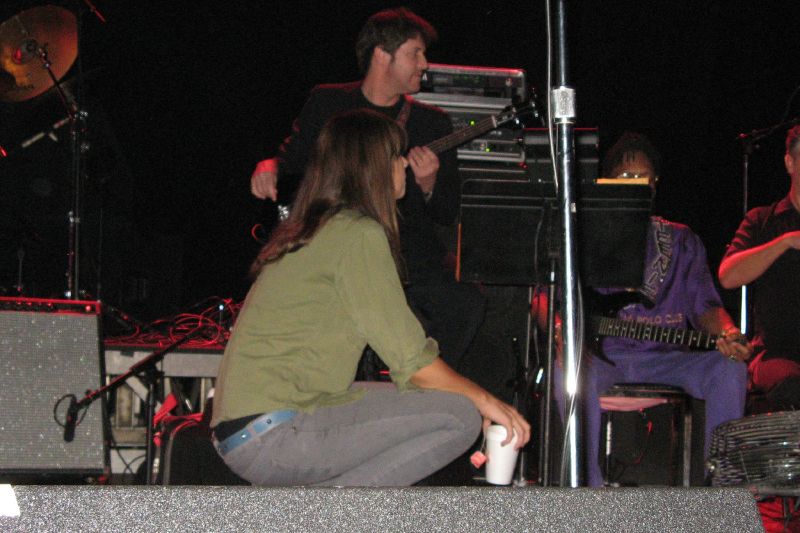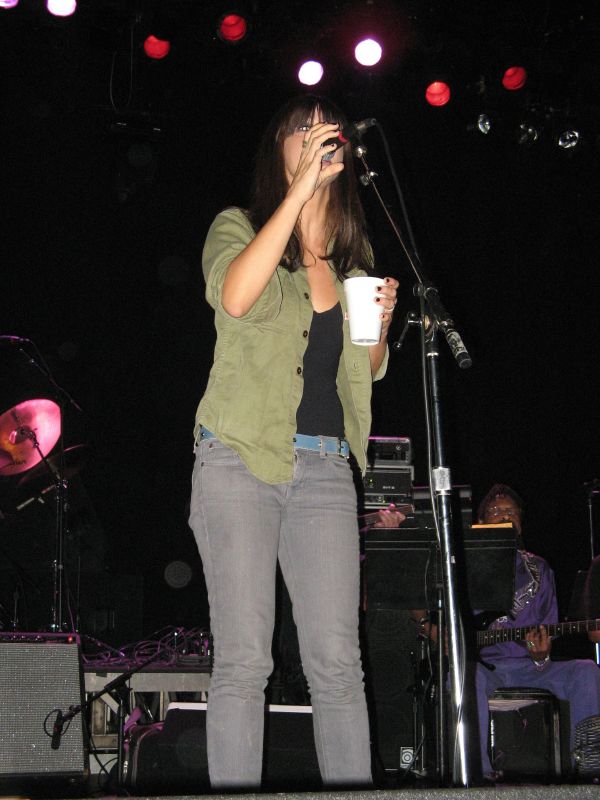 ----------------------------------
Review
http://www.mark-guarino.com/cat-power-at-the-vic-theatre
It's a cheap shot but here it is: Cat Power turned the Vic Theatre into her own personal litterbox Wednesday. The Georgia-born singer is revered for her creepy vocal style and known more for her public meltdowns. At the Vic she gave the audience more of the latter.
Although compared to behavior from her past — bursting into tears, storming off the stage or curling up on the floor — this was nothing. But considering that she is now seven albums into a 12-year career, her loopy behavior has long lost its charm and threatens to squander her singing by turning it into novelty.
Although her live performances have mostly been the singer — real name Chan Marshall — accompanying herself on piano and guitar, this outing brought forth the Memphis Rhythm Band, a 12-piece group that featured members that played on legendary sessions at Hi Records, home to Al Green, Otis Clay and others. They also play on "The Greatest" (Matador), Marshall's latest and a contender for one of the best albums of this year. That band's slow burning touch illuminates the understated seduction of those songs in a way that's sublime. 
Live, that potential was never unleashed. Instead, the bulk — which included three string players, two horns, two backup singers, two bassists, and so on — were underused and felt more like props for an artist trying to look like she's making a "serious" move. Too bad the artist wasn't serious. Marshall performed with so many ticks, she made Joe Cocker look comatose. She was distracted which made the show a distraction. 
A forecast of what was to come was "The Greatest," the first song of the night. Annoyed by a rumble from the bass amp, she checked it twice and then signaled the band to stop to she could start again. Playing with a band that could make anyone sound impressive, Marshall was an uncomfortable fit. Where they had class, she was rough. She never used the band to use herself inside a song she sang, instead the audience was forced to watch her nervously chasing the song as it keep getting further and further away. 
There came relief but it was brief: As the band left the stage she remained with just a piano player to sing "Where Is My Love." The song possessed her and the sentiment never sounded so lonely or tragic.
That focus didn't hold for long as the majority of the show was played solo. This was shaky ground and the audience was forced to watch Marshall struggle to get through songs. Her knack for covers — "House of the Rising Sun," "Hit the Road Jack" — were slowed for chill factor, but she had trouble finishing. She later took a ten-minute break to smoke and chat about her favorite TV shows, and other fascinating stuff. By then, what seemed cute reflected back as sad.
"I'm almost done," she often said when she got lost. Not soon enough.
--------------------------------
Review
http://www.thefader.com/2006/09/19/live-cat-power-the-vic-theater-chi/
To be incredibly reductive, Chan Marshall is infamous for her erratic stage personality. The will-call line for Cat Power was rife with anecdotes of cancellations and rambling banter hampering previous shows. The risk of attending one of her performances, however, is offset by the potential reward of seeing her phenomenal talents in the flesh. Last Wednesday at the Vic Theater vacillated between a revelatory musical performance and a teetering mess, and the dedicated crowd wouldn't have had it any other way.
The Memphis Rhythm Band took the stage and jumped into a couple instrumental versions of tunes from the latest Cat Power release, The Greatest (Matador). The twelve-piece backing band was as professional as they come, cueing changes with a nod and flick of the wrist. Their gestures indicated that they were expecting Marshall to come out any second, and the suspense of a possible stand-up was palpable. But after two numbers, the band dropped into the title track and Cat Power was announced to the crowd. Marshall traipsed out in stilettos and skinny jeans, the picture of every nerdy indie-rockers desire, only to call for a time-out, gesturing like a football referee while squatting low to the stage.
Once the false-starts were ironed out, Cat Power and the Memphis Rhythm Band jelled through "The Greatest," Marshall flexing and shadow boxing all the while. The first section of the set was dedicated to the new material, with songs like "Could We" hitting hard in horns and "The Moon" lilting over the mellow crowd. The band exited stage left, section by section, as Marshall cooed "Where Is My Love" in a breathy rasp. But as soon as the scaffolding that was the band of studio musicians was disassembled, Marshall's anxiety and her subsequent high jinks were revealed.
Songs were abandoned halfway or truncated at the climax, as was the case with "I Don't Blame You." "House Of The Rising Sun" featured an audience member's whooping cough, and Marshall couldn't help but ad-lib lyrics addressing his affliction. The banter portion of the program consumed a substantial portion of her solo-set, but her drifting through sections of songs made for an interesting glimpse into her process. Though some of her comedy was spotty, Marshall's impressions of her booking agent were downright hilarious. She lamented the inevitable call from her booking agent that would come the next day. "Chan, I got some bad reports," Marshall mimicked in a nasal tone, "I should've expected this from you."
The solo-set monologue ended when she feared her band was becoming bored. The Memphis Rhythm Band made their return with a song sung by the guitarist, followed by a mega-mix of Cat Power's hit-jams. The medley began with "Cross Bones Style" and went back in time to "Nude As The News." The full-blown band made these once spare songs sound almost Fleetwood Mac-esque.
"Satisfaction" was a crowd pleaser and the all too apt "Crazy" closed out the set with Marshall asking "Does that make me crazy?" and answering her own question with, "I don't give a shit." Neither do we, Chan. It's half the reason we came.
-----------------------------------
Review
http://www.slimcoincidence.com/blog/?p=855
Parts of the show were just gorgeous, although it was in fits and starts. She'd get something going, and then shut it down. The band obviously works hard to prop her up, as does the audience. Seeing her perform, there are definitely some issues there for her. She's not playing with the audience, it's clearly an uphill battle sometimes for her to be there. On one hand, you really want to respect someone getting up there despite dragging all that weight. On the other, well, effort free entertainment is also good. Maybe people are willing to overlook the rough patches because of the rawness and guileless authenticity, which is always in short supply with us jaded hipsters. Plus, some genuinely funny unpredictability – she wore stiletto heels that she kept taking off and putting on, at one point kind of hopping around with one shoe on while waving the other one (then doing some more singing while waving both). But maybe, just maybe, it's a little sadistic to ask her to get up there at all. Adding to the problem, the sound mix at the Vic was among the absolute worst I have ever heard. It really stank. Many times, you just couldn't hear her voice at all over the band. It's not just that Marshall's voice is this delicate thing that needs to be pulled out of the big band mix – the band mix was all wrong. At times, horn solos were swallowed up by the piano player's pounding chords, for example. So, among the lessons: don't see any large bands at the Vic, at least if they're using the house soundman.

Cokelike




Messages

: 3538


Thanks

: 17


Date d'inscription

: 2012-02-14



Similar topics
---
Permissions in this forum:
You
cannot
reply to topics in this forum