9/5/06 - Boston, MA, Museum Of Fine Arts
Setlist (second show):
House Of The Rising Sun - 3:46
Love And Communication - 4:30
House Of The Rising Sun - 1:35
Who Knows Where The Times Goes - 3:00
The Greatest - 3:30
Wild As The Wind - 5:57
Living Proof - 3:47
House Of The Rising Sun - 4:51
Tuning/Talking - 5:06
Wolf Among Wolves - 3:06
Hate - 4:16
Ramblin Woman - 2:31
Remember Me - 3:40
Norma Jean - Names Medley - 4:03
Paths Of Victory - 3:27
I Feel - 6:27
Oh, Time - 3:00
Maybe Not - 5:42
I Dont Blame You - 4:07
John, John - 3:01
Islands - Crying, Waiting, Hoping Medley - 3:42
Empty Shell - 2:52
Satisfaction - 2:30
Hey, Porter - 2:10
Naked If I Want To - 2:47
Say - 3:19
Where Is My Love - 3:16
Could We - 2:10
Good Woman - 5:00
I Cant Give You Anything But Love - 2:25
Total Time - 1:49:34Note
: I believe forum member tumbleweed was at this concert and would welcome any comments.  
These were the 48th and 49th performances of the year and the 30th and 31st solo performances of the year.
This (the second concert) is the fourth-to-last solo concert of the year and the last solo date before the Memphis Rhythm Band re-joins her to complete the third string of North American dates this year. Like most of the other dates on this short solo tour she plays two shows at this venue. My audio is the second show and I give a big
THANKS
to Bradley for sharing this audio with us. My copy is mp3 but the sound is very good.
I have little information on the first concert, though it seems it went down good. Its likely she played a similar setlist then as she did for the second concert. As for the second concert, this is an uneven concert. There are a lot of sound problems, a lot of stops and starts. She doesnt really rally until about halfway through the concert. But there is some good stuff, particularly when she is on piano. This is not the last solo concert Chan has played, (10/22/06 would appear to hold that place) however this is the last concert for which I have complete audio and as such is an important document of Chan's live performances. Its the end of an era. After this run of solo dates Chan would almost exclusively play with a band behind her for the next 6 years. (As of 2013, it looks as though she might play some solo shows, check back soon!).
"House Of The Rising Sun"
- "Hi! This is the drunk crowd?", Chan says. "I'm going to play all the songs I played at the last show, I might slip it up a bit." She starts playing the song but then stops and says, "I dont need any guitar in my monitor." She then starts playing the chords to "Love And Communication". "Thats a good sound, its not a reverb sound, its a guitar sound. Its very clear". She then starts, "House Of The Rising Sun" again, but stops and says, "Thats a sign, I shouldnt play that song. Sorry. I'm depressed and I dont wanna be depressed. Okay, we'll play 'name that tune'".
"Love And Communication"
- This is a great take. At the end she says "Is there any way to get a
little
more reverb on that vocal? It's hard to sing when its really tight like that, its like when you have a rubber balloon and you want to make that sound... like when you're singing in the shower you dont tend to sing very loud". The audience laughs at her explaination.
"House Of The Rising Sun"
- She gets further into the song than the earlier takes but she still ends it after a few verses. "Sorry, its hard to sing when its tight like that. It sounded, the last show sounded more open... I wonder if anything changed. Sometimes soundmen they get it right and then they forget and while the shows going on they start changing it and by the end it sounds different from the beginning. But, oh, boy." I cant agree enough with Chan on this point. Once you have the sound mixed you should just leave it alone unless instructed otherwise (especially in a case like this with just one person and guitar). I think some sound guys feel like they have to be actively mixing during the whole show.
"Who Knows Where The Times Goes"
- Chan is now on piano. She seems to be more comfortable with the sound now and plays a great version of this, going right into the next song.
"The Greatest"
- As usual, she sounds great on this.
"Wild As The Wind"
- She sings most of the song, but then stops saying, "Sorry, you're staring at me. Its too much, sorry!"
The audience claps for her. "I'm always hurting someones feelings every night. I have a tendency to just stare straight when I play piano and if theres another person staring straight back at me. Sorry, we worked it out." She then picks the song back up at the "You-you-you" part.
"Living Proof"
- The last version of this song I have where its just Chan and piano. "Sorry, I get all riled up so easily."
"House Of The Rising Sun"
- She seemed determined to play this song. She makes it through the whole thing this time. "Sorry y'all", she says at the end. She then starts tuning her guitar, using the keyboard to help.
"Tuning/Talking"
- A lot of tuning and random strumming. "Sorry, y'all, sorry", she says again. She then starts playing "Hate" for a moment before more tuning. "Is it too high?", she asks. "Do you see what I'm saying?". More tuning with the piano. "The piano is out of tune, too", someone shouts helpfully.  
 "Is there anyway to get some more reverb on the guitar, maybe take some of that high end out?", She asks. She eventually gets her guitar in tune.
"Wolf Among Wolves"
- The last version of this I have, possibly the last time she played this live. She goes right into the next song.
"Hate"
- A good version. "Can I have a little less high end in that guitar, a lot less high end, a little or less, less high end on the guitar. And am I still getting the reverb in the vocal? Yeah, maybe forget about it because I'm picking up the guitar and it's awful. It's an electronic world. Electrical. Stick electric cord in a stone and blow in it. Sorry, are you made at me? I didnt come here to mess up."
"Ramblin Woman"
- "Maybe no vocal in the monitor", Chan says at the beginning. She then restarts the song. She plays most of it before stopping and saying, "Anyway to get more reverb on the vocal? I gotta pee, sorry!" The audience laughs.
"Remember Me"
- She presumably returns to the stage at this point and puts her guitar back on. "If theres any reverb in the monitor you want to take it off because I think the guitars coming through. Sorry. Its really embarrassing because no one knows whats going on. Because the last show you know tends to sound tends to equalizes. An hour and a half goes by, so then its like a different sound than it was in the beginning... I just look like a fucking asshole to everyone. But, I'm not joking. Its not a joke. I mean what I'm saying. Sorry. I'm just gonna sing and play thats all." She then starts playing "Remember Me" and sings a line or two. She stops and says, "I just feel so bad right now. I'm sorry, y'all. To you, I know it looks like 'aw, shes being a bitch', or shes doing this or that. But its like, you know I feel very upset like I want to be violent with myself, I feel bad. But I'm trying to let you know that I'm not, I mean it, I'm trying to do the best that I'm doing. And I want it to be good. And thats why I'm here. I'm not here to mess up and de-tune my guitar and its not a joke... I'm actually professional... I'm not trying to be funny..."
"Norma Jean - Names Medley"
- This is the last "Norma Jean" I have. She then goes into "Names". This is a bit quicker than earlier versions. She goes back into "Norma Jean" at the end.
"Paths Of Victory"
- One of the last takes of this song I have. Sounds great. Applause at the end.
"I Feel"
- This is the earliest version of this song I have. This sounds very much like the version on the Jukebox bonus CD, but I think she sings better on that one. All the other live versions I have are with the DDBB in 2008. She stops playing and says "Did I do this song yet?", playing "Wild As The Wind". "How many songs did I play? Did we have a technical difficulty during this song?" She plays part of "Who Knows Where The Times Goes". "Or did we have it between this song?", playing "Wild As The Wind" again. Confusing answers come from the audience. "You all piss me off. You're all stoners. Massachuettes stone people. I know you all have weed up here. I know you do... You have weed, dont you? It should be legal in museums. Museums, schools. I feel better now. Thank you for laughing! Do you like that song, thats a Hot Boys song". She plays a couple chords from it again. "Okay I think I messed up five of the
seven
songs I played, no, six. I'm so embarressed. I think anger is the most awful thing to feel. I'll try a new one, I played it the last set."
"Oh, Time"
- Played beautifully. She goes seemlessly into the next song.
"Maybe Not"
- This is a bit longer than earlier versions. This would appear to be the second to last version of this song. The only later version I have is from 10/20/06, which is a low quality video clip.
Very
sad to see this one disappearing from the setlist.
"I Dont Blame You"
- She goes into this from the last song, with her intro chords prompting a loud applause. For me, this whole piano section and the following guitar section is the highlight of the concert. A lot of applause at the end. "I'm sorry. I'm a bad person. I was showing anger, but it was at myself. But y'all were here to see it, its awful."
"John, John"
- Now on guitar, sounding good.
"Islands - Crying, Waiting, Hoping Medley"
- Just like 8/28/06, she has paired this song up with "Crying, Waiting, "Hoping". After a little bit of "Islands", she slips right into this Buddy Holly cover song. She sings it differently then usual. She then goes back into some "Islands" lyrics and then "Crying" lyrics again before ending the song. This is a really unique take.
"Empty Shell"
- Once again she adds a few random "Sucka"s into the lyrics.
"Satisfaction"
- Good version.
"Hey Porter"
- This is the only other take I have of this besides 11/4/05. She is still on guitar for this one.
"Naked If I Want To"
- Like, "Kingsport Town" and "Paths Of Victory", this is another Covers Record track Chan brought back to the setlist during this tour. She sounds awesome on this. A lot of applause after these last three songs she had played all in a row.
"Say"
- Another total rarity, this one from Moon Pix(!). This is probably the second to last time she has played this live. It sounds good but ends abruptly with Chan going into her "blues licks". "Cant remember what I played.", she says at the end. Someone requests "Colors And The Kids", but Chan does not play it at this show. "I did 'The Greatest', right?", Chan asks looking through her setlist.
"Where Is My Love"
- Now back on piano. She seems a bit distracted on this, but its still very good.
"Could We"
- Now back on guitar, Chan asks, "Did I do this one? I dont think so." A quick run-through before going right into the next song.
"Good Woman"
- The audience applauds as she starts. Having been in the setlist for about 7 years, its sad to see this one go. "Thank you", Chan says at the end to applause. "When the turn on the lights everyone starts leaving? I guess their going to get fined or something." One audience members says, "I'll pay it!", to laughs.
"I Cant Give You Anything But Love"
- One of her standard set closers from this period, as always its sung a capella and the audience joins in snapping their fingers. This is charming. "It's good to see y'all", Chan ad-libs into the song.
----------------------------------------
Picture
Review
It was the second show of the night in the museum's Remis Auditorium, after an earlier one that by all accounts went pretty smoothly. Unfortunately whatever comfort level she had with the monitor mix didn't carry over to the later set... Chan's always been particularly sensitive to sound problems, preferring to bail on songs rather than toughing things out, and did exactly that after starting a cover of "House of the Rising Sun". Some adjustments, and another attempt... still no go. She eventually moved on to her own "Love & Communication", coming close to making it through before stopping yet again. More sound issues, tuning problems, and getting somehow distracted by the stage-side soundman during "Wild Is The Wind" (who had no choice but to stare at her in case she indicated a level change, poor guy)... halfway through the show it felt like she hadn't made it all the way through a single song, although the recordings below reveal it wasn't as bad as all that. There was palpable tension in the room, especially after she abruptly left the stage for a few minutes for a self-proclaimed pee break. More than a few of us wondered if she would return.
But she did, and while the apologizing continued, the technical problems (or perceptions) disappeared. As she continued to sit behind her piano or strum her guitar, the awkwardness evaporated and the sparse beauty of her songs took over. When she'd add another "I'm sorry", some in the crowd let her know that everything was ok... and the applause were loud, the cheers enthusiastic, we became one big support group trying to hold her up. In the end, she pulled out of what could have been a tailspin to simply soar. Emotionally draining, indeed.
-------------------------
Review
Not even sure where to start. We hit the 10pm show in the MFA auditorium, and it was… ridiculous. Cat Power, much like the homeschooled Spelling Bee winner, Rebecca Sealfon, gave one of the most socially awkward performances ever. Crack Power started off by playing half a song before stopping and apologizing and requesting more reverb. Then less reverb. Then more. And so on. She kept the crazy going by going a few bars into "House of the Rising Sun" before quitting again. Afterwards, another half of a song. Then she told the sound guy to stop staring at her. After a few starts, stops, pee breaks, and apologies for being angry, out of tune, equalized, etc… she pretty much played every song again. We left after about two hours. She claimed to mess up five out of seven songs. It was amusing, annoying, sad, silly, serious, and one hell of a trainwreck. She may be a drama queen, or just plain crazy, but either way, truly memorable.
-------------------------
Matador Forum Member Review
This concert in early september was my first live concert with Chan. I had heard all the stories about concerts where there were problems, but after reading all the new press and hearing about new confidence and sobriety, I figured those days were a thing of the past. The early show went off without a hitch, but moments into the second show, there were problems with the sound, reverb on voice, reverb on guitar, the sound man was staring at her, the guitar tuning was off, etc. She explained that the sound begins at one level and as the show progresses, the sound guy tweaks things and by the end it sounds perfect, and she wanted it to sound like it did at the end of the first show but something was off. It was a pretty crazy performance and Chan finished maybe 1/3 of the songs she started. More apologies than I can remember too, she was sorry for everything, pissed off at herself, and just plain distracted. Then she moved over to the standing mic on the other side of the stage to perform on guitar and the vocals were markedly different (made me think that something was indeed off with the sound, and that she was not just hearing things, it sounded like her voice was coming from another monitor than the first 50 minutes of the show had) but half way through the song she bolted the stage saying she had to pee. I had brought a recent Bob Dylan bootleg to give her and while she was off I put it up on stage for her (I hope she got it). I had no way of knowing that she would even come back, but she did, and it looked like she had had a good cry too. Came back, got her guitar, and played with her eyes shut as she said she was too embarrassed to look at the audience, but slowly gained some confidence back. A few more tears were wiped away when she moved over to the piano. She said she had not come here to f*** up, knows she has a rep as being crazy and unprofessional, but that she was professional and just wanted to do good for us. The audience was completely on her side the whole time too, hey, we love Chan's music and paid good scratch to see her sing, but she explained that when things go wrong like that, she thinks the audience hates her (and it could not be furthur from the truth, I think fans love her and have great sympathy for her, I mean you just wanted to give her a hug and tell her it was OK). So then she starts playing songs she had done before, stopped and asked the crowd if she had done that one. Then again, and again, and when the audience could not respond with the right answer, she said jokingly, now you guys are pissing me off! The crowd laughed, and then she called us all stoners, and in Boston we have good weed, we cross breed strains here and we have the good smoke. Then she said that pot should be legal in museums (the crowd laughed) and certainly in schools (a big laugh). After that, her mood completely changed, she thanked us for laughing and said she felt so much better now, and proceded to kill for the rest of the concert. She went over curfew and had to leave the stage before she was really done, but went about 10 minutes past midnight anyway. It was my first Cat Power show, and not one I'll ever forget. I have never seen a performer go up and down like that before, and the good part of the show was amazing and just beautiful to sit there in the auditorium and absorb. The bumpy parts were a little harrowing and I just felt bad for her, she was clearly very upset. I talked to a guy afterwards who saw both sets, and he said the early show was great, started off a little reserved but Chan got stronger and better as it went on and was smiles and on top of her game by the end. I asked him which show was his favorite, and he said the late show, as it was just such a crazy, intense experience. Then he admitted he was glad he had gotten to witness both shows. I look forward to her next Boston performance, either with the band or solo. I missed the Berklee show in June as I was busy with other shows and commitments. I realize I am coming late to the Cat Power experience and would not want to miss another shot at seeing her live, she's the real deal and about as open, honest and commited to her art as they come.
-----------------------------------
Review
Whenever there's an indie concert at the Museum of Fine Arts in Boston, you can expect a unique show. Cat Power's second show last night was no different. With a reputation for onstage meltdowns and indie diva puppetry, Miss Power, aka Chan Marshall, can stretch her crazy legs with the best of them. There's an ever-present possibility of her freaking out, charming our pants off, or just leaving the stage. She's always capable of putting on a beautiful, erratic, head-shaking performance.
So, after noticeable anticipation, she snuck on stage alone to a guitar and piano. About 30 seconds into her first song, she took issue with the monitor's reverb level.  Put it up, put it down, and she wasn't joking around. True to form, she started and stopped a handful of tunes midway through because of technical difficulties in her head, while apologizing profusely. She attempted "House of the Rising Sun" three times before reaching the second verse. When she actually played, it was a haunting, mesmerizing experience, but unfortunately broken too often by her own bugaboos. She's often complained about people staring at her, and the horrifying onstage experience, to the point where it should be expected at every show. All in all, it took about two hours to get through three complete songs.
It could be some form of attention whoring, or a serious hyperactivity disorder, or a substance abuse problem, but Cat Power's performances are out of place and self-ruinous. Like her '70s hairstyle, she's not in her element when she's on stage, and it detracts from her abilities as a musician. There's no such thing as bad publicity, and clearly, this article is intently focused on her eccentricites, so it's hard to blame her or her management for the disasters, but as a compassionate human, you kind of wish she would just get her shit together and blow us away like she could if she tried.  
-----------------------------
Short Comment
I saw her live at the Museum of Fine Arts in Boston. It was a really small show and the acoustics were amazing. I had heard all those rumors about how she could be a mess on stage and didn't like people watching her, but I found her to be really personable. She joked around with the audience and even quoted Arrested Development (the tv show, not the band) a few times. It was pretty cool overall.
-------------------------------
Short Review and Pictures - Not sure which show
Cat Power, a.k.a. Chan Marshall, played two solo shows at the Boston Museum of Fine Art. Roy suggested we get there early to get a good seat and low-and-behold, we were the first two in line meaning we got front and center seats. The rule was no flash photography so I did my best with some long exposure shots. Since there was no real stage, only a 12 inch riser, the show felt more like being in someone's living room. She was funny, talkative and brilliant sounding on piano, guitar and a capella and had the entire audience wrapped around her little finger by the show's end.
17 Pictures - Not sure which show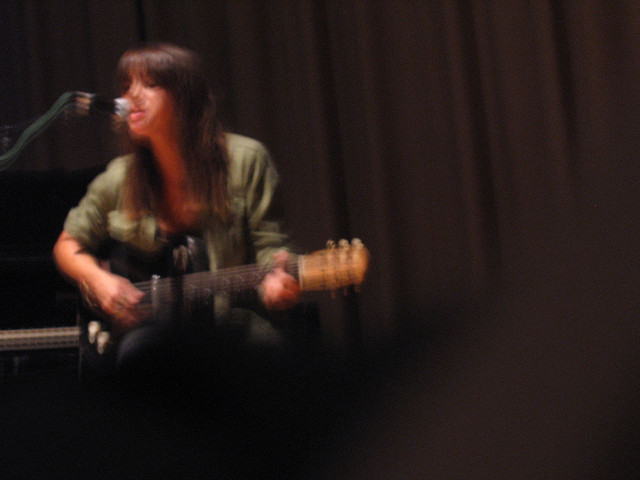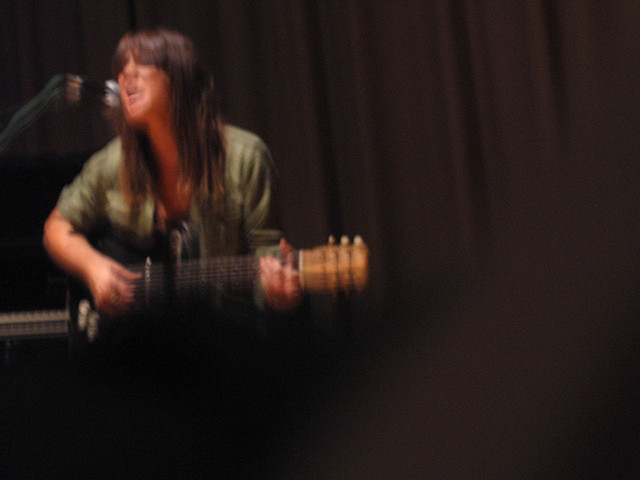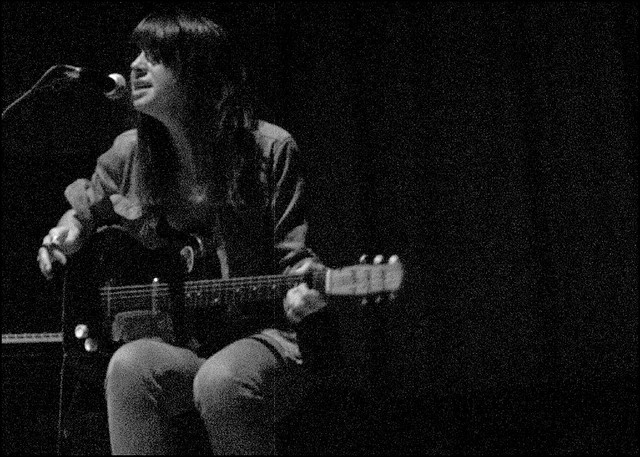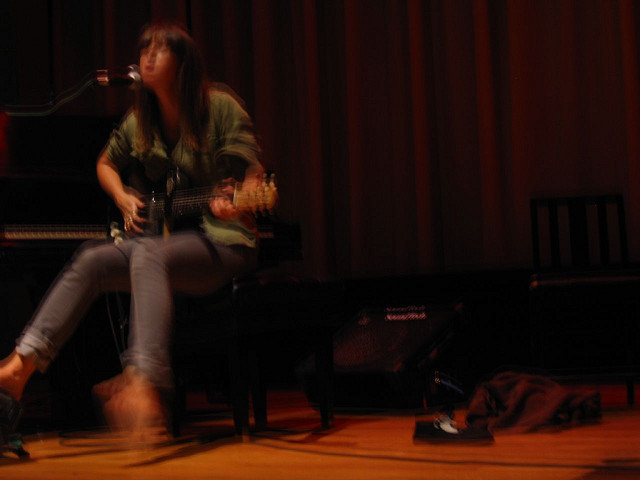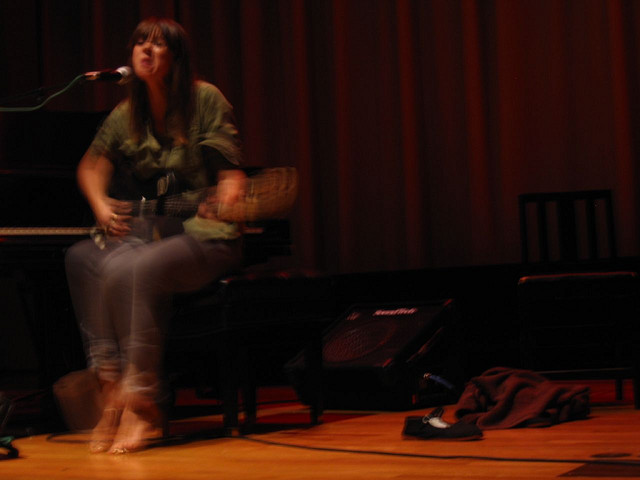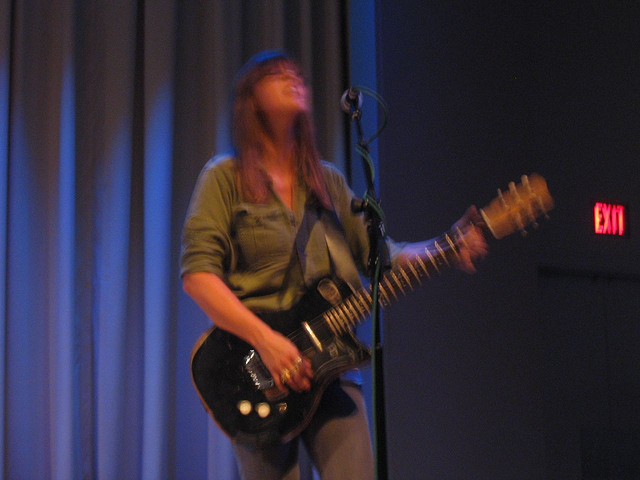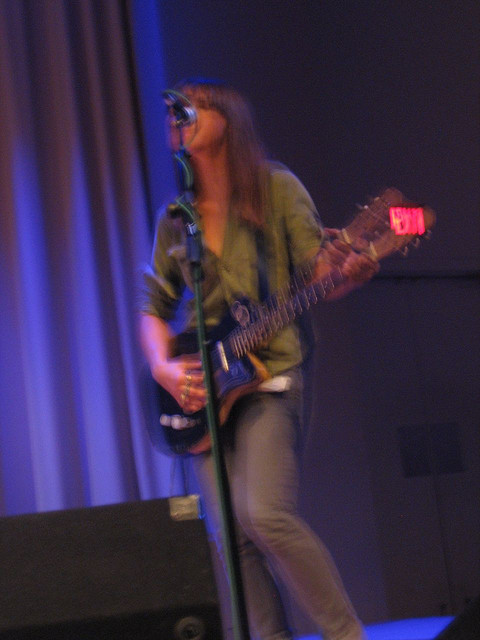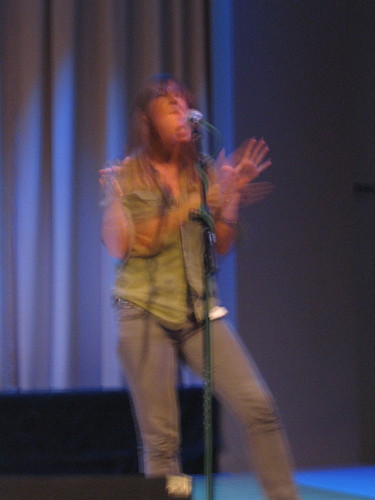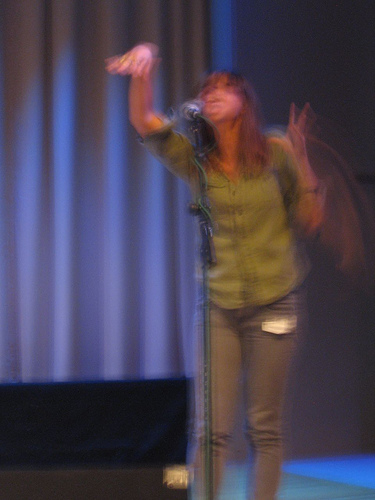 Cokelike




Messages

: 3538


Thanks

: 17


Date d'inscription

: 2012-02-14



---
Permissions in this forum:
You
cannot
reply to topics in this forum