9/4/06 - Toronto, Canada, Lee's Palace
Incomplete setlist (first show):
House Of The Rising Sun
Love And Communication - 0:35
Could We - 0:26
John, John - 0:36
Talking - 0:07
Where Is My Love - 0:32
Living Proof - 0:43
Empty Shell - 0:41
Hey, Porter - 0:26
Satisfaction
Lived In Bars
Names
Good Woman
Say - 0:39
I Found A Reason - 0:37
I Dont Blame You - 0:56 - *
I Cant Give You Anything But Love - 1:35
End Of Concert - 0:05
Total Time - 7:58
* - Not sure which show
Incomplete setlist (second show):
House Of The Rising Sun
Satisfaction
All I Have To Do Is Dream - Try A Little Tenderness - Blue Moon Medley
These were the forty-fourth and forty-fifth concerts and twenty-eighth and twenty-ninth solo performances. She has her green shirt and also a dollar sign necklace at these concerts. The clip of "Say" is really cool and "I Found A Reason" is being played for the first time in a while, she even changes some of the lyrics on it.
Love And Communication
, 0:35:
Could We
, 0:26:
John, John
, 0:36:
Talking
, 0:07:
Where Is My Love
, 0:32:
Living Proof
, 0:43:
Empty Shell
, 0:41:
Hey, Porter
, 0:26:
Say
, 0:39:
I Found A Reason
, 0:37:
I Dont Blame You
(not sure which concert), 0:56:
Myspace video
I Cant Give You Anything But Love
, 1:35:
End Of Concert
, 0:05:
-------------------------------------
2 Pictures and Review (first show)
Despite Chan Marshall's history for having emotional breakdowns on stage due to alcoholism, tonight in Toronto, she proved her history wrong. During one of her songs, she raised her tea (earl gray) and said "I'm sober now." Chan Marshall aka Cat Power is chillingly beautiful. She's a powerful, prolific modern-day folk singer that pulls at the heart strings and makes your gut cramp with emotion. Her beauty is captivating and her performance was gorgeous and personable. One of the best concert experiences of my life. She played for a solid three hours and added intimate stories to her songs along the way. She was open to the audience and took requests, while adding that she needed to like the song for it to be performed. If you don't know her and have the opportunity of catching her live, you will instantly be moved and will fall in love guaranteed.
------------------------------------
Review (first show)
A Cat Power performance is an exercise in nervousness. She is alone, vulnerable, stripped all music adornments but a guitar and a piano, her thin frame twitches and ticks through her set. She'll sing songs halfway through, seemingly losing her place, and switch to another; her leg swings and jerks while she plays.
Despite a sold out supportive and appreciative crowd at Lee's Palace, Cat Power still looked like she was struggling with stage fright. "Wow, there's a lot of people here" She observed at the start of the show, repeating this a few times more throughout. The first of her two two-hour sets was filled with unpolished song transitions and an acute self awareness, that often caused her to interrupt herself mid song before continuing. She even stopped halfway through for a cigarette break, anxiously making jokes and small talking through her Southern twang with the audience.
But the music itself was spotless. She opened with a dripping slow of "House of the Rising Sun." It's rare to find an artist who covers songs with any honesty. Most shuck their way through choruses, riding the public familiarity of the song without changing or contributing anything new to the original version. Cat Power is not one of those artists; while a chunk of her repertoire is covers, she always infuses them with her own style of alternating strummed two chords. She peppered the night with these unrecorded covers, like "Hit The Road Jack" and an extended version of "(I Can't Get No) Satisfaction," each increasing the delight of the audience.
While some people may be annoyed by Cat Power's on stage fretting, it fit the mood of her slow and intimate music, drawing the audience closer into her performances with each unveiling of eccentricies. Her crystal voice lulled its way through crowd favorites "Lived in Bars," "Names" and "Good Woman."
But the show began to drag in the middle. Because the set was so long and her songs so simple and similar musically the crowd grew antsy. "Am I boring you." She asked, adding "Time for another one chord Cat Power song." However, when she was alternating between the faster piano and guitar songs, the show was engaging and the audience responding by cheering and yelling out requests.
And when the show concluded, she reciprocated that gratitude, bowing down and kissing as she walked off stage while the crowd cheered. She even beamed a confident smile as she ducked back stage.
----------------------------------
Picture and Review (second show)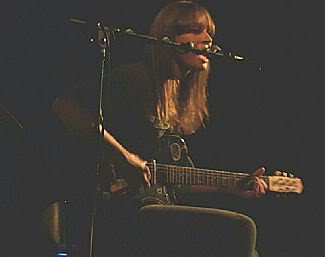 I must admit, before going to see Cat Power at Lee's Palace this past Labour Day, I was really a newbie to her music. I've owned "Moon Pix" for ages and I know her primarily for her music video to her song "Cross Bones Style"[YouTube]. I've even picked up a few of her other albums(including her newest album "The Greatest") recently. Still, for unknown reasons, I've just never gotten around to giving her music a good listen. The beauty of her song "The Greatest" (off the album of the same name) plus a bit of bandwagon-jumping on my part was enough to compell me to fork over the $22.50 plus service charge to go to her late show at Lee's Palace on Labour Day and I'm so glad that I attended. The general consensus about her last (last few?) show(s) in Toronto is that Chan's been a trainwreck live due to flakiness, alcohol or more likely a combination of both. However, a new era of sobriety greets Chan this time around, and it was definitely reflected at her late performance at Lee's Palace on Labour Day.
While blogger The Genealogy of Taste found Chan to be nervous and twitchy during the earlier show at 7 pm, I think Chan had worked out the kinks by the time the late show got under way around 11 pm. Given past criticisms of her live shows, I thought Chan possessed a decent balance between confidence and modesty: I didn't perceive her to be nervous at all but rather to be quite modest about all the attention thrown her way from the adoring sold out crowd. When a girl in the audience apparently fainted due to heat, Chan was generally concerned and was even offering her water bottle to the girl just as security came running to the front to check on her. And when the girl was brought backstage to be checked out, Chan walked offstage for what seemed like a good ten minutes before coming back onto the stage when she informed the audience that the girl was alright. The performance had been somewhat delayed previously also when Chan noticed someone she didn't recognize scurrying backstage and she called security to check it out because she had some of her things there. Perhaps, these delays were beneficial because they tended to act as intermissions during the generally same-sounding, long set. As sublime as I found Chan's brittle vocals against the spare accompaniement she provided with either guitar or piano, maybe the two hour plus long set was a little too much for some.
It was a really magnificent set and if I wasn't familiar with the songs necessarily [although I could tell many were familiar], the songs are enough to compel me to give her music a better listen in the future. One thing I'd like to mention though is her knack for performing thoroughly interesting versions of other people's songs. Touching on several covers including The Rolling Stones' "Satisfaction", The Everly Brothers' "All I Have To Do Is Dream", and Eric Burdon's "House of The Rising Sun" (plus was that a little bit of Otis Redding's "Try A Little Tenderness" that I heard?), Chan's versions were identifiably hers. With the tenderness of her vocals, slight melodic revisions and the sparest of instrumental accompaniement, Chan was able to make other people's songs her own, if only briefly.
-------------------------------------
Picture and Review (second show)
I will confess that I have avoided seeing Cat Power live in the past on account of her reputation as an… unpredictable performer. Though I'm sure for some that gamble is part of the appeal, I think I'd have just felt really uncomfortable if one of the shows I was at was one of her off-nights. So news of her recent sobriety and the fact that she was supporting what, for my money, is her best album – The Greatest – got me out on Labour Day evening for the second half of a double-header solo show. That and the guest listness.
While a little disappointed that the full Memphis Rhythm Band wasn't going to be along for the ride, it was evident that she was deliberately going for an intimate vibe, what with opting for two shows at Lee's Palace instead of one at a much larger venue. From the moment I arrived, I had the feeling that it was going to be a different sort of evening – for starters, the lineup was snaked all around the venue and into the parking lot around back. I cannot remember the last time, if ever, I stood in line at Lee's Palace. Bizarro. Somewhat surprisingly, there still appeared to be some tickets available at the door – a betting man would have expected the show to be completely sold out. But if it wasn't, it certainly felt it once everyone was inside. It was warm – not as stifling as I've experienced, but there would be more than one fainting victim before the evening was out. More on that later.
The scheduled 10:30 start time came and went and the natives began to get a little restless until Chan strolled out onstage at maybe 10 minutes to 11 to rapturous applause. Smiling – nay, BEAMING – Marshall seated herself with her electric guitar and began with, "House Of The Rising Sun", and from the first whisper out of her mouth, that was it. For the next two hours plus, she would own us – every one. Her voice is like velvet and honey, delicate and raw and inhumanly expressive and perfectly accompanied by her guitar and piano playing. Playing from a tattered, red magic marker setlist (I suspect if anyone grabbed it as a souvenier, the rest of the tour would have to be cancelled), she mixed up new material with old and a liberal dose of covers and standards. The Greatest material sounded drastically different stripped of its R&B production, but still incredibly satisfying. And that voice. My God.
But perhaps more important and memorable than the actual performance was Chan Marshall herself. On this night, she was smiling, chatty, happy and radiant and seemed to be enjoying herself immensely. Seeing her for the first time, I was having great difficulty reconciling the artist onstage, communing with her audience, with the mercurial, difficult performer of legend. Not that I don't believe the stories – I've heard far too many of them – but she must have checked that persona at the border because for Toronto on Monday night, she was just sublime. And beautiful. Hoo-boy.
Not that there wasn't some eccentricity. About a third of the way through the show, she caught sight of someone in the wings offstage and became a little agitated, calling security to check it out because she had her personal belongings stashed in that room. But even that was more endearing than odd, with her alternately saying, "I got my stuff back there" with a little blues guitar riff, over and over again, until she was satisfied that she hadn't been robbed. And then a while later, a girl in the audience near the front collapsed, likely from the heat, and taking notice, Chan became quite alarmed and came offstage to see what was the matter. Then, apparently satisfied that matters were in hand, disappeared without a word, leaving the audience confused and a little disconcerted. She was doing so well! But lo, after around 10 minutes, she came back onstage with a refilled mug of tea ("sober!") and picked up where she left off, not a word of explanation. Not that anyone cared – as long as she was back (I think it was a smoke break).
All told and including impromptu intermission, she played for about two hours fifteen and though my knees and back thought that was plenty long enough, I'd have happily stayed and listened to her another couple hours more. I can't speak for any other show on the tour or even the early show, but for this evening, Cat Power was simply amazing. If I'm ever ambivalent about seeing Cat Power live again, it'll only be because I don't know how she could top this performance.
--------------------------------
29 Pictures, all of them great (not sure which show).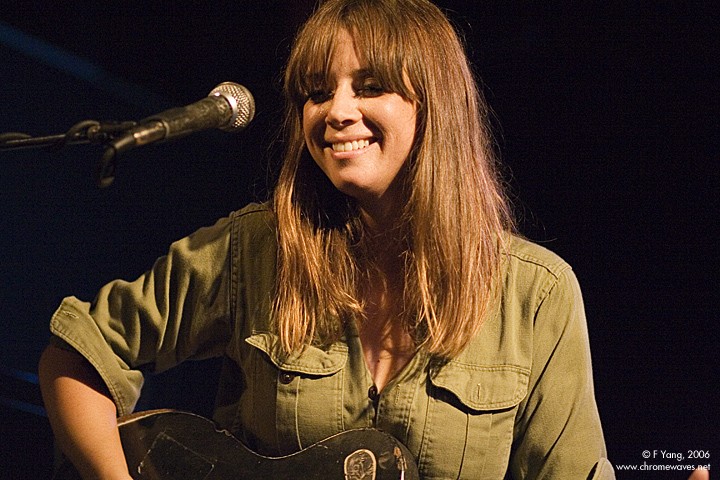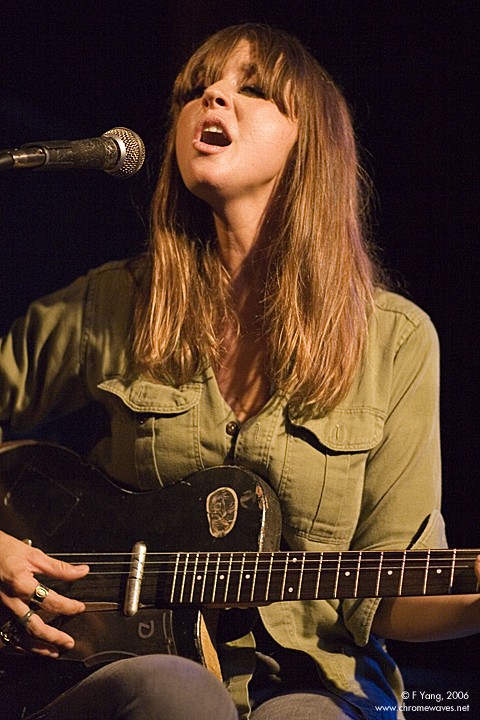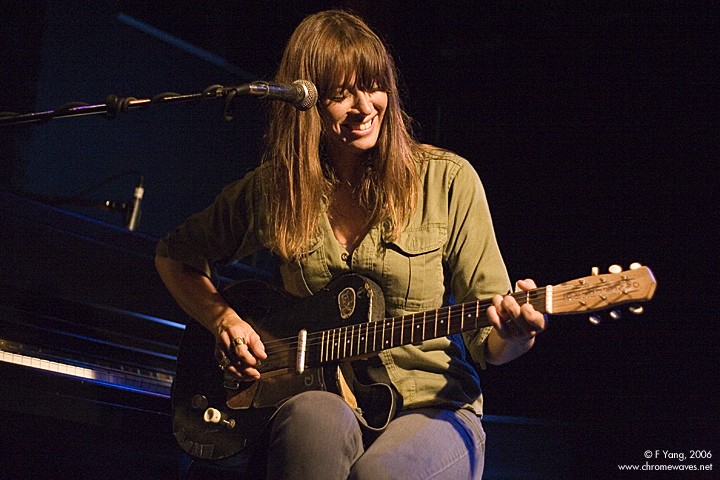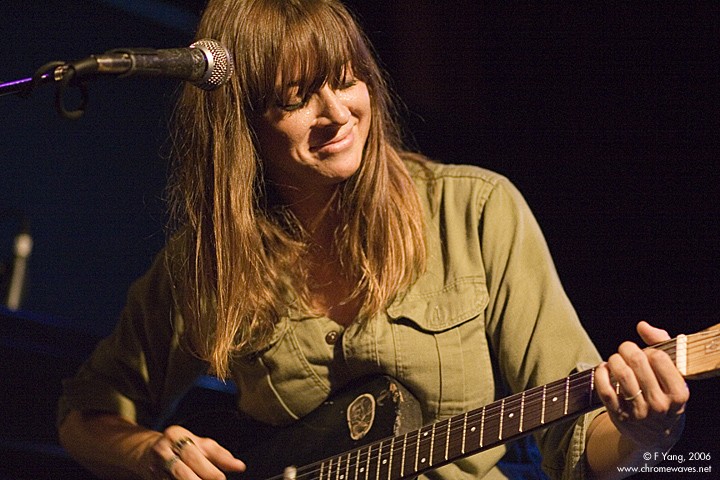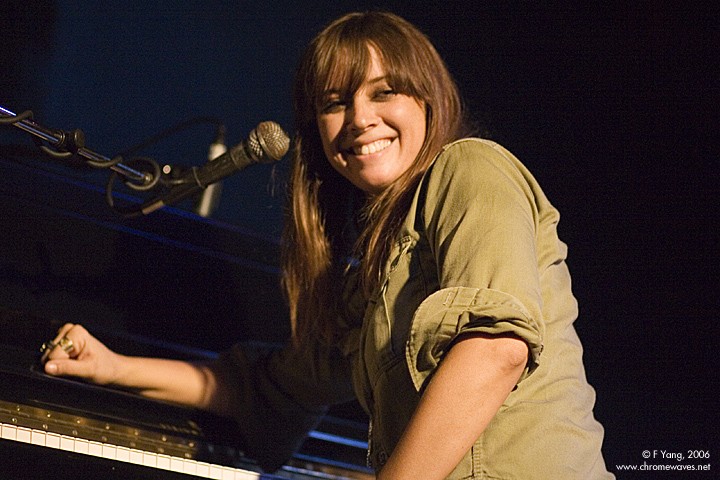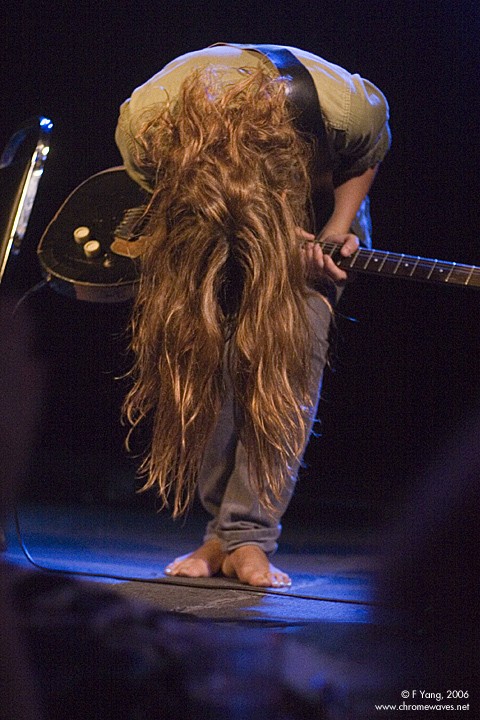 Last edited by Cokelike on Wed 6 Feb - 6:39; edited 3 times in total

Cokelike




Messages

: 3538


Thanks

: 17


Date d'inscription

: 2012-02-14



Cokelike wrote:
The inclusion of "He Turns Down" is amazing if that is what she in playing the clip below. What does everyone think?

The music definitely sounds like
He Turns Down
but i'm not sure about the lyrics. I don't recognize them.
Nicolaoua wrote:The music definitely sounds like He Turns Down but i'm not sure about the lyrics. I don't recognize them.
Listening to 9/5/06, I'm convinced its actually "Hey, Porter". She plays it at that show too. I didnt recognize it.

Cokelike




Messages

: 3538


Thanks

: 17


Date d'inscription

: 2012-02-14



---
Permissions in this forum:
You
cannot
reply to topics in this forum