6/14/06 - Washington DC, 9:30 Club
Incomplete setlist:
Soul Serenade
The Greatest - 0:19
Living Proof
Lived In Bars - *
Could We - *
Empty Shell - *
Willie - *
The Moon - *
Islands - *
Where Is My Love - *
I Dont Blame You
Since You've Been Gone
Love And Communication
Total Time - 0:19
* = Assumed to have been played.
This was the twelfth performance of the tour. From the pictures it looks like Chan did not wear the white dress at all for this concert. Dexter Romweber opened. This was a sold out concert. Later in the year, Chan and the band return to this venue for a concert that was broadcast by NPR.
The song above, "Since You've Been Gone" was performed by the band with Teenie Hodges singing. Chan is not on this one. It can be heard on the recording of the next concert. I love the part of the review below where Chan is quoted as saying, "I have an addiction... to reverb."
For a lot of the 90s concerts you can hear her asking for reverb almost between every song. But I think that by the time of 2007 with the DDBB she seems to have found a system that works for her.
"The Greatest"
----------------------------------
Pictures and Review
What the hell happened to Chan Marshall? Oh, sobriety! The last time I saw Cat Power, she was playing the Ottobar last summer, and she was her usual awkward self: hair in her face, slobby, and constantly riding herself for doing a terrible show. However, her songs and voice were, as always, beautiful and brilliant. I do recall her mentioning how she wanted to take another drink to calm her nerves that evening. At last nights' 9:30 gig- it was an all new Chan: her hair was pulled back, she was dressed nicer, she was wearing makeup, and she danced onstage! Backed by the Memphis Rhythm Band, her songs sounded like old blues, rock, and country standards! They were amazing together. She did crumble down in the last half of the show when she started criticizing herself, but the band seemed to be her support at times. She played her last few songs alone onstage, and she seemed very disappointed, but the audience tried to cheer her up. She ended the show with a warning not to Tivo The View. This was the most confident I've seen her. I hope she learns to love herself more in the future.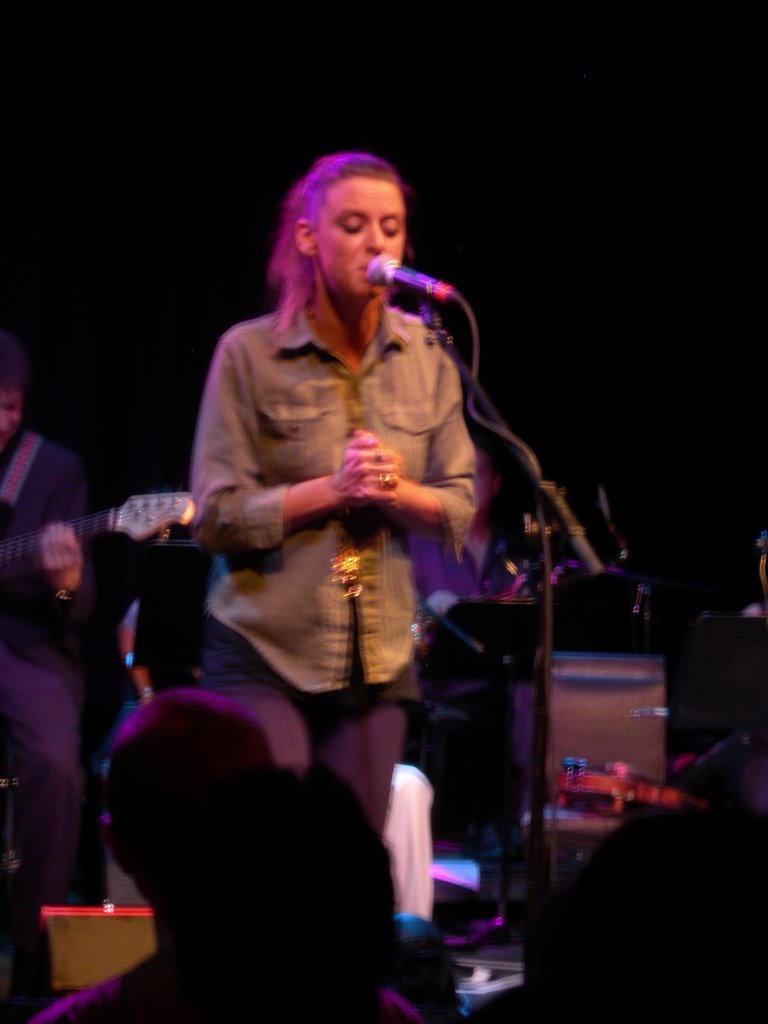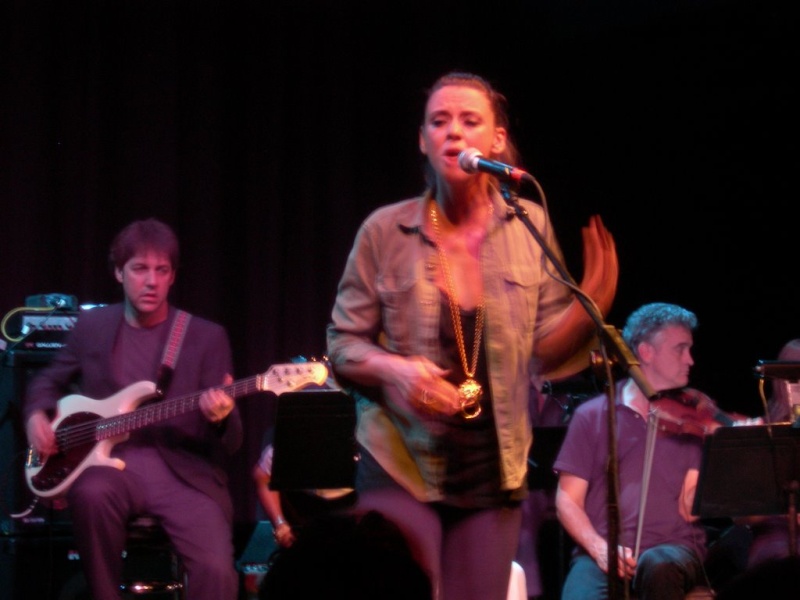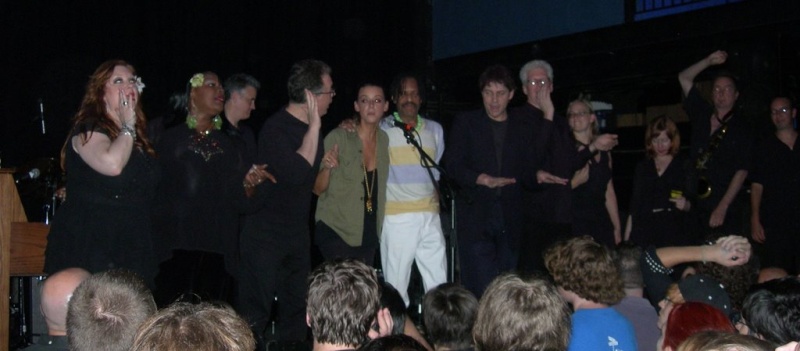 ------------------------------------
Matador Forum Member Review
This is my personal fan review for the Cat Power show at the 9:30 Club in Washington, D.C. on Wednesday, June 14th, 2006.
I should start off by saying that I have been to a good amount of shows - some of them large and loud, and some of them small and personal, and for every one of them I have felt the urge to jump online, log onto the biggest fansite forum, and give an honest reflection and reaction to. For whatever reason, however, I have resisted those urges and simply reserved myself to reflect on them in my mind. The Cat Power show this evening, however, has changed all that. For whatever reason, I feel strangely compelled to tell you about the evening's experience- please feel free to comment on this review, and to post with your own personal reactions to the show as well. Anyways, sorry for the preface, and onto the concert.
I traveled to the concert with two friends who only vaguely have heard Chan's music, but who both had a healthy interest and an open mind. This being my first Cat Power show, I myself was only going in armed with a love for her music and a few scant details that I have read of her live performances - you know, the ones that say how inconsistent she can be, and also how she can be so marvelous when she is having a good night. With that knowledge in mind, I recounted a story I read about her live performance from a couple years ago (spotted on this board, I think) when she forgot the words to one of her songs and decided to sing Mary had a little lamb instead. My friends chuckled a little bit at that, but were still undeterred.
We arrive in time to see Dexter Romweber play his energetic set of about 9-10 songs (he kinda rocks, by the way, and I shook his hand afterwards. I'll never wash it again.) He goes off at about 9:30, and the crew sets up for the main act. After a long wait, the Memphis Rhythm band took the stage at about 10:20 to a bustling and anxious crowd, Cat Power-less. Their 12 piece ensemble coasted into two instrumental jams in which the band, complete with 70's soul legend Teenie Hodges, flexed their musical muscles by belting out some cool southern influenced romps. At the end of the second jam, one of the back-up singers, a buxom and soulful black woman, introduced Cat Power, who strolled onto the stage, giving every band member within reach a nice hug and a kiss. After the applause died down, they charged into a stirring and beautiful version of "The Greatest." Having only heard Cat Power's voice on her albums, I must say that I was hypnotized to hear how absolutely wonderful her voice is in person- strong, beautiful, and just plain exquisite. By the end of the second song, "Living Proof" (I think that was the second song- I didn't write anything down, and I have no idea of the exact set list), I knew that we were all in for an astonishing night. The band sounded unbelievable- amazing chemistry, great acoustics, and awesome sound- as they played through most of the songs on the album, in order. I've never seen a band or group stick to such a strict set list, but in this case, it didn't detract from the show in any way whatsoever. In any case, Chan danced exuberantly around on stage throughout the set, seemingly having herself a great time, and even at one time proclaiming "It's great to be sober". It was great to see her so full of energy, considering what I had read and heard about her past problems with alcohol- the energy translated to us in the audience, and it made for a magical atmosphere.
The band stopped short of playing the last two songs on the album (again, correct me if I'm wrong on the specifics- my fact checker is on vacation this year), and left Chan on stage by herself to go into some solo renditions of what I thought were a few Moon Pix songs, followed by a couple other songs that I didn't know the name of, and finally a great rendition of "I Don't Blame You", for which the crowd erupted with applause. The band them came back out again and played a jam without Cat Power, and then reintroduced her for a fantastic and energetic delivery of "Love and Communication". Once again, the band exited, leaving Chan all by herself to play a few heartfelt songs that once again (I apologize) I didn't know the names of. This last part of the show, with Chan on stage all by herself, pouring her heart out into her piano and guitar for the audience, would be my only qualm of the night. Throughout the entire show, Chan seemed to be displeased with a few technical aspects of the venue, asking the crew to tweak sound levels and settings. At one point she even proclaimed "I have an addiction…to reverb", which got a nice laugh from the crowd. During her final songs, however, she began apologizing to the audience for, in her own words, "sucking", and requesting further absolution for sounding generally bad. I'm sure that no one in the audience felt that way (I know I didn't in the least, and many in the audience responded to her apologies by calling her "The Greatest", and shouting out proclamations of love). Her insecurity made me feel slightly uncomfortable, and as she played what seemed to be a medley of about three songs together, struggling to remember words and harmonies, I kept telling myself that I hoped she didn't fall apart on stage after such an amazing night. To be honest, there didn't seem to me to be any major problems with the show, her voice, or her playing, but I might be biased, because I'd pay to sit and listen to her read a telephone book. Lucky for us, she managed to keep it together, and after an a Capella song that once again, I didn't know the name of (wow I suck at this), she exited the stage to universal applause.
All told, she and the band played for nearly two hours, finishing up just after midnight. The show was maybe one of the most entertaining I've seen. The music and the atmosphere were personal, beautiful, and downright electric, and Cat Power's enthusiasm and energy throughout the set made for an unforgettable night. If I was a fan of her music before, I think I might be a super-fan now. Thank you, Chan, for a great night. Please keep healthy and sober and continue to put on great shows like this one. Thanks again for listening.

Cokelike




Messages

: 3538


Thanks

: 17


Date d'inscription

: 2012-02-14



Similar topics
---
Permissions in this forum:
You
cannot
reply to topics in this forum