6/11/06 - Philadelphia, PA, Theater of Living Arts
Incomplete setlist:
The Greatest
Living Proof
Lived In Bars - *
Could We
Empty Shell - *
Willie - *
The Moon
Islands
After It All
Where Is My Love - *
Hate
John, John
All I Have To Do Is Dream
I Dont Blame You
I Cant Give You Anything But Love
* = Assumed to have been played.
This was the tenth performance of the tour. Appearently this concert was moved to this venue after being scheduled for the Electric Factory. Dexter Romweber was on the bill.
3 Pictures, all awesome
Chan,
: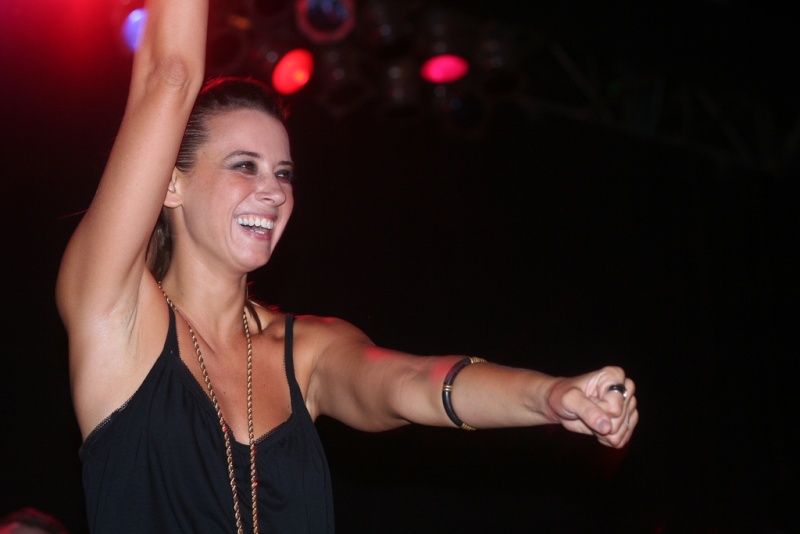 ----------------------------------
Review
Tonight we meet the new Cat Power. This is evident even from the choice of opening act - Dexter Romweber's Southern-fried take on the blues bears little resemblance to the mournful Cat Power of Myra Lee. Romweber's soulful rock may be unexpected, but that's a positive - even if this crowd isn't exactly ready to groove.
Tonight's set is almost entirely composed of tracks from her new album, 'The Greatest'. In the back the entire Memphis Rhythm band provides a jazzy backdrop for songs like 'Islands' and 'After it All.' It feels like a fundamental break with the past, akin to a junkie shedding off all former friends. But the problem is that we'd grown attached to those friends - she showcases only one song off of her groundbreaking 'You Are Free ('I Don't Blame You')' and little from her early albums. Only opener 'The Greatest' and the abysmally mournful 'The Moon' have the same dour spark we've come to expect from Miss Marshall.
Maybe the crowd even picks up on this -when asked "What's your drug of choice?" by a dazed fan, she smiles and shrugs: "I'm sober now." But the audience seems to prefer a bit of the boozy and willfully destructive girl they once knew. The chant for 'Metal Heart,' off of 1998's Moon Pix, grows more and more substantial but Marshall ignores it with a wry wink. Throughout the entire set she plays temptress and tease, dancing her way through jazz and blues-based songs in a matter that only be appreciated after watching Elaine's dancing in Seinfeld. But tracks like 'Could We' and 'Living Proof' come off as sultry and seductive, the sound of a decadent New Orleans before 'levee' was anything more than a Zeppelin song. As usual, it's startling to hear such an old and mournful voice come from a giggly young girl, and Marshall makes it hypnotic. Every time her voice bursts out, it's a childish squeak; then it rapidly veers into melancholic soul.
For a few songs Marshall showcases some early tracks on the solo piano, but she seems genuinely more comfortable when the band rejoins her, even allowing their vocalist to handle a song. And when the entire show finishes with a joyful rendition of 'I Can't Give You Anything But Love,' the energy in the air is one of cautious optimism. "Remember," Marshall reminds us. "Here today, gone today." She smiles again, and disappears behind the curtain - a changed woman.
------------------------------------------
Review
Chan Marshall is missing. The Memphis Rhythm Band has been on stage, playing a tune for five or ten minutes while my friends and I joke (sort of) that Marshall, who records as Cat Power, may not even show. When her band bites into its second instrumental piece and Chan still hasn't stepped on stage, I figure she's throwing some tantrum, and I hit the bathroom. When I return, still no Chan. My friends and I roll our eyes, laugh. We know this drill.
When she finally steps out, Marshall looks like she's been through Extreme Makeover: Chanteuse Edition, and we're like, "What? It's Fiona Apple's twin!" She's bopping around with her hair pulled back in a tight ponytail, rocking a slinky black low-cut camisole with a gold medallion. The crowd collapses into surprised chatter. But the minute Marshall steps up to the mic and breathes the first words of "The Greatest," we're like [hush]. That voice, man, that voice. That voice could slice your soul in one note and mend it a verse later. That voice could calm a hurricane.
So yeah. She was totally playing us. She knew we'd be drop-jaw astonished at the new Chan, so why not delay the gratification? She was right. Astonished we were.
Those who've seen Marshall perform in the past several years understand just how dramatic the change is: she was flexing her arms during "The Greatest", doing a chicken dance between verses, hugging and joking with her band members, and popping her limbs during even the smokiest ballads. You know that woman with the hair in her face, the one trapped in high-necked, long-sleeved blouses, the one who mumbles into the mic between songs she won't finish, the one who hates to perform? The one who can't stand her audience? That woman is gone. The new Chan dances freely like that uninhibited girl at the club who knows everyone's watching and doesn't care. The new Chan smiles.
To watch this new Chan Marshall is a beautiful, beautiful thing. It's like the weight of a tanker has been lifted from her shoulders. It's like years of fog have cleared. It's like watching someone decide not to jump after staring down the edge of a cliff for a decade.
What happened?
"I'm sober now," Marshall says with a shy smile. "It's way better."
Turns out all Chan Marshall needed was sobriety and a kickin' beat. Easier said than done, but god, it seems so simple a thing after seeing this changeling looking so healthy and well. It is just incredible to see someone step out of an alcohol-soaked depression after so many years. I've been tearing up all week recalling how magnificently happy she seems now, and, conversely, how magnificently unhappy she must have been all this time.
The Memphis Rhythm Band is the heartbeat of the new Cat Power, giving Marshall energy and confidence few knew she had. Clearly she has learned to lean on them—perhaps too much. Shortly after her backing musicians walked off stage for Marshall's mid-show solo set—a few of them offering reassuring hugs as they left—Marshall returned to her old habits. She fidgeted on the piano bench, became visibly uncomfortable, and in the middle of an elegant cover of the Everly Brothers' "All I Have to Do Is Dream", stopped mid-verse.
"I messed it up," she muttered angrily amid moans of disappointment from the crowd. "I'm sorry."
She switched to guitar for a Johnny Cash cover and a revised version of her own "Hate", in which she changed the lyrics from "I hate myself and I want to die" to an emphatic "I do not hate myself and I do not want to die." Well said, and a long time coming.
"Are you guys like, what's up with her?" she asked us after "Hate." "Chan's actually back there." She gestured backstage. "It was a hell of an audition, but I passed it. Chan's back there in her little cocoon—drunk." Begin an acoustic cover of "Hit the Road Jack", with the lyrics revised to "Hey, you're good-looking, and man, you can sing / you can play the guitar like I never seen…/ Hit the road, Chan, and don't you come back no more."
Much of the show read like La Chan est mort / Vive la Chan!, a farewell to Marshall's clouded former self and a moving demonstration that she has come to terms with her role as a performer. Her encore performance, "I Don't Blame You", the only appearance from You Are Free, further reinforced this theme. A song written about performance anxiety and the bloodthirstiness of an audience who doesn't necessarily get it, "I Don't Blame You" found new form. Marshall sped up the words and spit them out as if to invert the message. It was as if she was forgiving herself, or at least seeing with new eyes.
When she left the stage for good with the ambiguous statement, "And remember: here today, gone today," it was difficult to determine whether Marshall's meaning was "Appreciate Life, Motherfuckers," or "Leave Me the Hell Alone." Whatever the case, that was one loaded statement to leave us with, and with it, Marshall made a calculated return to the more somber tone of her previous performances.
I've always seen Chan Marshall as another Kurt Cobain, a potential Elliott Smith with a talent so fierce that it's sure to get distorted; it's sure to stop short. Thankfully, it looks like she's made a move away from the melancholy, and, though her bruised voice suits it so well, the woman herself is no longer stuck in the sludge. Congratulations, Chan, and all best to you. It seems—for now at least—three years after you released the soulwrenching album of the same name: finally, you are free.

Cokelike




Messages

: 3538


Thanks

: 17


Date d'inscription

: 2012-02-14



---
Permissions in this forum:
You
cannot
reply to topics in this forum