6/10/06 - NYC, Town Hall
Incomplete setlist:
Soul Serenade - *
The Greatest
Living Proof - *
Lived In Bars - *
Could We - *
Empty Shell - *
Willie - 0:17
The Moon - *
Islands - *
After It All - 0:29
Where Is My Love
Who Knows Where The Time Goes
House Of The Rising Sun
Hate
John, John
All I Have To Do Is Dream - Blue Moon Medley
I Dont Blame You - 0:15
Total Time - 1:01
* = Assumed to have been played.
This was the ninth concert of the tour. Again the white dress is worn. She plays a piano version of "I Dont Blame You". The live versions from this year are the last solo piano versions.
Willie:
After It All:
I Dont Blame You:
------------------------------
Review
The last time I saw Cat Power live was about four years ago in Baltimore, and I left after half an hour. I don't want to make too big a thing out of this, but Cat Power shows are uncomfortable. Chan Marshall is an amazing singer and a frequently great songwriter, but I always got the sense that she was struggling against her own strengths, drowning her songs in reverb and skeletal water-torture arrangements, sending herself out onstage to die a long and slow death. There's been plenty made of her constant visible discomfort in front of people, but it's always been true: she mumbles, abandons songs halfway through, apologizes constantly, hides behind her hair. And she's been doing it for years, often with no other musicians onstage, so she's been all alone in getting through every one of these apparently harrowing experiences. I've never seen her run crying out of a club or anything, but I certainly believe the reports that she's done it. And so I've always had a nagging suspicion that a pretty huge portion of the crowd has been made up of vampires who get off on watching someone so obviously uncomfortable try and fail to get through an entire show, sort of like people who show up at Nascar races just to see crashes. And there's always been a little piece of me that's said that she's doing it on purpose, playing up certain parts of her personality to cater to this demographic, secure in the knowledge that there's a lucrative market for damaged, fragile women. And plus her songs are really slow and quiet, so it's always been a challenge to stand up in a crowded club for an hour and a half and listen to someone flounder through this stuff, and so her shows can often be simultaneously boring and excruciating. I walked out of that Baltimore show resolving that I'd never waste another night on a Cat Power show.
And then she made an album with a bunch of old-school Southern-soul session musicians, her big Dusty in Memphis move. I like The Greatest more as an idea than as an album; for every dusky slow-burn makeout jam like "Could We" or "Living Proof," there's a treacly overproduced waiting-room song like "Islands" or the title song. But I really love the idea; I figured that if these grizzled veterans could get Marshall to come out of her shell and put on a show, then maybe one of the most gifted singers of her generation could make a big jump toward actualizing her potential. When Matador announced that she'd be touring with something called the Memphis Rhythm Band, I had a mental image of this group of old guys playing taskmaster, snapping at Marshall whenever she fell into her woe-is-me routine and basically forcing her to be as good as she could. And then she went and cancelled the whole tour; it seemed like it wasn't meant to be and she'd be back to her old hermetic ways soon enough.
But the tour was rescheduled, and Saturday night's show was be a better Cat Power show than I'd ever imagined could possibly take place; my fault. It certainly helped that the show was at Town Hall, a seated venue; Cat Power isn't exactly circle-pit material. But that's not what made the show great. It turned out that my band-as-drill-sergeant image couldn't have been more off. Marshall had a huge thirteen-piece band with her, grand piano and strings and horns and backup singers, but they weren't cracking the whip at her. The band came out before Marshall, and they played a couple of slow instrumental numbers that sounded suspiciously like songs from The Greatest; it seemed like they were in a holding pattern, waiting for a Marshall who wasn't sure she wanted to come out and play this show. But that impression melted away a few minutes later when Marshall came out flashing a big smile and doing a chicken-dance, looking better than I've ever seen her (people kept wolf-whistling throughout the show, which was really irritating). When she stepped to the mic, her voice came out thick and smoky and raspy, just magnificent, like she'd been holding back onstage for years and was only just learning how good she was; if anything, she's sounding more polished onstage than she does on record. She's not exactly a seasoned, confident performer; she was fidgety and awkward and nervous. But she finally seemed to be enjoying herself up there: fumbling through Riverdance toe-steps and turning paralyzing anxiety into physical comedy. She left the stage at one point before coming back and saying, "I just went to see if I had any text messages. I mean, he said he was going to be here." It used to be that when she'd forget the words to a song, she'd stop dead in the middle and apologize continually. It only happened once on Saturday, and she just sang "something something" and then kept going. Just after Marshall pulled out an absolutely perfect rendition of "Where Is My Love," the band left the stage, and she came back dressed in a short white dress with her hair pulled back: a costume change at a damn Cat Power show; wonders never cease. Without the rest of the band, she did about half an hour by herself and didn't miss a step, playing stark and mesmerizing covers of "House of the Rising Sun" and "Hit the Road Jack" and the Everly Brothers' "Dream," alternating between piano and a big hollowbody rockabilly guitar, everything so quiet that you could hear cell phones ringing in the audience. After the band came back for a few more songs, she ended it with another solo song, "I Don't Blame You," maybe the saddest song she's written. It didn't sound quite so sad anymore.
Over the course of the show, she made a couple of jokes about being sober. It would be cheap and easy to call that sobriety the source of her newfound ease and happiness, but I'm not convinced that it would be wrong. For years now, Chan Marshall has been going onstage and soldiering through despite visibly obvious discomfort, and the shows have often been pretty terrible as a result. She's not exactly Frank Sinatra now, but the lingering tension from the old shows makes the new triumph that much more powerful. The Memphis Rhythm Band can do a humid vamp as well as just about any band I've seen, but they have a way of straying into Paul Shaffer and the CBS Orchestra territory, and they'd be dead boring behind Carly Simon or whoever. But when they're there to bolster Marshall's burgeoning self-reliance, their professionalism makes for a great foil. I hope I don't sound condescending when I say that she's turned a corner, and it's moving to see her finally becoming a great performer. I went to see a concert and a redemption story broke out.
----------------------------------------------
Review and Pictures and Setlist
Tonight, caught the amazing Cat Power (Chan Marshall) at Town Hall. The ticket karma continues to flow -- grabbed 4th row center when they went on sale (hence the pretty decent photos on my shitty camera) and took dear Shana to sit with me.
Now, Chan's live reputation preceded her. Cat Power was supposed to play earlier this year at Town Hall but cancelled her tour mysteriously. In fact, I had a sweet pair for that show as well, and was gonna take the Britta for Valentine's Day, but we won't dwell on that...
So who knew what was gonna happen this go-around. Her latest album, The Greatest, is gorgeous and was recorded with the Memphis Rhythm Band -- a few members of which played with Al Green in the '70s. The stage was filled with musicians -- several guitars, horns, strings, drums, bass, piano, organ, and even backup singers. When they started playing without the lady of the moment through one instrumental and then another, I got a little nervous. Was Chan gonna pull a no-show?
But she did not disappoint -- she bounded out for the title track and the crowd went mad. The focus of the evening was on the latest cd. Her voice was lush, haunting, aching, delicate. She seemed fidgety or maybe suffering from a slight case of a.d.d. at times, fussing with her hair constantly or her rings. Her dancing bordered on goofy -- she flapped her arms like a chicken and flopped around her thin limbs. But it was all too charming. She seemed genuinely happy to be performing this second sold out night in front of the New York crowd.
And as she progressed through the songs, she gradually warmed up and became slightly chatty, at one point commenting how this was her sober. There was even a costume change. She started off the evening with a simple black tank, black pants, a gold medallion on a chain around her neck. After the last song of the main set -- "Where is My Love" and god, it was so beautiful, I almost cried -- she returned to the stage in a white cocktail dress and big silver hoop earrings, which she almost immediately removed from her ears. She was barefoot the whole time, too. The best was when she unabashedly kept adjusting her little white dress pausing at times to pull a wedgie. Utterly kooky and charming!
While the main set was absolutely beautiful, the encore songs made it completely worth it. She played a few songs solo either on piano or guitar, including a gorgeous cover of "House of the Rising Sun." Then, the full band returned and accompanied her once again.
I didn't know what to expect from a live performance by Cat Power, having heard that she could be crap live. After tonight, I'm totally hooked -- I loved her so much, I even begged for a setlist, ended up with two, and also copies of one of the musician's notes featuring the chord progressions of some of the songs. Awesome.
PS -- spotted her Matador labelmates, Yo La Tengo, as well as David Byrne there in the audience. Sweet!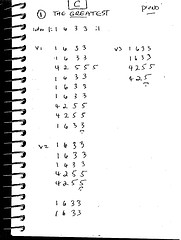 -------------------------
Picture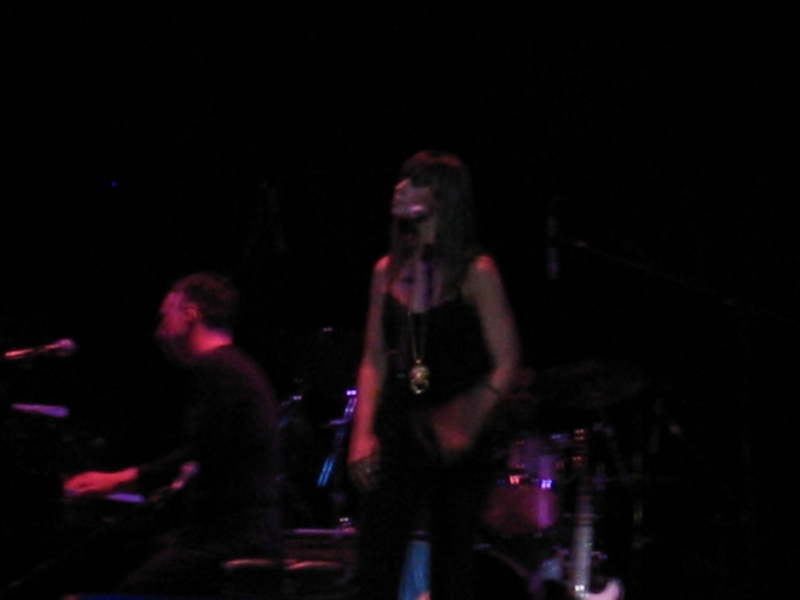 -------------------------
New York Times Review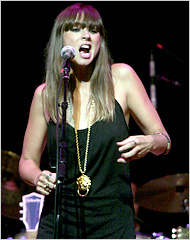 Chan Marshall, who calls herself Cat Power, was all smiles when she performed at Town Hall on Saturday night with her Memphis Rhythm Band. Barefoot and svelte in a black sleeveless top and pants, she gestured as she sang, pointing to her head or heart; between verses she did prancing, coltish steps.
To see her so comfortable onstage was no small surprise to her longtime fans. They've grown used to a more temperamental, unstable performer who sometimes has found it difficult to get through a set. "Sober!" Ms. Marshall proclaimed between songs.
Whatever the explanation, being a trouper could also be one thing she has learned from Memphis soul. On Cat Power's current album, "The Greatest" (Matador), her band features Teenie Hodges, the guitarist who helped shape Memphis soul as a mainstay of Al Green's band. He was at Town Hall too, leading a band including strings, horns, backup singers, pedal-steel guitar and keyboards that could suggest gospel or honky-tonk.
Cat Power performed most of her new songs in the order they appear on "The Greatest." They roll along on vamps out of 1970's Memphis soul, or with Memphis variations on country and reggae. Yet no one would mistake Ms. Marshall for a soul singer. Her voice is her own: raw, hazy, cracking, sometimes haggard, sometimes contentious, turning inward rather than trumpeting soul's affirmations.
So she and her band should have been a mismatch. Instead they made for an unlikely balance. While Ms. Marshall sang about being crushed and heartsick, the band shrugged off her troubles with a steadfast beat and laughing horn riffs. It provided wordless reassurance and a worldly perspective rooted in the blues. And when the band played most sparsely, as in the death-haunted ballad "The Moon," the contrast between Cat Power's fragility and the music's solidity made that song profoundly telling. She did miss an opportunity, though: the chance to sing an Al Green hit that Mr. Hodges helped write, "Love and Happiness," with this band.
The old Cat Power came back for encores: gawky, unsmiling and fidgety in a white, strapless fringed dress that she kept adjusting. Playing piano or guitar alone, she sang other people's songs, including an eerie, suspended-time version of Sandy Denny's "Who Knows Where the Time Goes?" Rick Steff on piano and the band's strings joined her for a beautifully poised, yearning new ballad, "Where Is My Love," although she sang it while shifting nervously from foot to foot.
Ms. Marshall reversed the lyrics of a new song, "Hate." On "The Greatest" that song describes a woman who says, "I hate myself and want to die"; onstage she sang, "I do not hate myself." Her last encore was an older song, "I Don't Blame You," her sympathetic tale of a tormented rock star. But now, it seems, Cat Power is one step removed from those old torments.

Cokelike




Messages

: 3538


Thanks

: 17


Date d'inscription

: 2012-02-14



Cokelike wrote:
Ms. Marshall reversed the lyrics of a new song, "Hate." On "The Greatest" that song describes a woman who says, "I hate myself and want to die"; onstage she sang, "I do not hate myself."

I've just realized that "Nothin but Time" is the complete opposite of "Hate": "you wanna live!"
---
Permissions in this forum:
You
cannot
reply to topics in this forum