2/9/12 - Istanbul, Turkey, Garaj Istanbul
Setlist:
Bully Dreams I Lost SomeoneDont ExplainThese Days - Song To Bobby MedleySilver StallionLord Help The Poor And Needy Brave Liar The GreatestBlueRamblin' WomanI Wanna Be Your DogWerewolfShe's Got YouHorizon MonsterWoman Of My WordLet Me GoAngelitos NegrosRuinI Dont Blame You* Metal Heart (unsure where this goes in order)Goin' Down South (R.L. Burnside cover) - with Chan on DrumsNote: Bully + Dreams not shown in picture, but were also listed on the 2/7/12 setlist, so likely they appeared here too. 
(mandos_)
Videos:
Dont Explain - 4:21
The Greatest - 8:30
Werewolf - 3:06 + 5:17Ruin - 4:46
Jam - 8:15Metal Heart - 5:36
Total Time - ~35:00
This was the last concert of her short three date tour of Europe. There was to be a fourth date in Tel Aviv on 2/12/12, but this was canceled in the days leading up the concert. Appearances at Coachella in April were also canceled.
The Dirty Delta Blues Band had toured with Chan for more than five years. This concert was the last concert featuring the DDBB for an indefinite amount of time.
Unlike the other two previous concerts, a number of videos have shown up. Sound quality is decent on most. Picture quality isnt awesome but understandable given the low lighting.
"Dont Explain" - A stripped down guitar and vocal version. Interestingly, it looks like thats Erik Paparazzi playing this on a flying V.
"The Greatest" - This is the slowed down arrangement that the band started performing back around October 2010. It's a shame there arent more live versions of this to hear as I think its one of the most haunting and beautiful things shes played. This is a great version with the band just
nailing
it.
"The Greatest" - Shorter version.
"Werewolf" - Rarely played beyond 2006, this is a welcome surprise with Chan on guitar as well. This is also the only version I've heard with the DDBB. I especially like the organ on this.
''Werewolf'' - A longer version, though the picture is not very good.
"Ruin" - A great live version including some nice guitar work. Her lyrics seem to work better here than in some other earlier versions.
"
Goin Down South
" - This the last DDBB live song (it would appear), a jam on a R.L. Burnside cover with Chan on drums. After warming up for a moment the band kicks into the blues riff with Gregg on bass and Erik and Judah on guitar. Chan looks like shes having fun and she actually pulls off some really cool drumming. At about 6 minutes into the jam it descends into de-tuning and noise. This is probably the longest clip of Chan on drums. At the end of the clip you can see Chan give out a setlist and take a bow.
"
Goin' Down South 2
" - Chan can be seen better in this clip, but it is shorter. The above clip starts about 10 or so seconds earlier in the song than this one.
"Metal Heart" - This is the last time this song was performed, until the 2013 Australia tour.  
-------------------------------------
Picture and Poster
Rehearsal: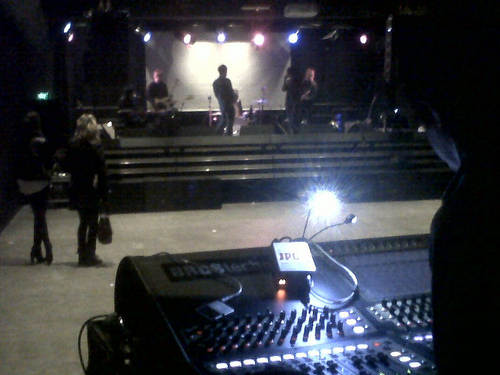 Last edited by Cokelike on Sun 16 Nov - 19:31; edited 8 times in total

Cokelike




Messages

: 3538


Thanks

: 17


Date d'inscription

: 2012-02-14




Updated to include a newly uploaded 2nd version of ''Werewolf'' with especially nice audio.

Cokelike




Messages

: 3538


Thanks

: 17


Date d'inscription

: 2012-02-14



Cokelike wrote:
Updated to include a newly uploaded 2nd version of ''Werewolf'' with especially nice audio.
Terrific version!
It's a shame that the song was dropped from the setlist after this concert.
The setlist was posted on instagram. First post updated.

Cokelike




Messages

: 3538


Thanks

: 17


Date d'inscription

: 2012-02-14



Similar topics
---
Permissions in this forum:
You
cannot
reply to topics in this forum