3/31/04 - London, England, 02 Shepherd's Bush Empire
Incomplete setlist:
* Ruin mention
Wolf Among Wolves
I Dont Blame You
Sophisticated Lady
Can I Get A Witness?
Maybe Not
Satisfaction
Moonshiner
Metal Heart
The third date of seven of her short Europe tour. Chan played solo. Cass McCombs opened.
* 2nd Ruin mention along with her last show, 3/26/04.
Review
Notorious, and celebrated, for bizarre, sometimes painfully shy live performances, Chan (pronounced Shawn, faux-pas-avoidance fans) takes to the stage singing Sittin on a Ruin...' It's just her and a guitar, and a half finished beer. She will alternate between sitting centre-stage, half-hidden under her dark fringe, and turned away to the side, playing the piano. 'You know that new song, Sittin on a Ruin? It's called Sittin on a Ruin. It's by that new band, Sittin on a Ruin. They're on Sittin on a Ruin Records. You can get it on Sittinonaruin.com.' This establishes early on that some of her marbles may have been misplaced.
She sings some of Sittin on a Ruin, appearing to make it up as she goes along, always sailing the right side of Phoebe-from-friends mode. Her voice is very beautiful, the words are clear, but in person, there is an emphasis to her breathing, to the finishing of words and lines that is not so present in the studio work. She is more halting than lilting, which has the potential to change the understanding of a song unexpectedly. Her subtle turning of the ends of words and lines turn them to her own ends. Sittin on a Ruin continues. 'There's a hip hop version,' she says, 'with DMX'. The song continues, this time punctuated by Marshall's version of the rapper's signature barks. The audience laughs, nervously. Nobody wants her to cry, or storm off stage, or do anything too weird. Oh, maybe they do.
'I was just going to sing something about loving Zanex...' she offers, 'but I thought maybe that would be wrong.' Instead, she sings Bonnie 'Prince' Billy's Wolf Among Wolves, changing 'man among men' for 'women among men'. 'Why can't I be loved as what I am?' This is one of the highlights of the evening. She segues into her own I Don't Blame You, which suffers not at all in the juxtaposition. 'You were swinging your guitar around / because they wanted to hear that sound / but you didn't want to play...' The reverent hush continues, commanded by her unpredictable stage presence, and the idea, not least in the tension between the words and their delivery, of something only just restrained.
She plays Sophisticated Lady (which she did live on a John Peel show in 2000) at the piano, 'smoking, drinking, never thinking'. In the quiet, her working of the pedal acts as echoey percussion. She returns to the guitar, tucks the fag between the strings, and carries on. Between songs, she raspberry-sighs into the microphone, tells curious knock knock jokes. Towards the end, the real gem comes in the altered shape of the Rolling Stones' Satisfaction, from The Covers Record. On first listen to the album, Marshall's verses-only version is so different that it's virtually unrecognisable. Made almost completely her own, it makes the original sound positively satisfied and satisfying. Here, we are treated to a few rare snatches of the chorus.
Much of what she sings, and the way it is presented, thinks about, and agonises over, what it is to be an artist. This doesn't seem pretentious, or narcissistic, but genuine, thoughtfully expressed. The effect she has, live, is one which must convey something of what she feels as a performer to the audience. It seems little accident that the first lines of I Don't Blame You rhyme 'stage' with 'rage'. Throughout the show, she calls for the lights to be turned up on the audience, down on her. 'We can't see you anymore!' Someone calls out. 'You're amazing, show us!' someone shouts, maybe the same person. Chan lights a cigarette, apparently nonchalant, makes some incoherent response. 'I can't...' Her audience are at once unnerved and desperately attracted, keen to keep her onstage, in subdued panic that she will leave. When she does, it is abrupt, inevitably disappointing. She clearly won't entertain the idea of an encore. Maybe she has lost her temper. 'You have to leave because the government will attack...walk out like a flower.'
-----------------------------------------------
Review
So Cat Power surprised pretty much no-one by being really inconsistent last night (at the Shepherd's Bush Empire). Parts of it were gorgeous, notably a couple of what I presume are new songs, and versions of 'Metal Heart' and 'I Don't Blame You'. For reasons best known to her, she decided to turn up the house lights and sit looking at her illuminated audience for the last ten minutes while she smoked a fag and muttered things into the microphone. There wasn't even the payback of a triumphant final song, just: 'You all have to go now, or the government will attack'. Possibly the most anticlimactic end to a gig I've ever seen, but then you'd expect nothing less infuriating from Ms. Marshall. Having said that, it was wonderful to see her with a (mostly) attentive audience in relatively-civilised seated conditions, punctuated by a constant stream of stewards telling people to stop smoking, and a stream of people slinking off to smoke guiltily by the bar. And I still love her.
---------------------------------------------
Review
She ambles out into the theatre as the old blues songs still pour out of the PA. Cat Power is accompanied only by her guitar, which she plugs in awkwardly never even glancing in our direction. This 32-year-old Southern Belle is known to be a little stage shy and tonight will be no exception. "You'll airbrush my fatness right?" says the self-effacing singer, real name Chan (pronounced Shaun) Marshall, but really no one can see any. Instead the gathered, some of whom shout declarations of love, want a glimpse of those intimately soul-bearing dark, brown eyes hidden under her fringe. But we hardly ever get one.
'Sittin' On A Ruin' is what she's been scribbling recently and becomes a nervous joke for the rest of the night. But the instant Marshall opens her full, round mouth, the poignancy and melancholy that spills out through her breathy, beguiling voice is enough to quell all the sympathetic laughter in the world.
Just like the childlike jiggling of her feet, there is an overwhelmingly endearing innocence to this performance and the soft strumming of Bonnie Prince Billy's 'Wolf Among Wolves' casts an evocative spell. 'I Don't Blame You' from last year's 'You Are Free' is a celestial treat suggesting an inspired calmness beneath her skittish demeanour. But we can barely see it.
Instead there are soulful snatches of 'Can I Get A Witness?' and 'Satisfaction', unfinished songs because Chan can't remember the words and fidgety cigarette smoking that stops her mid-bar. If all that outpouring of inner thoughts had been saved for the hauntingly emotional folk-soaked tunes, then tonight could have been perfect. But it isn't.
There is nothing perfect about Cat Power or her, at times, erratic show but there is a real life intensity, a sadness, a rawness and an energy that is unique. And we felt it.
-----------------------------------------------
Matador Forum Member Review
Went to see Chan at Shepherd's Bush last night, first time I've seen her live & I've gotta say it was great. She wasn't as 'quirky' as I've read on here that she can sometimes be, which disappointed me a bit but maybe it was a good thing. Anyway I enjoyed myself, got a bit drunk met a few new people & managed to make it home, so a successful night. Dunno if she ever comes on here for a look but if so then thanks for the show & don't shy about coming over a bit more often.
Oh & also someone on another thread said that they saw her at the weekend & had to leave because people were talking & she couldn't be heard, well there was no problem last night, an almost reverential silence was there puntuated by the odd enthusiastic burst of applause & laughter at her funnies.
--------------
7 Pictures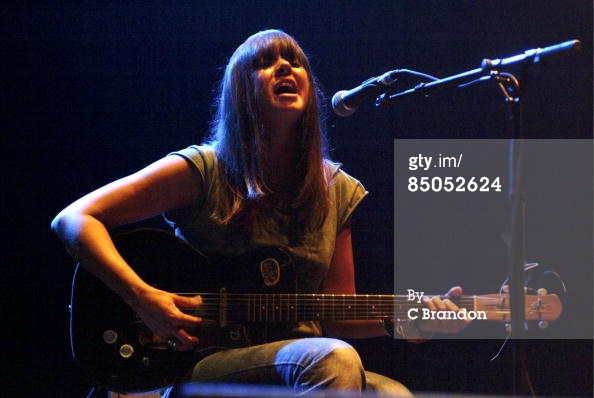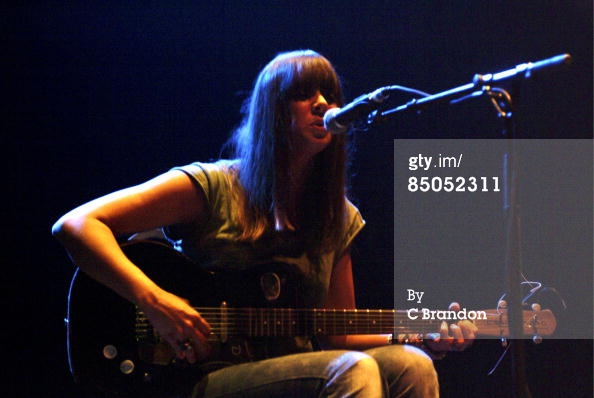 --------------
Review
It was a little before 10 o'clock when Chan Marshall (aka Cat Power) strolled on for this solo show, a slight unsteadiness was apparent as she walked to the lone chair, centre stage. She sat down and began talking about a song called 'Sittin' on A Ruin' but she wasn't exactly addressing the audience, she was just talking, and it wasn't making a great deal of sense. She began to play, but stopped dead a couple of times to smoke a little, or drink a little, this faltering style continued through several songs. She managed a good rendition of 'I Don't blame you', swaying strangely from side to side, her feet moving as if drawing patterns in sand. Also there was a fine run through her deconstructed version of the Stones' 'Satisfaction', it seemed she had pulled herself together. She moved over to the piano and after playing 'Sophisticated Lady', as heard previously on her sessions for John Peel, things began to go down hill. She would start songs only to abandon them after a few bars, tutting to herself and puffing into the microphone, then embarking on another, only to similarly abort it. She tried playing a new song on the piano, but lost it, staring at the keyboard she said 'I'm am aware that I'm less than charming right now'. She moved back to guitar, but was now mumbling incoherently. She managed to ask clearly how much the tickets for the show had cost, and apologised when she got the answer. The crowd had been remarkably patient up to now, but began to lose it, some were loudly applauding at any pause to encourage her to play an actual song, but she was clearly incapable of it. Others were becoming abusive, the atmosphere was getting increasingly tense, far from pleasant. Whatever the cause, she seemed to be in the throws of an attention deficit problem, that then became an emotional issue as the guilt of knowing, on some level, that she was fucking up seemed to kick in. She then insisted the venue turn all the house lights on and all the stage lights off, so she couldn't be seen at all. The venue complied, but when Chan started to strum the guitar again they tried to gradually revert to conventional lighting, which only gave her another reason to stop playing and insist she be left in the dark. The most notable site with the lights on was people leaving. Some were shouting, pleading even, trying to get her to play, but by now the venue curfew had arrived, finally she said 'I cant, its over, the truth is its been over for a while'. The set, if you could call it that, lasted an hour or so, it felt considerably longer, it was a painful viewing experience. As the remaining crowd left, Chan stayed centre stage, sitting slumped in the chair as the road crew cleared up the equipment around her. Not show of the year then.

_________________
"Ready to get depressed?" - Chan, 11/16/13

Cokelike




Messages

: 3495


Thanks

: 17


Date d'inscription

: 2012-02-14



That Chan did her "Sittin on Ruin" part more than once is news to me! That's fascinating!
_________________
Bitchin', complainin' !
---
Permissions in this forum:
You
cannot
reply to topics in this forum