3/26/04 - Camber Sands, England, "All Tomorrows Parties Festival 2004"
Incomplete setlist:
* Ruin mention
Willie - 7:22
Mama, You Got A Daughter - 3:11
Satisfaction - 4:13
My Daddy Was A Musician - 4:14
Funny Things - 2:53
Evolution - 3:51
After It All - 2:25
Total Time: 28:09
Chan made her second European appearence of the year at the "All Tomorrows Parties Festival". The festival ran for 6 days over two weekends (3/26-28/04 + 4/2-4/04), with Cat Power playing a show for each weekend. Also appearing on the bill this weekend is, Cat Power friend, Entrance. These shows are her 3rd and 4th appearences at the festival. *According the review below she mentioned her Sittin On A Ruin thing. This is the earlist mention of the Ruins I ran across.
The recording I have comes from a BBC broadcast by John Peel. This was originally aired on the BBC on 4/1/04. The quality is excellent. There is no banter. The copy I have is in mp3. Does anyone have this in better quality?
"
Willie
" - A somewhat long version, she plays this great. Like all the early versions of this, there are some lyric differences which are interesting. Ends with piano flourish which goes into...
"
Mama, You Got A Daughter
" - This is a John Lee Hooker tune. It interesting that she plays this on piano because it's exactly the kind of one chord blues song that she loves to play on guitar. This is really good.
"
Satisfaction
" - Chan is now on guitar. This is right on.  
"
My Daddy Was A Musician
" - Unreleased song, this is good.
"
Funny Things
" - This song fell out of the setlist about a year later. Solid version.
"
Evolution
" - Now back on the piano. This is the last live version of this I have. Chan changes up some of the vocal melodies. She also ends the song with some interesting piano chords at the end like she did on the 6/19/03 show. This is the highlight of the concert for me. But Satisfaction is also really good.
"
After It All
" - Good take on this early "The Greatest" track.
Review
Cat Power wants to turn ATP and Camber Sands into 'a retirement home for musicians. They could call it 'The Ruins'.' She's drunk, bless her cotton-cult-alternative socks; she means no offence to the venue nor towards the more aged musicians of the event, we're quite sure.
In fact, she's particularly ready to apologise to a certain rockfeedback photographer, when, he looking slightly disgruntled, she tells him, 'If you're not laughing, you're not in it!' He doesn't understand that this comment is aimed at him, and continues to look despondent, at which she coos, 'It's only a joke,' until he realises what's actually going on.
Relevantly, her first comment is the most poignant. If you're not laughing with Cat, you're almost certainly not getting it. She finds it hysterically funny that it takes her five minutes to tune at the start of her set, forgetting which song she's going to play, while slurring nearly every word spoken. But, in song, this seems to disappear; she's a female Ryan Adams, only more searching. She holds one of the largest audiences of the day absolutely silent, save for rapturous applause, applause that seems never to stop, given the intensity of Power's simple songwriting - using only a guitar or piano with voice. She's as unreliable as Badly Drawn Boy on the stage, but all the more compelling for that human error, and the manner in which she wants to be as close to her audience as possible, demanding the house lights be turned on so she can see them only one song in. Power certainly comes across as more than slightly unstable, and might be telling herself this helps her songwriting. The impression is, however, that brilliant though this is, it could be phenomenal beyond measure if she only decided to cut down to a reasonable number of bottles of spirits per night.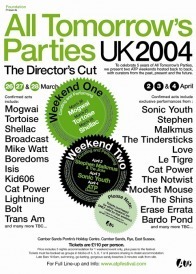 _________________
"Ready to get depressed?" - Chan, 11/16/13

Cokelike




Messages

: 3495


Thanks

: 17


Date d'inscription

: 2012-02-14



---
Permissions in this forum:
You
cannot
reply to topics in this forum