11/9/03 - Long Beach, CA, The Queen Mary, "All Tomorrow's Parties Festival"
Incomplete setlist:
I Dont Blame You
Now back in the states, Chan is one of the performers for the 2003 US "All Tomorrow's Parties Festival". This was her 2nd of 5 appearences at the festival. Following several solo performances in October, Chan now has her band back with her for this concert.
Here are a few notes from Wikipedia:
Named after the song "All Tomorrow's Parties" by The Velvet Underground, it was founded by Barry Hogan in 1999 as an alternative to larger, more corporate festivals like Reading or Glastonbury, with a tendency towards post-rock, avant-garde, and underground hip hop, along with more traditional rock fare, but presented in an environment more intimate than a giant stadium or huge country field. All Tomorrow's Parties is a sponsorship-free festival where the organisers and artists stay in the same accommodation as the fans.

Artists, usually musicians (but sometimes visual artists like Matt Groening) are asked to curate the festival by inviting their favourite performers to play. The idea is that it is akin to dipping into the curator's record collection, or as founder Barry Hogan described it, "ATP is like an excellent mix tape".
Chan previously played at the 2002 US ATP on 3/15/02, curated by Sonic Youth. Later she would appear for 2 concert appearences in UK 2004 concert series. In 2007 she and the Dirty Delta Blues Band appeared at the UK festival that was curated by the Dirty Three. The ATP promoters also host another concert series called "Dont Look Back", where musicians play an entire album live. As part of this concert series, Chan performed in London in 2005, playing "The Covers Record". Also performing for "Dont Look Back" in 2005 were Iggy Pop & The Stooges, The Dirty Three and The Jon Spencer Blues Explosion.
This 2003 festival was curated by Matt Groening (creator of the Simpsons) and took place on the boat, The Queen Mary. Among the performers were Chan's friends Sonic Youth and Iggy Pop & The Stooges. Wikipedia notes that Elliot Smith was selected by Matt Groening to play but passed away before the concert.
Short Comment
I must admit, I was a little disappointed that Chan Marshall (a.k.a. Cat Power) didn't play more of her upbeat songs. But she and her band did enchant the audience with several slower compositions, many of which sounded more breathtaking live than on record. One particular highlight was a bluesy reading of "I Don't Blame You," which sounded almost nothing like the version heard on You Are Free. Three songs in, the fire alarm sounded, though nobody seemed to notice. Cat Power's rhythm guitarist commented, "that song was so hot, it set off the fire alarm."
Short Review
Cat Power took the stage more than a half hour late, following an extended sound check. But the sound was muddy, the guitars out of tune, and Chan Marshall (who told the filled-to-capacity room she was "super duper nervous") never opened up. The fire alarm that went off midway though her second tune didn't help. You did, however, get an idea what she was going for; the music had a haunted isolation that might work in a more intimate setting.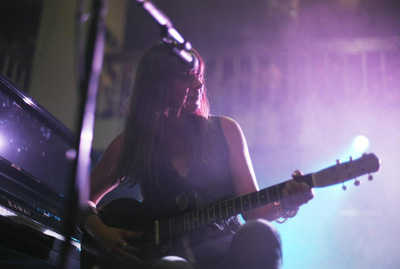 _________________
"Ready to get depressed?" - Chan, 11/16/13

Cokelike




Messages

: 3481


Thanks

: 17


Date d'inscription

: 2012-02-14



---
Permissions in this forum:
You
cannot
reply to topics in this forum