7/17/03 - NYC, Battery Park, Castle Clinton
Incomplete setlist:
Good Woman
Fool
I Dont Blame You
Satisfaction
Dead Leaves And The Dirty Ground
Black Sabbath
Try Me - These Arms Of Mine - I've Been Loving You Too Long - Fuck The Pain Away Medley
Knockin On Heavens Door
Just a few weeks after the end of her "You Are Free" tour, Chan and her band make this free concert appearence. Matt Hartman is on guitar for this show instead of Coleman Lewis. This is the infamous "Chan talked to a squirrel for ten minutes" concert.
Short comment
...her frustrating set at Castle Clinton, she left me and many others angry with her starting and stopping songs, her fascination with a squirrel and otherwise unprofessional demeanor.
New Yorker Magazine Review
Near dusk one evening a few weeks ago, the thirty-one-year-old singer and songwriter Chan Marshall, who performs and records under the name Cat Power, made an appearance with her backup band at Castle Clinton, in Battery Park. Built in 1811, Castle Clinton is a squat red sandstone fort that has been an aquarium, an immigration center, and an opera house, and its history is almost as jumpy as the performance style of Chan Marshall herself. Jumpy and perverse, excruciating, and ultimately beautiful.
It is foolhardy to describe a Cat Power event as a concert. A concert involves the playing of music or songs in some kind of order, with short breaks and maybe a little patter in between. The form works: it allows the entertainer some distance, so that she can perform without becoming too involved in the audience's response. At Castle Clinton, Marshall reversed that order. The set lasted approximately an hour and ten minutes, during which time she talked to a friend's baby from the stage; asked no one in particular if the photographer Mark Borthwick was in the house; talked about her friends who had brought the baby; directed a fair amount of bemused antagonism toward a particularly ardent fan; asked someone offstage how many minutes were left in the set; sang a bit of rap from "The Teaches of Peaches," an album that was an underground hit last summer; smoked a couple of cigarettes; played with her hair; took her large sunglasses on and off; indulged in rambling confessions; and complained about the length of one tune from her current album, "You Are Free," before singing an abbreviated version of it.
Her backup band did not help matters. Collegiate and smug, her associates—Will Fratesi on drums, Matt Hartman on guitar, and Margaret White on violin, bass guitar, and keyboard—seemed to get off on the star's aura, but they treated her power ironically, so as not to appear to be what they are: sycophants disguised as musicians. Their smirking, knowing glances in Marshall's direction didn't lift her up, spiritually or otherwise, or induce her to act in a manner that the audience could consider generous.
The audience, for its part, was made up largely of young women and their admirers, who hooted or applauded or sat mesmerized as the delay tactics stretched to at least a third of the evening. They seemed to love Marshall as much for the drift of her mind as for the drift of her songs.
Onstage at Castle Clinton, Marshall was alternately shy and demanding, a solipsist; that is to say, a star. Her triumphs were as engaging as her disasters. Her long, beautiful body perfectly complemented her long, beautiful hair. ("She cut her bangs!" one young female fan exclaimed after the show.) Dressed in jeans and a brown cotton shirt with green stripes, bangles clanking on her wrists, she was at play in the fields of androgyny, impersonating a lonesome cowboy who attracts attention by seeming to spurn it. Here was a girl—"white trash"—who had found her voice in inarticulateness, the American way of speaking, and made it a powerful form of communication. Marshall's stubborn refusal to be liked seemed to enact the frustration of many American women, who feel they have to be seen in order to be heard.
These various complications may, in the end, minimize Marshall's audience—and her gifts. But, despite herself, Marshall let her stardom and talent win out. At the close of her set, she grabbed the mike and walked up and down the center aisle like a preacher at a revival meeting, singing, cigarette in hand, Black Sabbath's "Black Sabbath." Watching her, you tumbled down a well of longing and hope. Marshall looked as if she had been painted en plein air, a fluid version of Liberty standing guard over the Harbor. Her voice in that song was the blues sound of trouble in mind everywhere.
------------------------------------------------
Fan Review
Cat Power's onstage antics read somewhat like an urban legend. She's been known for freaking out at photographers, screaming as loud as she can for no apparent reason, and leaving the stage in a state of frenzy mid set. So, being the gawker that I am, I was excited to be able to see her in a free, outdoor setting yesterday at Battery Park. But before reporting what I have become to consider One of the Greatest Concerts I've Ever Been To, I'd like to give un-props to the whole Music at Castle Clinton organization thing for making everyone wait for hours and hours on the off-chance we might get reject tickets (which we did). People, you're not called an ORGANIZATION for nothing. But I digress. When we ("we" being me, Mike D. and his friend Anna) finally got into the small, intimate site of Castle Clinton, I was shivering with delight. Cat Power (a.k.a. Chan Marshall) is one of my favorite recording artists, and seeing her on a warm, balmy summer day was making my year.
So, Chan comes on with her band, and her little goddaughter Taylor, who lends back up vocals as they launch into one of the best tracks on Cat Power's latest albums, "Good Woman." I don't know who's idea it was to have a little kid sing backups on that song, but they are a genius. "Good Woman" took on a whole other meaning, with a notion of youth, innocence, and childish glee. So, smiling to ourselves, we all though: "Cute. Nice. Not freaky or iffy in any way." We stopped thinking that when a shady looking character, dressed in a powder blue outfit and a white bandana tied across his forehead, walked up to the stage and stood inchges from where Chan was sitting, staring directly into her face. As soon as the song finished (I think it was "Fool"), a good 10 policemen showed up out of nowhere and the wild fan took off. Turns out he was her NYC stalker, that "he does that at every NYC show I do, he tries to suck the soul out of my brain," and "he's always takling about all the great times we've never had together." But she handled it nicely. "No hard feelings," she said, "I'm just sick of his shit."
Then she tried to feed a squirrel mid-song, with a hot dog bun someone gave her. It ran away, so she threw the bun on the roof over the stage. It stayed there.
She did a beautiful new version of "I Don't Blame You," witha full band, and half the crowd singing the words. Note to hipster crowd: if you know the words and are feeling the song, sing it. And put down that skateboard.
She did quite a few covers also, which was fun: a cover of "Knocking on Heaven's Door" which seemed to last an hour, a great reendition of "Dead Leaves and the Dirty Ground" by the White Stripes. But, I must say, the highlight of the evening was her 10-minute version of Otis Redding's "These Arms of Mine," that bled into a (self-censured) "Fuck the Pain Away." That's right, folks. Chan channelled Peaches. It was a perfect way to end the set.
Only you, Chan. We live only for you.
Verdict: Go see Cat Power as soon as you can. Over and out.
26 Pictures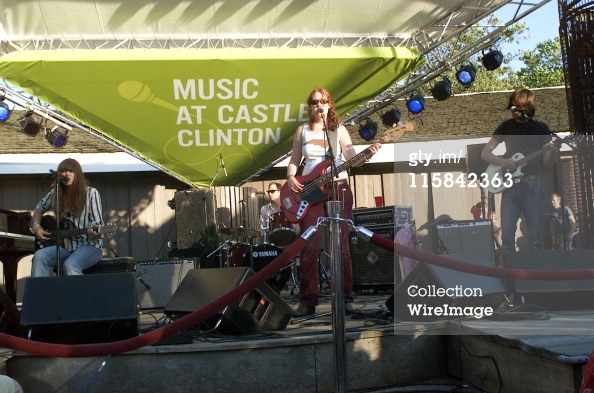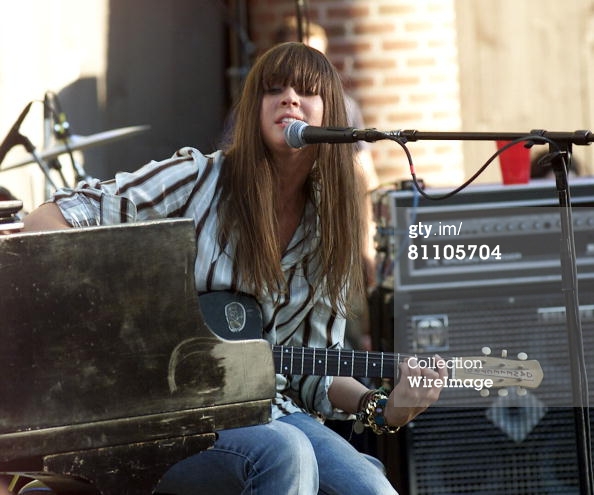 Fader Review
As the marmalade sun set on Battery Park, deep in the bowels on Manhattan Thursday night, Chan Marshall (aka Cat Power) played a free show for more than 700 fans, bringing the term "soft rock core" to life. Marshall, backed by a full band with everything from violin and 5-year-old girl who randomly sang along, pounded kids over the head with her trademark serenades, fueled by raw emotion and shear beauty. A cross between Janis Joplin and Hope Sandoval, Marshall wore a long sleeve flanel shirt, blue jeans, and dark circle glasses that would make John Lennon say "hey that's my look" (in that stereotypical Liverpool accent of course). The sound was pristine, the faithful were drooling, lady liberty was listening in from Staten Island, and "Ranger Jim" informed us that Castle Clinton (the evening's venue) used to be a real castle used a in war back in the day…before they installed the Coca Cola machines and tourist trap souvenier shop of course.
Quietly raging through tracks from her latest piece of gold, You Are Free, Marshall doesn't have the greatest on stage presence. There's no flash like Michael Jackson or even dry wit like Thom Yorke…I think she just wants to play and then retreat back to her sanctuary cave. In between songs she began to, um, well let's just say "free associate" her sentences which were only understood by Gleptar Nabali the 14th studio commander of the bizarre Shangazoo Alley…exactly, none of it made any sense. I had heard that the girl likes to get her "freak out" on during live shows, and this one, albeit beautiful with music, was definitely one of the kookiest performances ever…but who doesn't want kooky?
Towards the end of the divine set (which lasted about an hour and a half) the covers came off, and we all held hands and jumped into a giant pool of fucking fun. "Satisfaction" by the Rolling Stones was first, which was interrupted by a brief "ding-dong noone's home" abrupt halt by Marshall, who decided she needed to leave the stage as quickly as possible. She returned seconds later, but I stil have no idea what the fuck was going on in her head. Then the gang of gentle players ripped (seriously ripped) into "Dead Leaves On The Dirty Ground" by the White Stripes, followed by "Black Sabbath" from, well, I forget who sang that song as the name escaped me right now. That Black Sabbath song was king. Closing out the covers portion of our rollercoaster ride was "Knocking On Heaven's Door," which wasn't as good as the version layed down by Axl and the boys, but it topped of a truly marvelous set by one of the most intriguing musicians alive today.
Call her crazy, call her genius (but someone, please call her, she bought this new phone and she is dying to try it out) Chan Marshall is extraordinarily talented. Her piercing vocals soothes even the savage beast, as her slow southern warmth lights up the soul. It was a great evening of quality music that makes for perfect memories.

Cokelike




Messages

: 3538


Thanks

: 17


Date d'inscription

: 2012-02-14




Cokelike




Messages

: 3538


Thanks

: 17


Date d'inscription

: 2012-02-14



---
Permissions in this forum:
You
cannot
reply to topics in this forum