4/19/03 - Omaha, NE, Sokol Underground
This was the 42nd performance of the tour.
2 Pictures + Review -
http://www.timmcmahan.com/blogarchive1.htm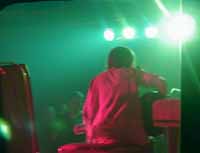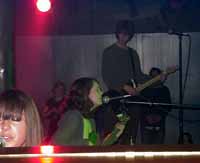 Chan (pronounced "Shawn") (By the way, she should just change her name to Chan Pronounced Shawn Marshall and save the typesetters and copy editors all the trouble of adding it to their stories. Someone at The Reader actually added the explanation to mine. I hadn't included it in my draft, figuring no one was dying to know how to pronounce Ms. Marshall's first name and it seemed unlikely that they'd ever get a chance to use that correct pronunciation. I was dying for someone last night to yell at the top of his/her voice "Chan, we love you!" but pronounce it like the surname of the famous Chinese detective, then being shamed by everyone with "It's Shawn, not Chan, stupid!") Marshall didn't blow up on stage last night. There was no car wreck. In fact, the cars just seemed to zip around the track at their usual languid pace. And I think I was the only one disappointed.
I showed up apparently four songs into her set. I talked to a guy back by the cash register smoking cigarettes near the soundboard who said, "Yeah, she's on her fourth song, but it sounds like she's been playing the same song for 20 minutes."
I grabbed a beer and pushed my way through the cramped, sold-out crowd, making my way to my usual spot along the wall stage right. Adoring fans were sitting on the edge of the stage, next to the old upright piano that someone had placed up there (I imaged poor Marc and Jimmy -- our faithful promoters -- struggling with the 2-ton monstrosity). I figured the women sitting with a guitar in the middle of the stage was Chan, and began snapping some pictures. But when the song ended, the crowd applauded and she and the rest of the band went off stage. In fact, Chan was about three feet from me, hidden behind the oak soundboards of the piano, where she stayed for a medley of four or five songs, played end-to-end without pause, while the doe-eyed crowd stared in silence and awe.
Most crowds at Sokol Underground are, shall we say, respectful. But this one was particularly reverent, worshipping at the temple of Chan. For the first time since maybe Bright Eyes, there were more girls than boys in the crowd, flying single or with other girls. One innocent-looking girl standing right against the stage wore a T-shirt that said "Rockandroll Motherfucker" and clearly was entranced by everything Chan did.
Speaking of Entrance, the opening band canceled, apparently last minute, and Landon Hedges a.k.a Fine Fine Automobiles, opened the show. I missed it, of course, but was told it was one of his best performances.
Anyway… after her solo piano numbers, Chan turned around on her stool and grabbed a guitar, did a couple numbers before the rest of the band joined her on stage for the best part of the set, where things became suddenly electrified and all full of fire verging on psychedelic. As always, I don't know the names of the songs and don't have a set list to share. I'm told a couple were covers, but I recognized a few from Moon Pix and the new CD. If there was a time where Chan could possibly have burst into flames in her legendary, ritualistic sort of way, it would have been when her bandmember's guitars cut out completely during one song. I could see his face, laughing and shaking his head in sort of a "who me?" sort of way. Moments later, though, the guitar was up and running again and Chan played on with her eyes pressed shut.
No theatrics, no tears, no screaming, no back-turned-to-the-audience. And no encore, by the way. As she walked off stage, she shielded her eyes with her forearm while she waved to the crowd with her index finger, sort of in Redrum fashion or as if she were spraying the audience with a magical, imaginary spray bottle. And that was the last we saw of Chan Pronounced Shawn Marshall for the evening.

Cokelike




Messages

: 3538


Thanks

: 17


Date d'inscription

: 2012-02-14




Cokelike




Messages

: 3538


Thanks

: 17


Date d'inscription

: 2012-02-14



Similar topics
---
Permissions in this forum:
You
cannot
reply to topics in this forum