3/23/03 - Philadelphia, PA, Unitarian Church
Incomplete setlist:
I Dont Blame You
This was the 31st performance of the tour.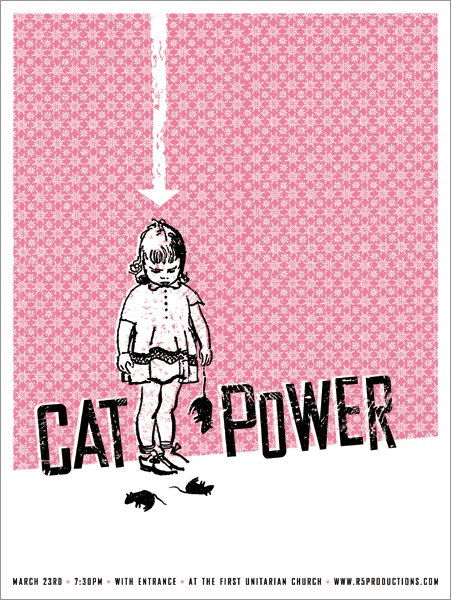 Review from 34th Street
http://34st.com/2003/04/node-1742/
Woman on the Verge of a Nervous Breakdown?
By Beth Falkof
Chan, you disappoint.
Excited by the prospect of witnessing the spectacle that is the usual Cat Power show/emotional breakdown, in the end all we were treated to was the standard live version of your CD concert. Chan, when you came out in a big flannel ala Eddie Vedder, we thought the long shirt sleeves were substitutes for Kleenex. To our dismay, like that Sunday night at the First Unitarian Church, Chan provided us with chilling renditions of their newest folk offering, You Are Free. Backed by a three-piece band and with Chan — Chan Marshall, the main, sometimes the only, driving force of Cat Power — alternating between acoustic guitar and piano, Cat Power sounded hauntingly spiritual, which was fitting, given the concert was held in the sanctuary of a church.
Funny, as everything leading up to her appearing on stage was nothing short of sacrilege. After waiting for two hours outside, once inside we had to suffer through two awful opening bands. One guy was so self-indulgent, he basically played the same song for over an hour, even after the crowd in the pews tried to boo him off the stage. Then, Cat Power and her band for the night finally took the stage. With long bangs obscuring her pretty face, she launched into a tour de force of her latest album. And damn can that girl croon. Hushing the crowd into absolute silence, for someone so awkward — she had an amazing amount of stage presence. Highlights included a rousing interpretation of "I Don't Blame You," the first track off You Are Free. But between songs, she reverted to the shy, awkward girl we were anticipating – mumbling in French and trying to make jokes for the audience. After a while, she moved to a grand piano on the church floor. Without warning she launched into a twenty minute long stream of conscience solo piano segment. Aided by the sparse instrumentation, her sultry voice was powerfully quiet though beautiful. She ended the concert with a solo acoustic set.
Although Cat Power's performance was strong, the delays and logistical blunders made the crowd restless, and many, including these two reviewers, opted to sneak out early. A noble effort, Chan, we're proud of you — but next time you come to Philly, don't make it on a school night.

Cokelike




Messages

: 3538


Thanks

: 17


Date d'inscription

: 2012-02-14



---
Permissions in this forum:
You
cannot
reply to topics in this forum