Les reprises, une marque de fabrique...
"(I Can't Get No) Satisfaction" (Mick Jagger, Keith Richards) – 3:05
"Kingsport Town" (Traditional, version by Bob Dylan) – 4:54
"Troubled Waters" (Sam Coslow, Arthur Johnston) – 3:29
"Naked If I Want To" (Jerry A. Miller Jr.) – 2:47
"Sweedeedee" (Michael Hurley) – 3:53
"In This Hole" (Chan Marshall) – 4:26 (cover of Cat Power's own song from the album What Would the Community Think.)
"I Found a Reason" (Lou Reed) – 2:00
"Wild Is the Wind" (Dimitri Tiomkin, Ned Washington) – 4:10
"Red Apples" (Bill Callahan) – 4:24
"Paths of Victory" (Bob Dylan) – 3:24
"Salty Dog" (Traditional) – 2:07
"Sea of Love" (Philip Baptiste, George Khoury) – 2:19
"Love to Be Silly" (Japanese bonus track) – 1:34
Last edited by Nicolaoua on Sat 3 Mar - 13:06; edited 1 time in total
Prior to the release of the Covers Record, in 1999, Chan toured solo. She performed on guitar as well as piano. While she played she had projected behind her the film "The Passion Of Joan Of Arc", one of the greatest silent films of all time. The film, made in france in 1928, has been released on DVD by Criterion. Her performance at Western Washington University, in Bellingham, Washington was bootlegged and is one of her great solo performances.

----------------------

From Chan's interview with Gravity Girls, 12/XX/99:

So, have you got ideas on making a new record?

Chan: The same songs I'm going to be playing in Australia, I'm recording on Sunday and Monday. I just booked the time today. I was supposed to have recorded it by like about a month ago, but I've just been procrastinating, but it's gonna be covers. Nina Simone, the Velvet Underground, Bob Dylan, Michael Hurley, John Lee Hooker, a bunch of things that I'm gonna be playing.

On guitar or on piano?

Chan: Both. It's not going to be like a record with overdubs. It's not. No effects, no things like that. No drums, no distortion, it's just going to be me playing.

And have you been playing piano when you've been doing your live shows?

Chan: Yeah. I'm not a good piano player though, so. Yeah, I've been doing that. It's great. But it's not so great that I want people to think that it's going to be some kind of cabaret-styled performance-artist thing.

Well, I imagine that your mode of playing the piano is similar to how you play guitar. So I don't think the kids
are expecting Liberace.

Chan: Elton. Like Elton J. I wish I could be like that.

Oh really? I think you should just think about what you just said.

Chan: You're right. You're right. What did I just say?

----------------------------------------

From Chan's interview with Ink Blot Magazine, 11/28/99:

What are you working on currently?

Chan: I've already done it. It's going to be out in February or March.

And what is it? I was reading an article recently - an interview that you did - saying that you were working on some piano stuff, which you did tonight.

Chan: Yeah. It's half piano, half guitar. But tonight was not a good representation, I don't think...

Is it solo - is it just you?

Chan: Yeah, totally. Yeah. It's really simple, basic, songs. No nothing, no overdubs, no distortion...

When did you record this? Was it just recently?

Chan: About three days ago. Three days ago for three days. I recorded for the first day, the second day I was
two hours late, and the third day was like, mixing, and having beer, talking to some friends that came by.

So it was a really quick recording. Was all this stuff you had written and worked out ahead of time?

Chan: No. (Just) things I've been playing...they're covers. Most of them - all of them are covers except for
one song, "In This Hole," which is my song.

I was going to say, tonight I thought it was very cool that you did the Velvet Underground song ("I Found A Reason") on the piano.

Chan: Thank you! Yeah. (Singing) "What comes is better than what came before..." Yeah, it's so beautiful that song. I remember when they came and I heard them when I was probably like seventeen. I think they need to come back around. 'Cause really, they're just...so innovative, and the characteristics that I find in their music when I'm listening to it...it's just...it's this combination of arrogance and avant-arrogance... I love them. I love them so much.

-----------------------------

From Chan's interview with Jason Broccardo for Splendid Zine, 1999:

Chan: With this record, because with these songs I don't feel as vulnerable, they aren't secrets -- they're
just exposed parts of song history that everybody knows (so) it's not a big deal. There's an attachment. There is an emotion I have with them, memories and things, but when I play these live, it's not breaking my back. I'm inspired by these songs, by the way they sound; how they make me feel, with memories and inspiring me. I enjoy playing these songs. If I can enjoy it on tour and try to give an audience... I was just now realizing that a lot of times that I can't even look at the audience because I think they hate me. I think they hate me; have this feeling that they hate me. And they are there because a friend told them they should check this out because a guy from Sonic Youth is the drummer, or they should really go because Sally is going and John is going. And yeah we can meet there and we can talk there. Or you go there because they have the kind of beer you like or it's a Friday night. That's what I'm thinking these people are like. But lately, on the front row, there are a couple girls on my left or this guy on my right, so innocently there for me, appreciating me. I can tell that they like me, respect me. Once I make that connection with a couple people in the audience, and I can see them and how they look at me, that makes me feel better. I'm so scared otherwise that they're all jaded rock critics or something.

Can we talk about some of the unreleased songs? "Leopard and the Lamb" and "To Be a Good Woman",
will they appear anyplace?

Chan: "Leopard and the Lamb", that was going to go on this record. So was "To Be a Good Woman", but because it's a covers record... I did put "In This Hole", but it's different. It's like I'm covering myself. I want
to wait for the next record to put those out. Those songs are going to be so much different from the rest
of the record, but I wanted to save those because they are my little gems.

When do you think the next record is going to come out?

Chan: I'd say next Valentine's Day maybe. (Note: The Covers Record was released 3/21/00.)

----------------------

From Chan's interview with Matt Dornan for Comes With A Smile publication, 3/14/00:

What sets these songs apart for you, what criteria decided which songs you'd put on The Covers Record?

Chan: They're songs that at one time or another in my apartment or hotel room or a friend's house or some space or time or on stage, I'd just start playing a melody and, without even thinking about it, I'd just start singing that song. Just like 'oh, I'll start singing this song' and because I sang it once in my house, the next time I might play it on stage. It's like 'oh, maybe I'll play that to calm me down,' because I really hate my own songs. And it becomes a part of my memory, it becomes a song to me even though it doesn't sound like other people and their actual song. I felt really good playing them, not like really good but I felt like I could concentrate on them easier than my own songs because it's not like I'm making up the lyrics or anything. It's not like they're really my songs. And also because I admire and respect the people who wrote them. It feels better than singing my own songs.

You've always covered other people's songs on your albums - Hank Williams, Tom Waits, Bob Dylan, Smog - so was this record something that you'd had in mind to do for a long time?

Chan: Absolutely not, this came because at the end of my Moon Pix tour with the band, around the eighth month I started to become very unhappy playing my songs and I could not stand playing my songs, I felt I was lying every time I did it. So, more and more, my set list became these songs, I kept pulling them in, pulling them in and, finally, by the ninth month they would ask 'Chan, are we going to play any Cat Power songs?' So, they gave me freedom and inspired [me]. I had all these other original songs that I'd been carrying through that tour but I didn't feel inspired . . . because I know if I pick up those songs and spend a month in a recording studio, it's going to be a lot more pressure on me to tour more and get a band and think about it more and I don't want to think about it. And I know that these songs are very easy, you know, to think about. I know what I want, I don't have to go into a studio and wing it, which is what I did with all my other [records]. I knew what I wanted.

Is there a common thread between the songs that you cover, something that draws you to them?

Chan: I think a lot of songs cause me to freeze, it's like a moment in time when I hear the song. These songs are like that, they were all frozen in time when they were invented or whatever. When they were put into the consciousness of me and other people who really like them or that kind of song that comforts you in a way. That's what these songs are like for me. I don't think they're necessarily sad, I just think they're comforting or something.

This is probably the question you've been asked most about this record . . .

Chan: Satisfaction? Why did I not play the chorus?

Yeah.

Chan: Just 'cause when I was playing it in my room, just the melody for like thirty minutes and forgetting what time it was, I just started singing Satisfaction and I remember thinking 'oh, this is the part when "Satisfaction" comes up.' I just didn't sing it because all I can see is Mick Jagger, I can't really imagine singing his lyrics.

Had you always planned to record these songs unaccompanied?

Chan: Absolutely, yeah. All the songs that I've ever written even before there were people playing on them were always thought of playing by myself. Somebody always talked me into [playing with a band]. I'm kidding, Moon Pix I wanted it.

On the surface this record seems very simple, just the voice and guitar or piano. Was it an easy record to make?

Chan: Oh, absolutely [laughs]. One through six I recorded in the November before I went to Australia. I knew exactly what I wanted and I went in and was basically waiting for people to get finished doing stuff so I could do what I knew I was doing. The other songs are just, sort of, mistakes and 'oh the tapes running, play that thing again.' 'Salty dog, salty dog,' you know? This sounds really neat, press record. Sea of Love you know, things like that where I just had to be like 'I wanna do this, press record.' It would be like Wild Is The Wind, you know, afraid it would go away, he's like 'just test out the piano, see if you like it.' I'd be like 'Okay', I'd have the headphones on and start 'Love me, love me . . . that sounds really neat, press record.' I said 'Come here, bring some tape' and I'd put a piece of tape here and a piece of tape here and I'd be like 'Okay, I'm ready!' I'd never played it before. The other songs were like mistakes, impulses but the first six I'd been playing during shows, so I knew exactly what I wanted when it was time to record.

What about the sequencing, there are five guitar songs, five piano songs and two more guitar tracks, the last two being 'lighter' songs after some heavier stuff in the middle. Was that planned?

Chan: I've got a reason. Okay, when I play live, despite a couple of originals that I'll put on when I play live, one through six is the way that I play, that's my set list. And then Sea of Love is at the end because I'd released that single on Index magazine in the States and then Matador Anniversary [compilation] put that song on, so I put it at the end as a kind of goodbye because people have probably already heard that song. Salty Dog I'd never played in front of people in my life, so that's just the last one.

Is this the record that kills off the Cat Power-as-indie tag? A record with jazz, folk and blues standards on it?

Chan: I see that this record my grandmother and my parents probably could actually appreciate. There was this restaurant in Norway I was just at and if you wanted to eat there you had to watch this jazz band but it was all booked up and everyone there was over fifty. And the people were so quiet and I thought 'Wow, I'd love to play to these people,' I bet they'd like it.

----------------------

Fron Chan's interview with Rob Evans for Soundspike, 4/11/00:

I think your version of ''(I Can't Get No) Satisfaction'' is brilliant. Was it nerve-wracking at all
to re-do such a classic in such a different vein and without the chorus?

Chan: No. Not at all. It was just like I wanted to hear it. One night at home I just started playing it, and
that's pretty much the same way I play it live and the way I recorded it. It wasn't hard or weird at all.

How about ''I Found A Reason?'' That's a great song.

Chan: Same thing. I bought a piano and just started playing on there and then that song just came out. One night at a club, I played it and I thought, 'I'll put that on the record.' Nothing's premeditated. If it was,
I wouldn't do it.

--------------------------

From Chan's interview with scott wilson, thepitch.com, 4/13/00:

On "In This Hole":

Chan: I am covering it. It's not the same song to me when I do it this way. The music changes, the emotion of it. I think I like it better this way.

----------------------------

From Chan's interview with John Chandler, Rocket Magazine, April, 2000:

Chan: I played all these songs because they made me feel good. I wanted to go out and play them live, but my booking agent was saying, 'But Chan, you just went out and did the Moon Pix tour,' but I wasn't happy doing that and I thought I would be happy doing these.... I never thought I would make an album, but it felt alright. For 'Satisfaction,' I was just playing my flamenco guitar and just being in it. It's just how I would do it, not how I would do it, but how I did it. It's hard for me to think why I did it that way. When I was singing ['Satisfaction'] the first time it never occurred to me to sing the chorus. It just seemed like it had been done before. There was no reason to do it again. What's that word?

"Derivative?" I offer.

Chan: Yeah, it's cliché almost. I know it's there. It's present without me even saying it.

-----------------------------------

From Chan's interview with Christopher Hess for Weeklywire, 5/1/00:

Given the mood and tone of your music, your views on the "dark side" of art may come as a surprise to some of your fans.

Chan: People do think that, they're always like, 'Oh you're so depressed, you're so dark.' But [my] lyrics are
triumphant, like everything's gonna be okay. Yet when I pick up Junky and read it, it's like ... I don't need
this filtering into my consciousness. People are defined by their danger, by their rock & roll, it's just weird.
It's not cool to be a junky, and it's not cool to write about it. I mean, I know too many friends who have died from it that I only see the danger in intellectualizing it.

One of the songs on The Covers Record, "In This Hole," is yours. When you started putting the album together, did you intend it to be all other people's material or did it just happen?

Chan: Actually, when [the previous Cat Power album] Moon Pix came out, I wasn't gonna tour on it. I was just gonna leave it alone. But then I realized I felt really good about the songs, and for the first time in my life, I had practiced with a band, so I sort of switched the songs around and made them more triumphant sounding, more major chords -- more "rocking." Sometimes, toward the end of a show just out of nowhere, I'd start playing "Kingsport Town," or some other song would just come out, because I needed something new and something smooth, just a good song, so I didn't have to rock or do the same old monotonous thing. By the end of the tour I had all these covers that I kept doing. When I was done with the tour, I was sitting at home playing music, these chords over and over, relaxing, and I started singing "Satisfaction." Just started singing it. I never thought I'd play it again. And I had bought a piano about that time. I was playing it and would play this music over and over and over, and I would start singing the chorus for "I Found a Reason." Then, when I was in the studio, the guy said, "We have a piano," so he miked it and I was fucking around, and he said, "Let me check the levels," so I started playing "Wild Is the Wind." I really liked it, so I got some tape and put it on the areas where I'd put my fingers. While he had been checking the levels, I was playing that, so then we recorded it. That's the one on the record, that's the recording. Like "Satisfaction" and all these other songs, they weren't meant to be on a record. Near the end of my Moon Pix tour, I felt good about playing them live, and Matador wanted me to put out a record, and I didn't want to put out my originals -- which I've already recorded. I just changed my mind and said I want to do this.

----------------------

From Chan's interview with Carsten Wohlfeld, for Luna Kafe, 6/16/00:

Do you consider yourself the leader of a rock band or a folk singer?

Chan: No. I don't think I'm rock or folk. I'd much rather be viewed as a Blues singer.

I've played your version of Satsifaction (which omits the well-known chorus!) to a lot of people, even die-hard Stones fans and none of them were able to instantly recognize it... do you get the same reaction, when you play it to people?

Chan: Yeah, absolutely. But it's almost that the identification of that song is not the song. It's Mick Jagger and Rolling Stones. I only started playing it, because initially I wanted to listen to the song on a cassette and
the only way I could hear the song would be in my truck, but I didn't feel like going outside, sitting in my truck cranking it, to hear the song, rewinding the tape and everything. So I just picked up my guitar and started playing it. When I played it and got to the Satisfaction part I was like: 'I don't need to say it'.

Did you approach the other songs in the same way?

Chan: Yeah! But there was never a concept to do a Covers album or anything. Over the past years these songs just came out and I enjoyed playing them, if I needed a good song that would relax me and would keep the audience happy.

So why did you chose to release them anyway?

Chan: Matador wanted me to do another album of my originals, which I have finished writing already, but I just came back from this loooong tour, like eight months long and we always did Moon Pix songs and the last week of the Australian tour I hardly did any of my own songs and I just pulled cover from here and from there and I was doing Dreams by Fleetwood Mac, just because I was very unsatisfied with my own songs and I felt really inspired and the audience liked them. So I went out on my own and did more shows solo in the States and then Italy and Australia again. And just as I was about to leave for that Australian tour Matador called me and said: 'We need to talk about business. What about that tape you gave us with all your new songs with the band? We want you to record them properly, so we can put it out.' And I replied that I didn't really want to record those songs just yet. And they said: 'Do you just want to give us the tape [with the demos] and we put that out?' And I said: 'No!!!', because I didn't want to tour on that, I still wanted to do the solo covers. So I met the guys from Matador in New York and they gave me some money and asked me for a tape of stuff before I left for Australia. So I booked time at a recording studio for the next day and I recorded the first six and song number nine and ten from the record. The next day I went into the office, gave them the tape, the artwork, the credits and left for Australia.

---------------------------------

From Chan's interview with Lydia Vanderloo for Addicted To Noise, 2000:

Chan: In This Hole, it's a cover of my own song. The other version is very tense, with guitar. The roundness and richness of the piano resonates. 'Salty Dog' was a mistake. My friend Matt was over and we just started playing. I thought, 'I should just play that old song I sang when I was little.' They're all first takes. I'm not the overdub type. That's what I've been asked [about this record] — 'There's something different about your voice. I think I'm becoming more comfortable with myself as a woman. I think that has a lot to do with it. Before, part of being crazy and mixed up in my younger years was that I never really felt like a female. I always felt like I was made to feel like one. But I think I'm learning that I'm comfortable with the fact that I'm a woman. I'm not as hostile within myself. I feel like I'm just different, more mature. I believe in these songs, too. I believe there's something good about them. [Making] Moon Pix was a relaxing experience, but at the same time I had no direction. Because they're not mine, I feel more confident. I respect them and am inspired by different thoughts about them. Being thoughtful about them and what they represent and different images I have about the songs make the album more meaningful to me. This record was pretty great because I'd already gone on tour. I'd already played the songs so many times. With every other record I've done, I'd only ever played the songs live a handful of times before I actually recorded them and made each song the way it is. But I'd been carrying these ones around for a while — I'd been on tour with them twice — so I knew how they go in my mind, not because I'd recorded them on tape. So it was really, really easy to record them. I just read today something in the bio. Someone pointed out that it said that I'm 'grotesquely melancholy,' that this record is 'grotesquely melancholy.' I said maybe I should change the name of the record to Lovers Record, because when I'm singing these songs, when I think of these songs, I'm thinking of someone I love or something from my past that's desirable to me. I don't think it's grotesquely melancholy. I just didn't agree with that. I'm glad someone pointed that out, so I can maybe change the title of the record. I feel these songs in some ways are just like lullabies.

----------------------------

From Chan's interview with Paige La Grone for Mean Magazine, 2000:

How did you choose what you covered?

Chan: For "Satisfaction" I was at home in Atlanta for a few weeks and I was just playin' around with this acoustic guitar my dad had given me. A friend of mine had given me this old cassette. I can't remember the actual record the Stones did that song on. And my tape player wasn't working. And my truck was in the shop, so I just started playing it exactly the way it's on the thing. Cause I never knew how to cover songs, literally, technically. Nina Simone ("Wild is the Wind"), the same thing. I was in the studio last summer, recording some other songs. And the piano was there, and I know the song, and I didn't bring the tape with me or anything, so I just sat down and was figuring out, like, OK, just make it up. This is how I want it. Never did I think, I have a list, premeditated. It's just at certain times, they'll happen to come along. Like on stage, I started playing the Michael Hurley song "The Werewolf." I don't think I put it on the record. Though "The Devil's Daughter" (is on there).

I love the Velvet Underground song. And then there's that one Chan Marshall cover.

Chan: Yeah. That's kind of funny? Right? (laughter)

Yeah, it's hilarious actually.

Chan: Yeah. I like that "I do believe" thing. When I got back to Atlanta last year from Australia I bought a piano. I didn't have that Velvet Underground record, but that song had been in my fuckin' head, like, all day. So I got home and just was playin' it. I couldn't remember any of the other lyrics; that's the one that kept clicking in my mind, that verse.

So where did you make the record, and with whom?

Chan: I made it, at this place. I kept saying, Yeah, I'm gonna do a record. And just Chan Marshall style, I procrastinate 'till the last fuckin' minute. I ended up in the studio recording with this young man at this place called Night Owl Studios across from Penn Station. I did most of the songs there just very very very very quickly, and there's like four songs that are from different recording sessions.

Hey, have you ever thought about doing a record of standards with a big Van Dyke Parks type string section? Old Dinah Washington, and Ella Fitzgerald and Bessie Smith, Billie Holiday kind of songs.

Chan: I would love to do Billie Holiday. She strikes a chord in me forever. I would wonder if it'd work. That would call for a producer, which I'm always skeptical of. If I could get Van Dyke Parks or Serge Gainsbourg or somebody that knows what they're doing. That sounds interesting.

I picture you with your guitar, singing these really great sort of bluesy nightclubby songs. But more raw, and with these really awesome yummy swelling strings coming in.

Chan: You're giving me this idea! Won't it cost like a million dollars?

-------------------------------

From Chan's interview with swizzle-stick.com, 2000:

Do you prefer to perform alone or with a band?

Chan: I prefer to do whatever my impulses (tell me) at certain times of life. I don't prefer one thing. I've never been black and white. Situations, people, and things in life. They're always changing. They're always doing different things. So, I never prefer anything over anything else. I used to never like gold. But now I wear a gold ring instead of silver. I wore a silver ring for eight years. I took the silver one off and I wear a gold one. As you grow older, you stop being so black and white. I love those people (people she has played with in the past) and I'd love to play with them someday, but I don't know if I ever will. Right now I'm doing this, and I'm trying to do this right now. I don't know what's going to happen next year, and I haven't thought about, so I don't know…

Well, I'm glad you're doing this.

Chan: Thank You. It's not as big of a thing. The whole record label and the booking agent, they think, "This isn't a very big record. It's just kinda like a little thing she's doing. It's her side project." I'm like, "No, it's not. I'm doing this. I feel the same way that I did 2 years ago or 4 or 5 years ago.

It's just as important to you as the other records that you made?

Chan: Well, actually, no. That's wrong. This is probably the most important stuff that I've ever liked, or that I've ever tried to do. But, the thing is that they're making it seem like it's actually smaller than what I've done. And in the past I never cared about what I did, and now they're sayin' that it's smaller than what I've done, and I actually loved it. It's all marketing and motives.

Last edited by Cokelike on Sun 20 May - 10:58; edited 3 times in total

Cokelike




Messages

: 3538


Thanks

: 17


Date d'inscription

: 2012-02-14



Traduction du post de Cokelike.
------------------------------------
Avant la sortie de The Covers Record, chan se produit sur scène en solo en 1999. Ell y joue à la fois de la guitare et du piano. Pendant qu'elle joue, est projeté derrière elle le film de Dreyer "La Passion de Jeanne d'Arc", l'un des plus grands films muets de l'histoire du cinéma. La prestation de Chan à l'université Western Washington à Bellingham, qui existe en bootleg est l'une de ses meilleures performances en solo.
------------------------------------

Interview de Chan avec Jason Broccardo, Splendid Zine, 1999

Chan: Avec ce disque, avec ces chansons, je ne me sens pas vulnérable, ce ne sont pas des secrets, ce sont juste des chansons que tout le monde connait, donc il n'y a pas de quoi en faire tout un plat. Il y a un attachement. Il y a une émotion que j'éprouve avec elles, des souvenirs et des choses mais quand je les joue en live, ça ne me casse pas le dos. Je suis inspirée par ces chansons, par la façon dont elle sonnent, par ce qu'elles me font éprouver, par les souvenirs. J'aime jouer ces chansons. Si je peux prendre plaisir à jouer ces chansons en tournée et essayer de donner au public... Je viens simplement de réaliser que bien des fois, je ne peux même pas regarder le public, parce que je pense qu'ils me détestent. Je pense qu'ils me détestent, j'ai ce sentiment qu'ils me détestent. Et ils sont là parce qu'un des leurs amis leur a dit de venir parce qu'un mec de Sonic Youth est le batteur, ou qu'ils devraient vraiment venir parce que Sally ou John y vont. Et ouais, on peut se rencontrer là-bas et discuter là-bas. Ou ils viennent parce qu'ici ils ont leur bière préférée ou parce que c'est vendredi soir. C'est l'impression que j'ai de ces gens. Mais dernièrement, au premier rang, il y a quelques filles à ma gauche ou ce gars à ma droite qui sont vraiment là pour moi, qui m'apprécient. Je peux voir qu'ils m'aiment bien, qu'ils me respectent. Une fois que j'ai établi le lien avec 2/3 personnes dans le public, que jeux les voir et qu'ils peuvent me regarder, ça m'aide à me sentir mieux. Sinon, j'ai trop peur qu'ils soient tous des critiques de Rock blasés ou un truc du genre.

Q: Pouvons-nous parler de quelques-unes de vos chansons inédites? "Leopard and the lamb" ou "To be a good woman", aurons nous l'opportunité de les retrouver quelque part?
Chan: "Leopard and the lamb" aurait dû se retrouver sur ce disque, tout comme "To be a good woman", mais comme c'est un album de reprises... J'ai mis "In this hole" mais c'est différent. C'est comme si je faisais une reprise de moi-même. Je veux attendre le prochain disque pour les sortir. Ces chansons seront très différentes du reste de l'album mais je voulais les mettre de côté et les sauvegarder car ce sont mes petites pierres précieuses.

Q: Quand pensez-vous que sortira le prochain album?
Chan: Je dirai peut-être vers la St Valentin. (Note: l'album The Covers Record est sorti le 21 mars 2000)

-----------------------------------------------------

Interview avec Matt Dornan, Comes with a Smile publication, 14 mars 2000

Q: En quoi ces chansons se distinguent-elles pour vous, sur quels critères avez-vous décidé de les inclure sur l'album?
Chan: Ce sont des chansons dont j'ai commencé à jouer la mélodie et que j'ai commencé à chanter sans y penser, que ce soit dans mon appartement, dans une chambre d'hôtel ou dans la maison d'un ami ou ailleurs, ou sur scène. C'était comme "oh, je vais commencer à chanter cette chanson" et comme je l'ai chantée une fois chez moi, la fois suivante, je la chanterai peut-être sur scène. C'est un peu "oh je vais jouer celle-là pour me calmer", parce que je déteste mes propres chansons. Et ça devient une partie de ma mémoire (ndt: pas évident de traduire "And it becomes a part of my memory"), ça devient une chanson pour moi même si ça ne ressemble plus vraiment aux chansons originales. Je me sentais vraiment bien quand je chantais ces chansons, en fait je ne me sentais pas vraiment bien mais je pouvais me concentrer plus facilement sur elles que sur mes propres chansons parce que ce n'est pas comme si j'inventais les paroles ou quoi que ce soit. Ce n'est pas comme si c'était vraiment mes chansons. Et c'est aussi parce que j'admire et respecte les personnes qui les ont écrites. Je le sens mieux que de chanter mes propres chansons.

Q: Vous avez toujours repris des chansons d'autres artistes sur vos albums- Hank Williams, Tom Wits, Bob Dylan, Smog- aviez-vous donc à l'esprit de faire un tel disque depuis longtemps?
Chan: Absolument pas, c'est arrivé parce qu'à la fin de la tournée Moon Pix avec le groupe, aux environs du 8ème mois, j'ai commencé à me sentir très malheureuse de jouer mes chansons et je ne supportais plus de jouer mes chansons, j'avais l'impression de mentir quand je le faisais. Donc de plus en plus, mes setlists sont devenues ces chansons, je continuais à en rajouter encore et encore, et finalement, vers le 9ème mois, ils me demandaient "Chan, est-ce qu'on va jouer une quelconque chanson Cat Power?" Donc ils m'ont donné ma liberté et m'ont inspiré. J'avais toutes ces chansons originales que j'avais portées pendant toute la tournée mais je ne me sentais plus inspirée...parce que je savais que si je prenais ces chansons et que je passais 1 mois dans un studio d'enregistrement, il y aurait beaucoup plus de pressions sur moi pour que je fasse plus de tournées et que je prenne un groupe, que j'y pense plus et je n'ai pas envie d'y penser. Et je sais que ce sont des chansons à propos desquelles il est très facile de penser. Je sais ce que je veux, je n'ai pas besoin d'aller dans un studio et improviser, ce que j'ai fait pour mes albums précédents. Je savais ce que je voulais.

Q: Est-ce qu'il y a un sujet commun entre toutes ces chansons que vous reprenez, quelque chose qui vous attire vers elles?
Chan: Je pense que beaucoup de chansons me figent, c'est comme une pause dans le temps quand j'entends ces chansons. Ces chansons sont comme ça, elles sont toutes figées dans l'époque où elles ont été créées ou quelque chose comme ça. Quand elles sont rentrées dans ma conscience et dans celles des personnes qui les aiment, ce genre de chansons vous console d'une certaine manière. C'est ce que sont ces chansons pour moi. Je ne pense pas qu'elles soient forcément tristes, je pense simplement qu'elles consolent d'une certaine manière.

Q: C'est probablement la question que l'on vous a le plus posée à propos ce cet album...
Chan: Satisfaction? Pourquoi je n'ai pas joué le refrain?
Q: Ouais
Chan: Simplement, parce que quand je la jouais dans ma chambre, juste la mélodie pendant quelque chose comme 30 minutes et que j'oubliais le temps qui passait, j'ai commencé à chanter "Satisfaction" et je me souviens avoir pensé "oh, c'est la partie où arrive "satisfaction". Je n'ai tout simplement pas pu le chanter car tout ce que j'arrive à voir c'est Mick Jagger, je n'arrive pas vraiment à m'imaginer chantant ses paroles.
Q: Aviez-vous toujours prévue d'enregistrer ces chansons sans être accompagnée?
Chan: Absolument, ouais. Toutes les chansons que j'ai jamais écrites, avant même que d'autres personnes jouent dessus, ont toujours été pensées avec moi jouant seule dessus. A chaque fois c'est quelqu'un qui m'a dit de les jouer avec un groupe. Je plaisante, sur Moon Pix, je le voulais.

Q: En surface, ce disque a l'air assez simple, il n'y a qu'une voix et une guitare ou un piano. Est-ce que ce fut un album facile à enregistrer?
Chan: Oh, absolument (rires). J'ai enregistré les 6 premières chansons en novembre, avant d'aller en Australie. Je savais exactement ce que je voulais, et j'y suis donc allée et j'ai pour ainsi dire attendu que les gens aient fini ce qu'ils avaient à faire pour que je puisse faire ce que je savais devoir faire. Les autres chansons sont en quelque sorte des erreurs, "oh la bande tourne, rejoue cette chose encore une fois". "Salty dog, salty dog", tu vois? Ça a l'air simple, appuyer sur "enregistrer". Pour "Sea of love", ou pour des choses de ce style, je devais faire "je veux faire ça, appuie sur enregistre". C'est comme pour "Wild is the wind", tu vois, de peur que ça s'envole, il disait "teste le piano pour voir si ça te plait". Et je répondais "ok", et j'avais les écouteurs sur les oreilles et je commence "Love me, love me...ça sonne vraiment bien, appuie sur record". Je disais "viens ici, apporte une cassette" et je mettais une cassette ici ou là et je me disais "ok, je suis prête! Je ne l'avais jamais jouée avant. Les autres chansons étaient en quelque sorte des erreurs, des pulsions, mais les 6 premières avaient été jouées en concerts, donc je savais exactement ce que je voulais une fois arrivé le moment de les enregistrer.

Q: Concernant le séquençage, il y a 5 chansons à la guitare, 5 chansons au piano et 2 chansons de plus à la guitare, les 2 dernières étant des chansons plus "légères" après des choses à l'ambiance plus lourde au milieu. C'était prévu?
Chan: J'ai une explication. Ok, quand je joue en live, malgré une paire de chansons originales que je joue en live, les 6 premières sont dans l'ordre où je les joue, c'est ma setlist. Et ensuite Sea of Love est à la fin, parce que je l'avais sortie en single dans Index Magazine aux USA et Matador l'a mise sur leur compilation Matador Anniversary, donc je l'ai mise à la fin, comme une sorte d'au revoir car les gens avaient déjà probablement entendu cette chanson. Salty dog, je ne l'avais jouée de ma vie devant qui que ce soit, donc c'est la vraie dernière.

Q: Est-ce que c'est le disque qui va détruire l'étiquette "Indie" de Cat Power? Un disque avec du jazz, du folk et des standards de blues dessus?
Chan: Je le vois comme un disque que ma grand-mère ou mes parents pourraient en fait probablement apprécier. Il y a un restaurant où je viens d'aller en Norvège où si vous voulez manger, vous devez regarder le groupe de jazz, mais c'était complet et tout le monde avait plus de 50 ans. Et les gens étaient si calmes, je me suis dit "Ouah, j'aimerais bien jouer pour ces gens", je parie qu'ils aimeraient ça.
The Covers Record 12"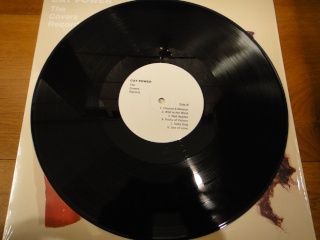 The Covers Record - Test Pressing

rdo




Messages

: 7


Thanks

: 0


Date d'inscription

: 2012-02-22



Is this test pressing yours? It's a wonderful collector's item!
Yeah, it's mine. I just love it still has the original quality control report (dated February 18,2000. I think the album came out in March, but I'm not sure).
As you can imagine, it's my most beloved item

rdo




Messages

: 7


Thanks

: 0


Date d'inscription

: 2012-02-22



Troubled Waters by Mae West (1934)

Sab




Messages

: 646


Thanks

: 0


Date d'inscription

: 2012-02-08


Localisation

: Genève



I think this is my favorite Cat Power album. I really want that test pressing...
Similar topics
---
Permissions in this forum:
You
cannot
reply to topics in this forum