8/31/06 - San Diego, CA, Brick By Brick
Incomplete setlist:
The Greatest
Who Knows Where The Times Goes
Living Proof
House Of The Rising Sun
John, John
All I Have To Do Is Dream - Blue Moon Medley
Willie
Deep Inside
Could We
Lived In Bars
These were the fourty-first and fourty-second concerts and twenty-third and twenty-fourth solo performances of the tour. Chan is now midway between what is her last solo tour (8/25/06 - 9/5/06, ten dates, nineteen shows).
2 Pictures and Review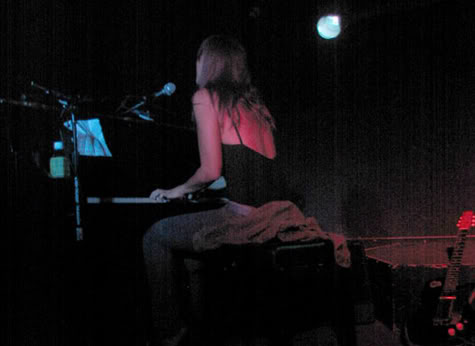 Last Thursday's show encompassed everything a good show should. There were highs, there were lows, it was real, it was raw. It was phenomenal. Cat Power seems really nice. Really humble. Really shy. And she's completely brilliant.
Brick by Brick is a large warehouse. No air conditioning, no chairs, two pool tables at the back. A few minutes after eight, Chan Marshall peeks her head out. Twice. The third time everyone applauds, she comes out. She begins to play guitar on her piano bench, her right foot darting in a ballet pointe making circles. Nervous tick, yes. The foot never stopped. All night long the foot was dancing.
I noticed on the setlist it said, "The Greatest" "Who Knows" "Living Proof"…I found the "Who Knows" to be incredibly indicative of how things went down. She played about five lines of "The Greatest" before stopping to say the cement was sucking her soul. She then began another song.
Sound bites:
» Cat Power:"This is a bad show"
Fan: "No, it's not"
Cat Power: "Yes, it is"
» Fan: "Mary J!"
Cat Power: "That guy at the back doesn't think I'm a singer. He's convinced I'm a stripper. Is there a pole up here?"
"House of the Rising Son", the White Stripes' "It's True That We Love One Another", "Dream", many songs about the moon, "Willie", "The Greatest", Mary J. Blige's "Deep Inside" with the "I'm just Mary, just Mary, just Mary", "Living Proof", "Could We" (actually only a little before getting distracted and moving on), "Lived in Bars"! The songs kept on coming. They were solemn. They were full. But they weren't "He War". Shane once said "He War" was the best morning-after-getting-fuddup song. I seem to think it's the best waking-up-to-seize-the-day song. Life begins with the tickling of the ivories in He War. I've only seen Cat Power twice. And I'm 0 for 2 with this song.
The tour manager literally went on the stage as she was singing acapella, doing this dance with hand movements, about how love is the only thing. It was touching. We applauded and she got down on the floor and bowed to us for two minutes straight. The crowd would've mimicked her actions, had there been room (and had the floors not been rock-hard cement).
She stood and saluted us, and then tried to grab her guitar to play another. Her tour manager brought her a bouquet of flowers to deter her and she literally took them apart and handed them out. Cat Power handed me a purple carnation and I said thank you. It was really cool.

Cokelike




Messages

: 3538


Thanks

: 17


Date d'inscription

: 2012-02-14



---
Permissions in this forum:
You
cannot
reply to topics in this forum