8/5/06 - Urbino, Italy, Fortezza Albornoz, "Frequenze Disturbate Festival"
Setlist:
House of the Rising Sun
Love And Communication
The Greatest
Wild Is The Wind
Living Proof
Ramblin Woman
John, John
Remember Me
Satisfaction
Empty Shell
Good Woman
Who Knows Where The Time Goes
All I Have To Do Is Dream
Lived in Bars
I Cant Give You Anything But Love
Hate
Moonshiner
I Dont Blame You
Willie
Oh, Time
Why
In This Hole
Where Is My Love
Paths of Victory
Up and Gone
Crying, Waiting, Hoping
She's Got You
Hey, Porter
John, John
Unknown
Total Time: ~104 Minutes
Video Setlist (Youtube):
Intro - 0:23
Intro/House Of The Rising Sun - 3:00
I Cant Give You Anything But Love - 1:11
I Cant Give You Anything But Love - 0:35
Total Time: ~4:11
This was the twenty-eighth concert of the tour and the eleventh solo performance of the tour. She has her green shirt for this concert. I believe the only 2 dates this month were this concert and the concert at the "La Route Du Rock Festival" in St. Malo with the band. Chan dances after singing "I Cant Give You Anything But Love", as seen the clips below. She does her best moonwalk.
There is appearently a DVD of this concert that runs about 104 minutes. If anyone has
this please let me know
. The setlist looks awesome with all kinds of rare stuff, "Up And Gone", "Hey, Porter", "Moonshiner",
"In This Hole"
! "She's Got You" is listed as well, must be one of the earlier versions of that one.
---------------------------
Intro
, 0:23, Chan speaks different languages:
Intro/House Of The Rising Sun
, 3:00:
I Cant Give You Anything But Love
, 1:11
I Cant Give You Anything But Love
, 0:35, shorter from different angle:
------------------------------
Pictures and Review by, "Acting Tour Manager", Andrea Alibardi
Translated from Italian:
Traveling with Cat. Everything can happen before and after a live Cat Power.
Last week I suggested to act as tour manager to Cat Power and accompany her to the Disturbed Frequency Festival in Urbino. What they say around on her left me puzzled, but I agreed.
Friday, August 4. 12.55 pm.
With almost three hours late arriving by air from JFK in New York. Charlyn Marshall, aka Cat Power, just see the sign with its name between my hands I salutes warmly: "Hello how are you? I'm Chan, and you?". Leave the airport and she started on the show: "Wow! I'm in Italy! Yuuuu! " (screaming I embraces and beats me hands).
We climb into the car. Stereo takes hold and myself, to myself, coining a new term: "Cat Power volume"; is to crank up the stereo until the speakers give a sign of capitulation. The beautiful americana in Atlanta, now transplanted to Miami, with 6 albums and an EP released from 1995 to date, listen to different genres of music: Gnarls Barkley, Jay-Z, Mariah Carey, Johnny Cash, Bob Dylan; whatever passes through your stereo she sings with his voice soothing and wonderful, lying on the seat of my car barefoot on the dashboard while you smoke cigarettes without filter.
It is a polyvalent artist: tells me that in the next six months will pause from concerts around the world to devote herself to writing the screenplay for a film in collaboration with her friend the photographer will be the production designer. The film will tell the story of the life of Chan from infancy to today. The singer also compete as an actress in the upcoming film of a famous Japanese film director.
A few years ago made a dream that pushed her to want to visit Africa and discover the habits and customs. While I talk you feel deep love for this distant land confined into poverty.
Once you arrive in Bologna you add us a friend of mine. He offers us Joni Mitchell. She goes crazy: makes us listen to ' California ' (taken from the album ' Blue ') three times in a row and we remain stunned because her live voice seems more beautiful than that of Mitchell. We remain silent to listen to our small staff live. Once, twice, three times ...
There is a lot of traffic on the A14 which leads to Urbino, then choose alternative roads. Chan sometimes bails out with some Italian-American term invented at the time. We teach some "slang veneto" (which she repeats on stage during live to our great astonishment).
Picture
During a break she gets a 5 kg empty jar Nutella from the bartender, then enters the haberdashery next to the bar and buy anything. Comes up with a colorful robe on him. Souvenir photos of ritual and then off.
Finally we come to Urbino. The Sun has already gone down and she is a victim of jet leg collapses into bed.
The day after the meeting after the sound check and the accompany to visit the Centre of Urbino. Every five feet takes pictures exalted by the Italian art in the Umbrian town. Photograph anything. He stops to talk to a street musician and buy the cd. Chan is not snobby. It's cheerful, always smiling, stops to talk to some fans that recognize the cramped streets of the city centre. Just see a dog or cat becomes a 5 years old girl who lies down on the floor and rolls with the quadruped. It's sweet. In short: denials the gossips and the nasty rumors about him; Cat Power is an extraordinary woman.
Following dinner fast and then off on stage.
The concert begins.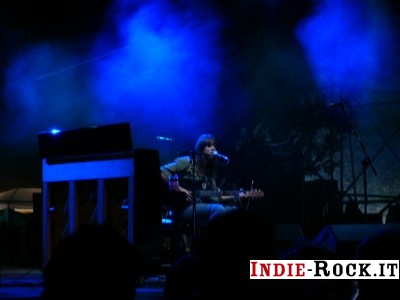 Her hypnotic music. Piano and guitar alternates between her hands and gentle melodies singing her best songs around one of the most picturesque scenery. Behind the stage at the walls of the fortress. A wonderful landscape. From the hill can be seen in the distance, the lights of downtown and the starry sky and moon shine. All silent to listen to the vocals of Cat Power in an acoustic concert that didn't seem to last more than two hours. Obviously for not picturesque moments belied Chan alternates and intense to almost cabarettistici interludes in which he complains to the acoustics unsatisfactory, joking with the audience, dare ballets.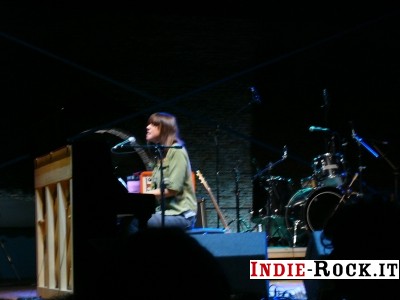 Cat Power, see you in Italy in October.
See you soon.
------------------------------
2 Pictures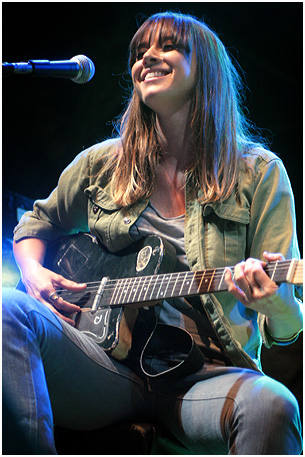 ------------------------------
4 Pictures
------------------------------
2 Pictures
------------------------------
Picture
-----------------------------
5 Pictures
- Chan signing autographs in these awesome pictures.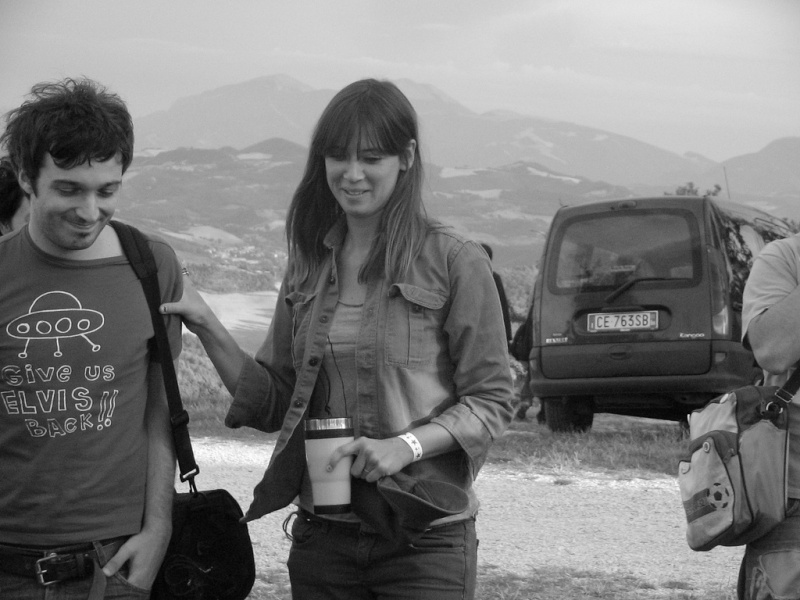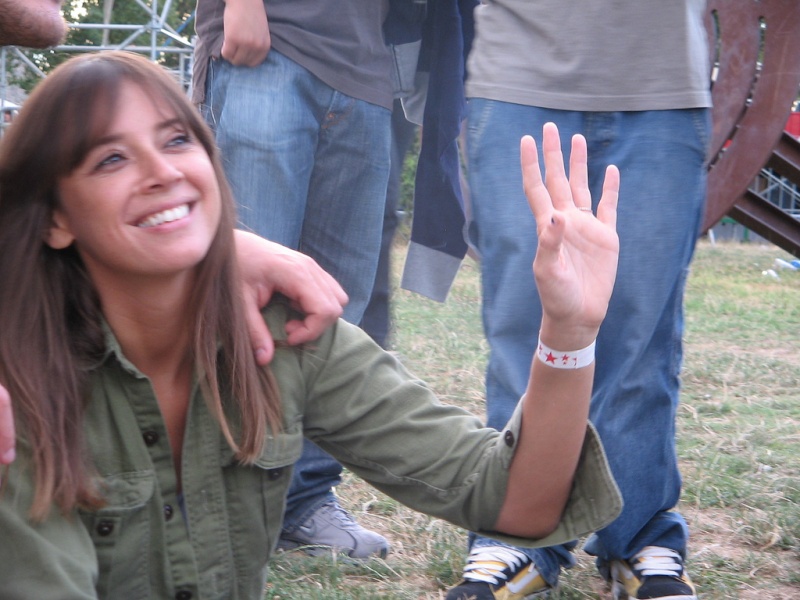 -----------------------------
Picture
Last edited by Cokelike on Wed 26 Sep - 7:44; edited 1 time in total

Cokelike




Messages

: 3538


Thanks

: 17


Date d'inscription

: 2012-02-14



It was cool to learn she loves Joni Mitchell's "California" so much she played it 3 times in a row while she was in the car. That is such a great album.

Cokelike




Messages

: 3538


Thanks

: 17


Date d'inscription

: 2012-02-14



---
Permissions in this forum:
You
cannot
reply to topics in this forum