6/28/06 - Los Angeles, CA, John Anson Ford Theater
Incomplete Setlist:
The Greatest - 3:36
House Of The Rising Sun
I Dont Blame You
End Of Concert - 0:27
Total Time - 4:03
This was the eighteenth performance of the tour. Following her 2 performances in Santa Barbara, Chan is again playing solo.
Many audience members have recorded clips of the end of Chan's concerts where usually Chan would distribute flowers or setlists to the audience. For the purpose of this series of performance date topics I will be refering to these moments as simply, "End Of Concert".
The Greatest
, 3:36:
The Greatest
, 0:25, shorter and further away:
In this clip you can see Chan signing some autographs at the edge of the stage.
End Of Concert
, 0:27:
-------------------------------------
Picture and Review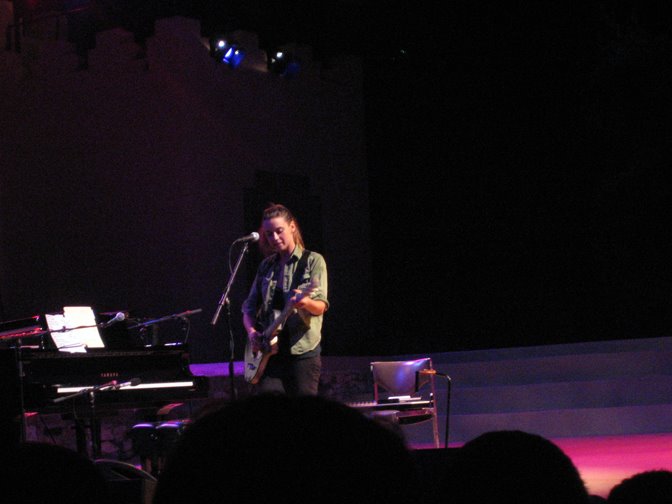 To celebrate my birthday Celine took me to see Cat Power. It was one of the best concerts I've ever seen. This show was better than anything I could have imagined. She was happy, beautiful, had a wicked sense of humor, talked to the audience, allowed the audience to talk to her, played covers, original songs, and ones never before played. It was simply amazing. Thank you Celine for one of the best birthday present ever.
-------------------------------------
Matador Forum Member Comments
I just got back from her show. (John Anson Ford). All in all, she played really bad tonight... most of songs she couldn't finish all the way. Hitting wrong keys on piano and getting distracted and so on...she said she's silver, but I felt she was so out of it. Don't get me wrong that I don't expect to see perfect performance, or her songs exactly same as album sounds. The reason to go see live performance is that seeing something different that CD can't show us. I love all of her songs and her cover songs. She's a truly amazing songwriter, and especially I love her voice. It's just I was so disappointed seeing her performance like tonight. I felt so bad seeing audiences leaving in the middle of the show while she's playing. I'm hoping she just had bad day or something. I still love her as an artist, but it's gonna be really hard going to see her live performance again....
-----------------------
I'm going to go ahead and call you out and say that you weren't really there. If you were there...you must have had ear plugs in and you were also seeing things. Don't get mad but I was there and she was AMAZING. I don't ever remember her saying "silver" maybe because I wasn't close enough but she was more than "silver" she was "gold". In mint condition.
Nobody left during her songs. You straight up made that one up. I know a lot of people got up to smoke and go to the bathroom but for the most part (because I did have a view of the entire seating area) everyone sat in amazement and awe. I also have no idea what you are saying when you say she couldn't finish songs. I can only recall about 2 songs maybe that she cut a little short.
You should have known what she's been like previously. Then you would know in Chan Marshall terms that her performance was indeed "silver" or my opinion "gold".
PS. She did show you something different than what the CD shows you. She was playing SOLO without a band and all instruments to back her up. She only played one instrument or sometimes no instrument for each song. Completely acoustic.
----------------------
Where else are you going to see a two hour solo Cat Power set? Her voice was spot on and she seemed in good sort the whole evening. The venue was absolutely beautiful as well; the weather was great and I don't think there was a seat more than 40 yards away. Maybe seeing her live isn't for you, but to say that it was a bad performance does no one justice.
---------------------
Did you mean to say Sober? Because she did say that she was sober and that's what I thought you may have meant when you continued to say that you thought she was f'd up.
As for last night's show, if you've never seen her before and didn't know what to expect, then I could see how it may have seemed off for some reason.
Having seen her 9 or 10 times before I can say that last night's show was like no other show I'd seen her do. We got a glimpse of the "New Chan" at Coachella, but I never expected what I saw last night. Her hair was pulled back so we could actually see her face, and the girl was not only smiling but often beaming. I had never seen so many smiles from her in all the other shows combined. I don't think she was on anything, I think she was just really really happy (a point she made several times). The other amazing thing was that she played until they made her stop by bringing up the houselights in the middle of a song (2 hours + for sure).
Sure she always does that thing where the end of a song rolls into some random weird mishmash of arpeggiation and straight into the next without giving the audience a chance to applaud without interrupting her, but last night she even helped us out by applauding for herself to indicate for us when she was "done" with a song. At times I was a little irritated by the crowd. All the folks presenting gifts and yelling out questions and comments seemed to keep there from being any real flow, and that dude who kept walking down the isle to the front to take way too long with his cell phone pics kind of got on my nerves... But I got to thinking that her shows have never been traditional in any sense. To expect it be in any way linear and complete and true to recordings would certainly be some kind of letdown. What you do get is an experience like no other, and the chance to see a really talented woman expose herself in a really unfiltered way. Sometimes she's funny as hell, sometimes she's nuts, and sometimes she breaks your heart. I guess that's what I love about her.
I was really happy to see her have so much fun last night. I think we're all lucky for the time she took off earlier this year.
----------------------
I never expected to see what I saw last night either! I was nervous! I thought since it was solo she'd get even more scared but she was the biggest social butterfly. I was surprised in such a great way.
----------------------
In all fairness to killer noise... She did botch-up a ton of songs on whatever instrument she may have been playing. She has a great way of covering this up with her voice though. She'll often times just switch the phrasing of a vocal line or use it to "transition" into another song. I was actually surprised to see her struggle so much with the chords for House of the Rising Sun, right off the bat. How great was it when she gave the crowd her Chan Guitar Lesson? I've had her little Nashville riff in my head all day.
---------------------
Oh I guess I don't mind if she messes up with little stuff. It makes it more real and intimate right? I loved the little clap/snap song she did and then her little dance afterwards. It was like she was loving the limelight, kinda.
Last edited by Cokelike on Sat 29 Sep - 6:15; edited 1 time in total

Cokelike




Messages

: 3538


Thanks

: 17


Date d'inscription

: 2012-02-14



Picture And Review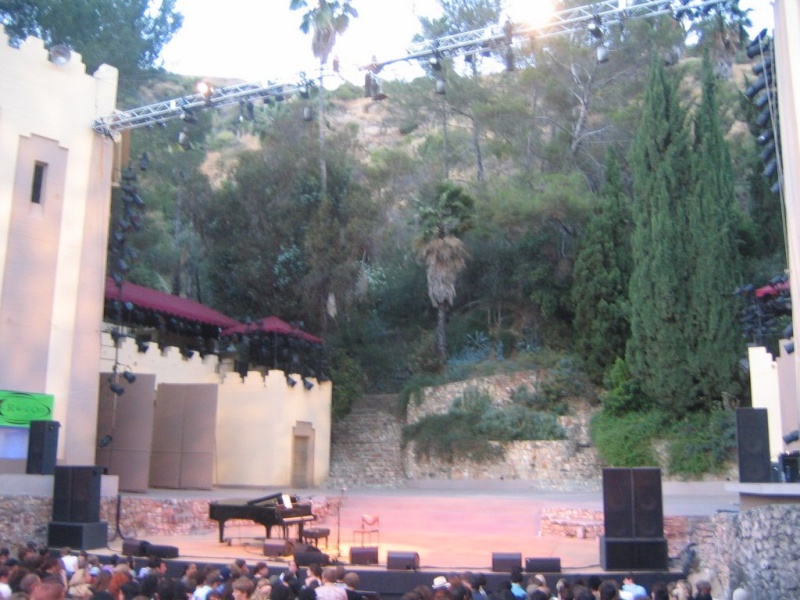 This was my first experience at the Ford Ampitheater in Los Angeles and I have to say it was a great way to start! The venue is intimate, beautiful, with amazing sound. There was no opening act so we don't have to waste anytime talking about that.
The stage was set with a piano, a guitar and some sort of harp thing. Cat Power came out on stage almost without any sound – so quiet in fact that I wasn't sure it was her at first. She could have been a roadie. I think the best way to describe her is "quirky" – sober but definitely still quirky. She began crooning in that amazing voice of hers, quickly changing songs as she began to get bored with them. Seriously, I don't think she finished any of the first five songs, but it sounded amazing. I felt almost mesmerized by her, though I continued to drink wine throughout this, so you'll have to pardon me if my memory gets a bit foggy.
The highlight for me was "I Don't Blame You" as this is my favorite tune of hers and a cover of the "House of the Rising Sun". She would have moments of dancing around the stage and some fake smoking caused the security to rush toward the stage. Ahhhh a show outdoors in Los Angeles – 'cause you know that cigarette is going to kill us – not the layer of smog or anything. I digress:
So in short: Amazing show, Cat Power proved that she is great - Being sober has not made her lose any of her charm and melodic vocals – it probably just saved the audience from any bruises.

Cokelike




Messages

: 3538


Thanks

: 17


Date d'inscription

: 2012-02-14



---
Permissions in this forum:
You
cannot
reply to topics in this forum