Tout est dans le titre: ici on discute de
Dear Sir
...
1. "3 Times" 4:13
2. "Rockets" 4:43
3. "Itchyhead" 2:44
4. "Yesterday Is Here" (Tom Waits, Kathleen Brennan) 3:34
5. "The Sleepwalker" (Chris Matthews) 4:02
6. "Mr. Gallo" 3:19
7. "No Matter" (instrumental) 1:02
8. "Great Expectations" (only included on 2001 re-release) 4:13
9. "Headlights" 4:03
Last edited by Nicolaoua on Sat 3 Mar - 13:09; edited 1 time in total
From Chan's London interview, 4/XX/97:

Chan: We recorded at the Sonic Youth's practice pad. We recorded about 25 songs, all first takes. We got some beer and just fucked around. I sorted out the songs to give to Runt (the record label), then there were all these songs left over. Steve asked if we could put out the other songs too and I said it was ok.

-----------------------------------------

From Chan's interview with Steve Tignor for Puncture, Summer 1996:

Chan: I guess I'm happy with the two albums. We recorded then in one day. Most of the time though, Steve and Tim ended up looking at each other like 'What do we do?' I wasn't sure what to tell them, since I had
never really written songs with a band in mind It was hard to fit the whole thing together. Those guys just kind of...

"Fucked thing up," I prompted jokingly.

Chan: Listen to you! No, they were just kind of left hanging. Really, the only song I'd say I like right now
is 'Ice Water.' I think that's a good one. 'Rockets' was just a hymn, like, stay in school, don't do drugs. Mostly I just make up lyrics while I'm playing guitar on the couch. I take things from my life, things that happen to my friends, or whatever, lines I'll remember.

-----------------------------------------

Here's what Chan had to say about the cover text in her interview with Dave Stacey for the "Mommy And I Are One" publication, 1996:

COVER TEXT:

Dear CAT POWER sir I have heaviness with a dr. molkner sir it's a rabbit stew with you it's you it's you sir we've got rabbit stew this time - and i'm in you i'm in you sir with a heavy line a very fine line indeed mr. wolfe it's heavy -- stew its heavy like and its god i would like you to meet and marry and have many smaller ones with my cousin pete you're a lot alike believe it about mr.warner tell him to change the stuff fuck this shit i'm hit that's bobby clayton for ya that's bobby please come to dinner some nite with molkner we're having rabbit stew call pete say hello and eat him then put him into a rabbit with bobby molkner and eat - him raw with dr. molkner dr. molkner's no joke - he's heavy like me we've got heaviness with a doctor it's doctortorial molks' no joke love - ya you sissy ass candy person CAT POWER sir --

Where does that come from?

CH: My friend Jennifer used to live in the hotel and there was this old man and I guess he was crazy and nobody wanted to say hello to him and she would always say hello to him and you know, kind of took a liking to him. One day, she saw him being taken away by the proverbial white coat, as one might say. He was really sad and reached into his pocket and gave her the note before they took him away. It was three rectangular pieces of paper taped together that were very dated, and the paper was very dated, disintegrating...

Well worn! Like the Declaration of Independence.

CH: Yes tattered at the edges, and the script was from that era as well, written with one of those feather things.

What did it say?

CH: It said everything that was there. It may have been in Savannah, actually. It's sort of in memory of him.
Like, where is he now? If that was written to him, then does that mean that he was gay?

Was he called Catpower?

CH: I put that in. I don't think that was invented at that time. Actually, I guess he did wear one of those
Superman outfits. In the late twenties, he'd run around, and say he was Superman. I think he just wore tights and had a "C" and a "P" cut out on his butt. (reads from the cover of the CD) "Dear sir, I have heaven with rabbits." It's consecutive letters, you know? This all made up three letters that he cherished so much that he taped them together and obviously had hanging on his wall, and they just disintegrated through time, you know. What was the specific meaning? Perhaps he was part of some sort of writer's community years and years ago, cause there's some kind of underlying SARCASM left and right. Are you mad?
Last edited by Cokelike on Sun 20 May - 9:01; edited 3 times in total

Cokelike




Messages

: 3538


Thanks

: 17


Date d'inscription

: 2012-02-14



Dear Sir 10" (Runt Records, 1995)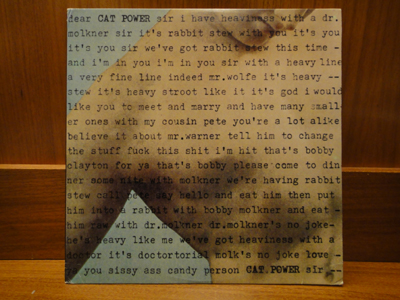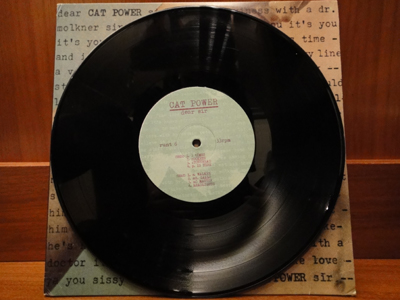 "Great Expectations" is not credited, but it is there.
Dear Sir 12" Red Vinyl (Plain Records, 2001)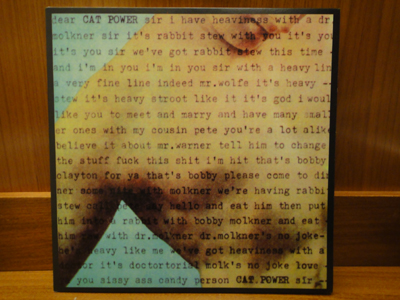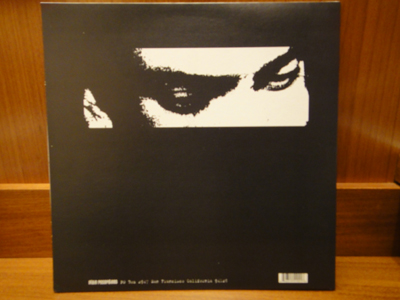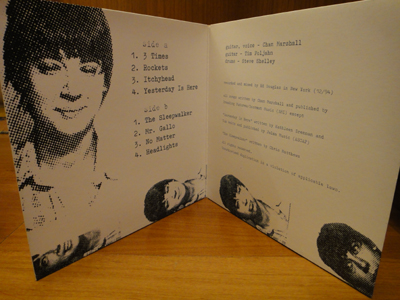 Again, "Great Expectations" is not credit.

rdo




Messages

: 7


Thanks

: 0


Date d'inscription

: 2012-02-22




Cokelike




Messages

: 3538


Thanks

: 17


Date d'inscription

: 2012-02-14



Just want to add a note here that I now have the 1995 Runt CD release of Dear Sir. It doesnt list ''Great Expectations'' on the back cover, but like all other releases it is present on the CD in its normal place as track 8. So basically, ''Great Expectations'' is on every release of the album, the original and reissued vinyl and the original and reissued CDs all have the track.

Cokelike




Messages

: 3538


Thanks

: 17


Date d'inscription

: 2012-02-14




desperateK




Messages

: 16


Thanks

: 2


Date d'inscription

: 2012-06-21



Similar topics
---
Permissions in this forum:
You
cannot
reply to topics in this forum