8/8/03 - Chicago, IL, Park West "EstroJam Festival"
Incomplete Setlist (link)
:
Good Woman
I Dont Blame You
He War
Names
Satisfaction
Try Me - These Arms Of Mine - I've Been Loving You Too Long - Fuck The Pain Away Medley
Chan and her band make an appearence of this Festival. Again Matt Hartman is on guitar instead of Coleman Lewis. Can anyone who was there confirm the reference to "He War" being played? I have seen reference to a 5 song recording of this concert in FLAC but do not believe this is accurate (it was also misdated as 8/10/03).
Photo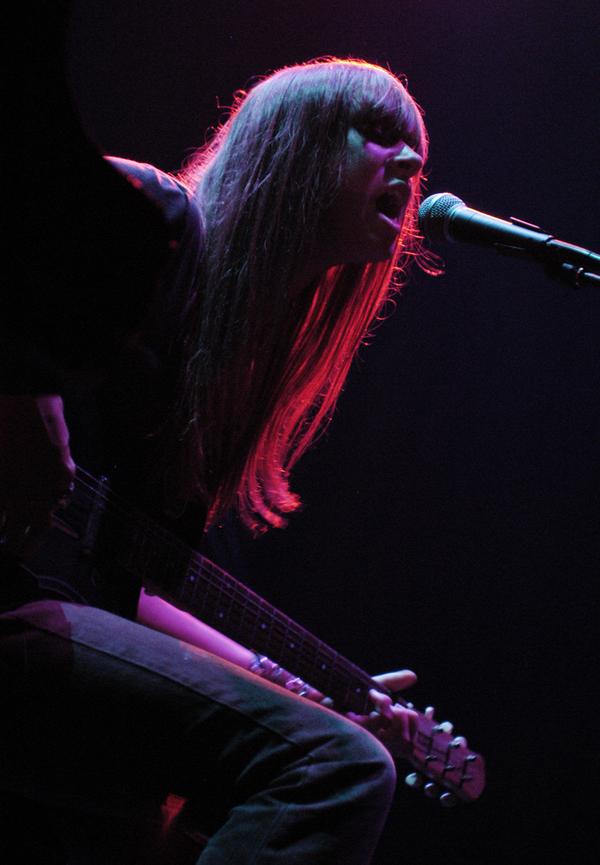 Chicago Tribune Concert Review
"Sounds real quiet," said Chan Marshall, a couple of songs into the set of her band Cat Power on Friday night, Day Two of female-centric Estrojam festival.
Indeed it was -- the spectators filling the tony Park West were as respectfully mum as if it were symphony night at Ravinia. Adding to the illusion were the dance-floor lights glimmering like candles amid the people there, who were sitting, not dancing, in the area in front of the band. All that was missing were the mosquitoes.
The general air of tranquility was, in fact, entirely conducive to the maximum enjoyment of Cat Power. Over the course of six independently released albums, Atlanta native Marshall has explored the landscape of quietude in a most disquieting manner. She writes and sings melodically lovely, lyrically anguished ballads in a husky Beth Orton-ish alto, accompanying herself mostly on piano -- with an overall effect of profound unease.
Renowned as a hair-trigger eccentric -- yet one who's not above doing the occasional fashion-magazine photo spread -- the wonderfully complex and contradictory Marshall was a standard-bearing headliner for the second night of Estrojam, which ran Thursday through Sunday at a variety of venues, including Metro and Subterranean.
The festival featured women-led bands and female solo performers encompassing pop-punk (Concrete Blonde, the Dials), hip-hop (Bahamadia, Lyrisis), percussion/performance art (Big Smith), folk (Anne Harris), and more.
After Friday's world premiere of the engrossing women-in-music-and-film documentary "Coup d'Etat," by Estrojam organizer Tammy Cresswell, solo singer-songwriter Via Tania offered a meandering, unfocused, not terribly interesting set. But she was followed by renowned alt-country artist Edith Frost, a Chicagoan transplanted from Texas, whose performance (with a two-piece band) was simultaneously earthy and atmospheric.
Then came Cat Power, and merely seeing the stage-fright-afflicted Marshall walking up to a microphone was enough to stoke audience anticipation. Marshall has a reputation for unpredictable live performances -- her band once exited the stage in frustration, and she collapsed in fetal position on the floor, where she remained as fans filed by and patted her back. She has walked out in the middle of concerts, sung with her back to the audience and so on.
But Marshall was on best behavior Friday; the worst that could be said was that she didn't stick to her pre-arranged set list.
She let fiddler/keyboardist Margaret White take center stage, flanked on the right by guitarist Matthew Hartman and drummer Will Fratesi, and she spent much of the show seated with her guitar at the piano on the left.
Lanky frame clad in jeans and a T-shirt, long silky hair obscuring her Audrey Hepburn-esque face, Marshall crooned her songs of quiet desperation, occasionally kicking her knees up and down to Fratesi's unobtrusive beat.
Midway through, the band exited (it appeared to be planned that way) so Marshall could do some solo piano stuff, including the most attenuated yet powerful cover of "Satisfaction" you'll ever hear.
After the band came back, she did climb off the stage and sing most of the final song among the folks sitting on the dance floor -- maybe she had to let her freak flag fly, just a little bit.
-----------------------------------------
Photo
Los Angeles Time Review Excerpt
Emotionally raw and gorgeously rendered, singer-songwriter Cat Power gave one of the event's best performances Friday at the Park West theater. Barefoot and sitting out of the spotlight, stage left, she was far more assured and accomplished at Estrojam than she had been when she played solo at the original Ladyfest.
In Olympia, she meandered through her set, not really finishing her songs so much as letting them trail off. But on this night, a full backup band added just the right amount of texture to her otherwise simple, spartan songs.
Notoriously shy, Cat Power has been known to wander offstage midperformance, but at Estrojam, she apparently felt so at ease that she waded into the audience to sing with attendees. Cat Power's behavior was indicative of a comfort level many of the musicians and audience members felt over the weekend.
-----------------------------------------
Matador Forum Member Review
She played at the Estrojam here in Chicago over the weekend with her band. Overall, it was a good show. Most all the songs, besides the covers, were from "You Are Free". They ended the show with a R&B-ish groove and Chan walking with the mic into the crowd, sitting with everyone on the floor and singing lines from a handful of different songs (Try Me, These Arms of Mine, I've Been Loving You Too Long).

Cokelike




Messages

: 3538


Thanks

: 17


Date d'inscription

: 2012-02-14



---
Permissions in this forum:
You
cannot
reply to topics in this forum