6/27/03 - Porto, Portugal, "Festival do Porto"
Incomplete setlist:
Names
Dead Leaves And The Dirty Ground (video)
White Rabbit (video)
Naked If I Want To (video)
Total Time of Video - 15:44
This was the 81st and last performance of the tour. After this Chan made some appearances in the States in July and August before heading to Australia for shows in September.
The clip that I have of this show was found on a video-sharing website that has since removed it. It looks like it was recorded on a video camera using the "night-vision" setting. I imagine the venue was not brightly lit. Audio quality is not very good at all, though most of what is said can be heard and understood. I do not know if any more video exists of this. I'd love to see more if there is. Chan is clearly feelin' no pain here, and her humorous side shines through. I also want to mention I find it amusing that the 2 reviewers below say that at the end of the show she was, alone on stage, her sound turned off, and was "swingin' her guitar around." So the tour ended much the same way the "You Are Free" album began.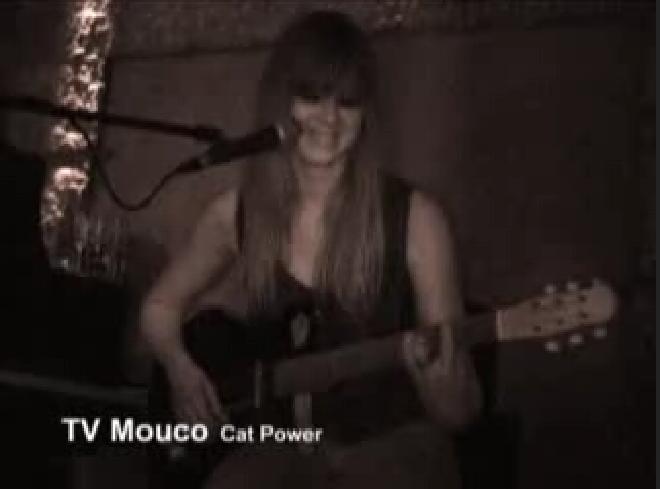 Dead Leaves And The Dirty Ground
- "I'm trying, I'm trying my best. I'm so tired", Chan says. She begins a very unweildy take on the song, only managing to get through a couple verse before stopping. "Hold on a second, I'm gonna try to have like an existiantial orgasm," She says. She then takes a White Stripes poster off of the drum set nearby and folds it afew times and puts on the stage at her feet. After a minute she goes back into the song and more or less "finishes" it. At this point she remarks, "Everytime I look at Jack Whites face, all I see him saying is 'we've got a job to do, we've got a job to do, we've got a job to do, we've got a job to do..." She says repeats this phrase about 18 times......
She then lights a cigarette and mentions something about interviewers asking her whether she likes Julian Casablancas or Jack White. She fake yawns and then answers "I looooooove Jack White." After moment more there is a cut in the tape.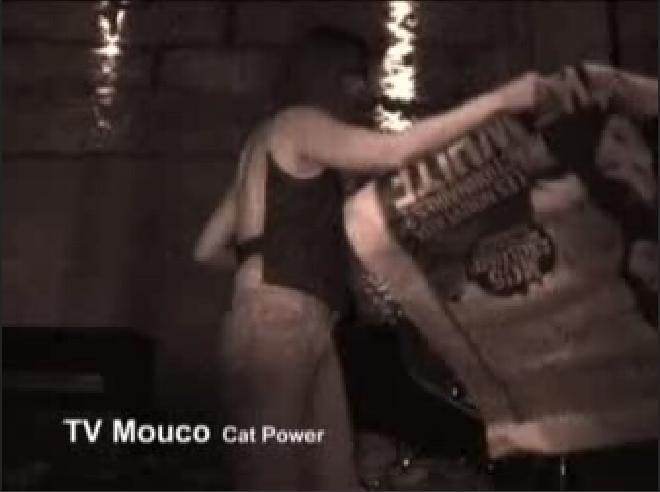 White Rabbit
- "We're going to call this song 'Us'," says Chan as she drops her cigarette on the stage and stomps it out with her boot. "And if you dont want to listen to me, just fucking leave. Cause I'm not talking to you, I'm talking to 'Us'." She asked what song the crowd wants to hear. "Werewolf" and "Naked If I Want To" are shouted back from the crowd. Instead, she makes some kind of reference to herself and John Lennon, JFK, and Malcolm X, and then introduces "White Rabbit", as a song by "a guy named Alexander Spence". This is not exactly true. Though Skip Spence was the drummer in the Jefferson Airplane, who popularized the song, it was Grace Slick wrote "White Rabbit" and took it with her from her previous band The Great Society when she joined the Airplane later on. There is another cut in the video and Chan is now performing the song (@9:30 in the clip). This is not a very good performance but I have to wonder if shes ever played this live at any other time. She stops quite a bit to talk and interject comments. "Am I reaching anybody here?", she says. "Does anyone have the lyrics?" Another tape cut and...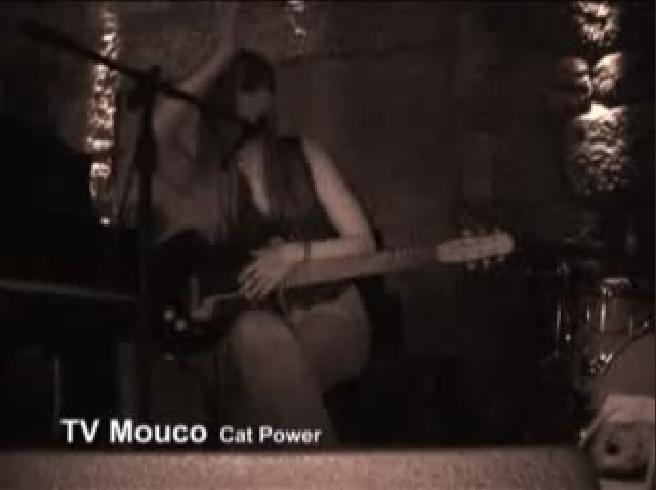 Naked If I Want To
- She is now beginning this song, though stops to tell us that "The Drummer from Jefferson Airplane started a band called Moby Grape". She also mentions that he died on the street, homeless. All of this is correct. She then continues her Moby Grape cover (@12:30 in the clip). Though, its pretty ragged, this is the best performance on the whole video.
And heres the video:
Review
I saw her in oporto and she barely didn't play any songs at all. It was all about her mumbling uncomprehensible stuff for over two and a half hours. I think the only song she actually played was "Names". The only complete one that is. The rest of the time she was mumbling. She needs help. Most of the crowd left before the end of the show. The crew cut the sound and turned on some music when they realized she wasn't going to play, and there she was, no volume on her microphone, swinging her guitar above her head. No one was listening to what she was saying anymore. I felt like crying most of the time, but I didn't. I was angry at her for doing this. I was sad and mad at her.
And I met her the day after. Barefoot in a real posh thing the Festival she was playing in prepared for the artists. She was giving kisses and hugs away. Apologizing for the show but still believing she didn't have to because she was tired. She kissed me several times on both cheeks. She told stories about her trip South Africa. She even climbed a wall in the middle of the conversation. And then she wanted us to go with her to the river but we had things to do. She was disappointed that we didn't go with her. She said we were her friends and she wanted to be with us. It was so utterly sad and she is so absolutely sweet and in need of a rest. Someone should just take her home, tuck her in and make her sleep her loneliness away.
-----------------------------------------
Another Review
Translated:
The expectations for the concert of Chan Marshall, at the Festival of Porto, were high. Not because it overlooked a great concert-not expected, since I had the opportunity to hear several bootlegs, where execution of live songs was well short of what I heard loved on disc. Even so, it was the first opportunity to see it in our country and it would be delicious to see one of my "heroines". Talk about what I saw in Matoshihos is complicated. Simply because even I wonder if I was even there and if it was not just a nightmare. Its entry into stage was the sight that would follow: a crazy Chan implied with the stage light, because it did not want the same look on his face and eyes excessively maquilhados. Later, when it was hoped that began the concert, continued with the "antics", either with the photographers, who granted some poses absolutely unspeakable or with a pathetic episode with the poster that covered your piano. So if "lost" 20/25 minutes, with an audience amazed and that filled the Blah blah. It seemed, finally, that the concert would start. At the piano, began by releasing two songs, but her interruptions were permanant and, in a way, served to cover a technical implementation at the piano very pitiful. Save yourself the voice, because this, after all, is unique and beautiful. Even so, still managed to hear "Names", my favorite topic of her new album. Was this, in face, the only song with beginning, middle, and end, because the rest... anything. Some principles, few resources and no end. Conversation-much, much excessive and tedious. Meaningless. Crushed leaves phrases, which alternated sex, religion, movies and nothing... Without connections, and any interactivity with the part of the public who faced what via so, longtime masturbatory Chan was delighted with Portugal and even linked the t-shirt from Catherine that via the concert on the front line. With the other public, which was more bored and that was getting, minute by minute, disappointed and sad, AWE, episodes with insults coming from "spoiled girl" that definitely pos aside the concert and left for a more decadent spectacle of schizophrenia with a lot of "show of" sad and unfortunate perfectly. Between these episodes: the range. At the time, in which Chan leaves the stage, it seemed that the "concert" would have done. And it wasgood that had even been there. But it does not. I could not stand the second part of the show to the end. I resigned myself and abandoned the beautiful position where I was. No longer could stand more and I confess that I made a huge effort to endure what could. Exceeded the limits of my own resistance. I see the end, in the distance. I saw the moment you turned off the sound stage, between smiles and an air of huge relief by the end of one of the most poignant performances I attended today. Chan, even so, she remained on stage, dancing with the guitar in the air and making obscene gestures to the sound mixer. Havent seen more. As I said the Mad, at the end of the show, those almost 3:0 will stay forever in our memories. In my will, I'm not going from the disks of Cat Power - because I think overly cute. But I dont know when I will get them and if I do. At the moment, I cant. I am sorry to those who paid the ticket (almost 15 euros) after travelling from Lisbon (or elsewhere) and felt cheated. But also I am sorry those who objected on the basis that that would the spectable of the "band" Cat Power. Please. Now, in no situation may find justications for the deplorable spectacle that Chan Marshall provided and with its huge lack of education and common sense. Deplorable.
Photo

Cokelike




Messages

: 3538


Thanks

: 17


Date d'inscription

: 2012-02-14



---
Permissions in this forum:
You
cannot
reply to topics in this forum