9/15/18 - Chicago, IL, Douglas Park, "Riot Fest"
Setlist:
He Turns Down - 4:50Wanderer - 3:21Cross Bones Style - Nude As The News - 3:47Pa-Pa Power - 3:21White Mustang - 3:34Metal Heart - 4:27He Was A Friend Of Mine - Shivers - 6:38Manhattan - 4:43Great Waves - 3:48Bully - 4:13Good Woman - 3:37The Moon - 6:27Total Time - 52:50
This is the 16th performance of the year. An excellent stereo audience recording was made, plus complete audience video.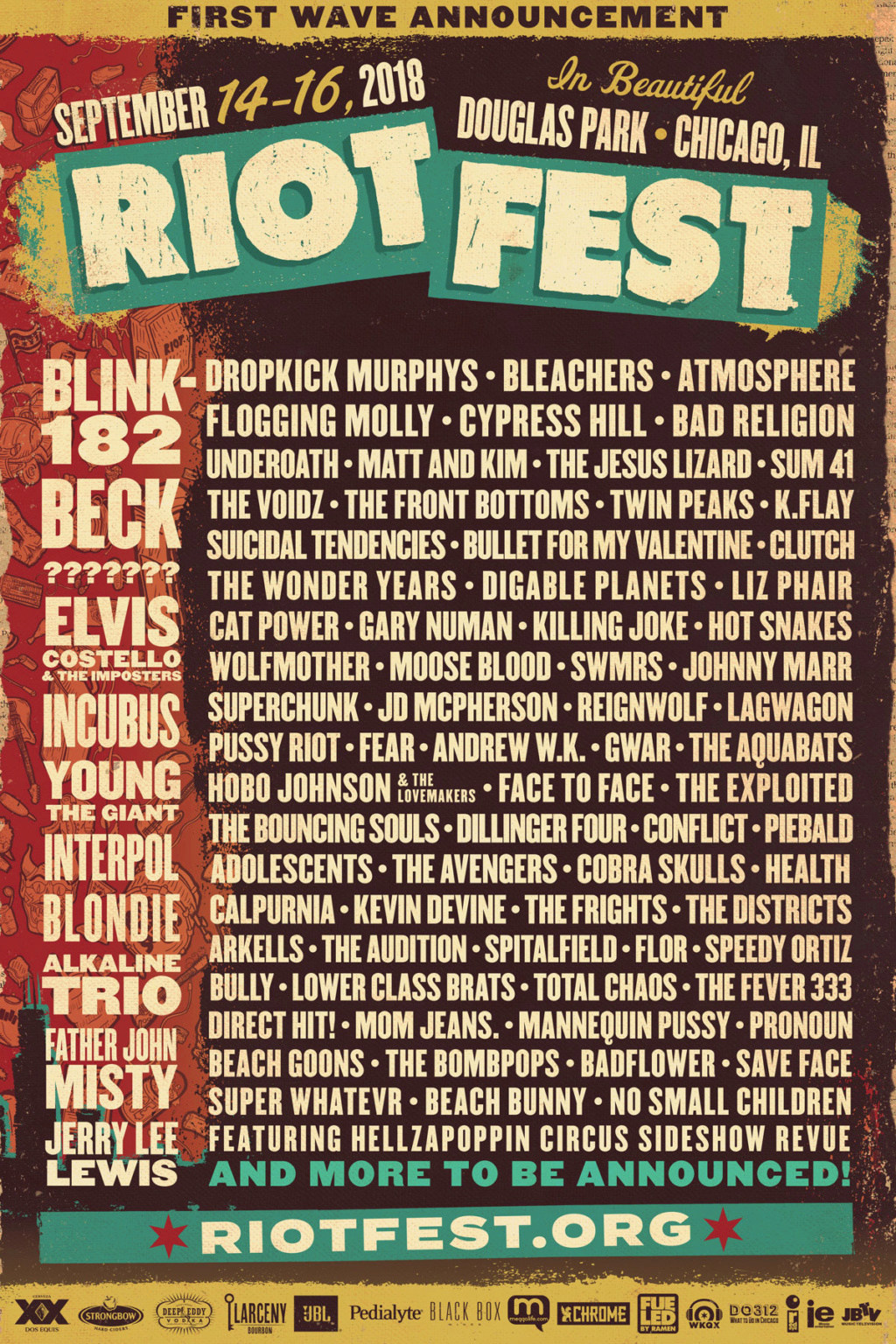 Last edited by Cokelike on Mon 17 Sep - 18:46; edited 1 time in total

_________________
"Ready to get depressed?" - Chan, 11/16/13

Cokelike




Messages

: 3375


Thanks

: 17


Date d'inscription

: 2012-02-14



Review

 Chan and the band, Erik, Adeline and Alianna, take the stage at 4:30pm. Chan is dressed, as usual, all in black. She has a lyric stand with her which she will consult for a number of songs during the show. The first song was "He Turns Down". It was immediately apparent that Chan was not happy with the vocal sound. Though, throughout the show she gave a very solid performance soldiering on as best she could. As the next song starts, "Wanderer" (the only song we will hear from the new album), the stage sound becomes rather echo-y, as if the sound guy is still struggling to fix everything and has applied the wrong effect. "I like dub, don't get me wrong...", Chan says, humorously comparing the echo-y sound to the Jamaican music genre. She makes her way through the song but her vocals obviously have the wrong effect on them. At the end of the song, she can take no more. "Hey Lou, I love dub... The Lovejoys, I love... um, but necessarily... I haven't acclaimed myself, um, in dub music... This is definitely a sign. I'm so happy to invite it. But I think that the, uh, the echo, whatever is goin' on? It's just confusing the uh, the artists. So I'm not sure where the B is but, just want to do our job for you. Sorry." A great version, with a better vocal sound, of "Cross Bones Style / Nude As The News" follows. From here til the end, the vocal sound problems seem to have been solved, more or less (though Chan does allude to them much later in the set, comically singing, "I'll just have to deal with it..."). In fact, after this point I thought the sound was really good, all instruments and vocals coming though well and balanced. The drums were really packing a punch, with that feel-the bass drum-in-your-chest thing goin' on. Which was maybe a bit too much. You usually don't get that at a CP concert, but it was a festival and so, of course, the sound guys have to mix sound like they are in Wembley Stadium or something. Hahah, oh, well. "Pa-Pa Power" is next, sounding very good in the band arrangement. Chan brought this one into her set list in 2013, when she was playing solo. But I never thought it worked very well with just her guitar. The Lana Del Rey cover, "White Mustang" comes next. Chan does a credible job with this. However, the arrangement is so close (nearly identical) to "Ramblin' Woman", that I wish she would've just sang "Ramblin' Woman" instead. Up next is "Metal Heart". I've said this on here before, but I gotta say, I just can't get with the new arrangement of this song. I don't mind Chan re-arranging her songs at all. I love that she reinvents her songs, and I imagine you'd get tired of doing the same thing over and over, and you want to change things up. I get all of that. For instance, I thought the long, wild version of "The Greatest" that she played back in 2011-2013 was awesome! And the DDBB really revved up some of her other tunes, "Could We", "Satisfaction", et al. But no matter how much I hear this new version of "Metal Heart", I just wish for the older more familiar version. Up next we have the new-ish medley of "He Was A Friend Of Mine" into "Shivers". Erik and Adeline add some nice back-up vocals on this, and Adeline really shines with some sweet guitar soloing at the end. "Manhattan" followed quickly with Chan joking around at the beginning, singing a bit of the Rolling Stones' "Shattered". Chan introduces "Great Waves" by noting that it was a Dirty Three track for which she had the pleasure of writing the lyrics. Very cool to hear this song in concert. I wouldn't have expected this one to ever become a regular addition. A heavy version of "Bully" was next, which had some great drumming from Alianna. Chan throws in some "Just Like Heaven" lyrics at the end, like usual. After a short pause the band continues with "Good Woman", this one is always a highlight of Cat Power concerts. Alianna and Adeline then leave the stage. With Erik on guitar, Chan sings a very gentle version of "The Moon" to end the concert. Despite the vocal problems, Chan seemed to be in a good mood, smiling and waving at people and enjoying what was a golden later summers day in the park. A great little concert. In particular, I enjoyed the revitalized set list. Very cool to see stuff like "He Turns Down" and "Great Waves" being played. I only wish she could have played longer than the hour long limit that all the bands had.

_________________
"Ready to get depressed?" - Chan, 11/16/13

Cokelike




Messages

: 3375


Thanks

: 17


Date d'inscription

: 2012-02-14




_________________
"Ready to get depressed?" - Chan, 11/16/13

Cokelike




Messages

: 3375


Thanks

: 17


Date d'inscription

: 2012-02-14



It's surprising that they didn't play Woman !
_________________
Bitchin', complainin' !

_________________
"Ready to get depressed?" - Chan, 11/16/13

Cokelike




Messages

: 3375


Thanks

: 17


Date d'inscription

: 2012-02-14




_________________
"Ready to get depressed?" - Chan, 11/16/13

Cokelike




Messages

: 3375


Thanks

: 17


Date d'inscription

: 2012-02-14




---
Permissions in this forum:
You
cannot
reply to topics in this forum