6/22/13 - Duisburg, Germany, Landschaftspark, "Traumzeit Festival" 
 Setlist: 
The Greatest Cherokee Silent Machine Manhattan Human Being King Rides By  Bully  Angelitos Negros Always On My Own 3, 6, 9 Nothin But Time I Dont Blame You Metal Heart Shivers  Peace And Love Ruin
 This is the 33rd performance of the year and the 51st performance of the ''Sun'' tour. This is a festival running from 6/21/13 - 6/23/13. Also on the bill is Chelsea Light Moving (featuring Chan's friend Thurston Moore from Sonic Youth). 
 This is the start of the long awaited European tour supporting ''Sun''. The tour was originally scheduled to run from 11/26/12 - 12/14/12 and included 13 shows. This was canceled due to financial and health reasons. The tour is now set to run from 6/22/13 - 7/20/13 (16 shows), with 4 additional shows in Europe in August.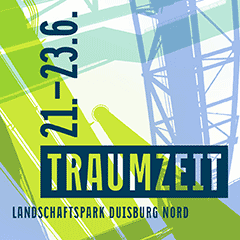 (zoeboalana)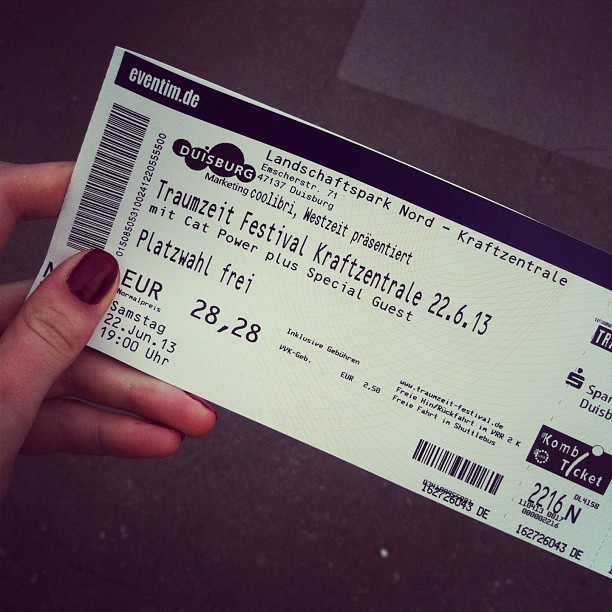 Last edited by Cokelike on Sun 23 Jun - 3:17; edited 1 time in total

_________________
"Ready to get depressed?" - Chan, 11/16/13

_________________
"Ready to get depressed?" - Chan, 11/16/13

_________________
"Ready to get depressed?" - Chan, 11/16/13

_________________
"Ready to get depressed?" - Chan, 11/16/13

_________________
"Ready to get depressed?" - Chan, 11/16/13
Review
http://nachrichten.rp-online.de/wissen/ueberwaeltigender-auftritt-von-cat-power-beim-traumzeit-festival-1.3488638
(Translated from German)
This is a beautiful picture: music and people between blast furnaces, power station, casting and Gebläsehalle the Landscape Park North, which is illuminated at night by Jonathan Parks light installation. There is something missing in Duisburg, as the 2012 Dreamtime Festival failed. Now it celebrated resurrection - including the rare event of a performance of the reclusive U.S. singer Cat Power.
Behind the scenes it has properly gescheppert until the Dreamtime Festival was held again. The city broke up the dispute by former artistic director Tim Isfort and let it organize the festival office on their own. Longtime visitors came upon review of the new program, however, the nagging: The border crossing between jazz, classical, new music, pop and rock had been replaced by a walk through shallow (indie) pop realm, dreamtime now a festival as it landup and can be found down the country hundreds of times. Indeed, much of the engagement are as artists booked Editor, Thees Uhlmann or Young Rebel Set not just an expression of an ambitious program. However, they provided a nearly sold-out festival.
Reaped huge cheers as pianist Kai Schumacher, who followed rock and heavy metal compositions to the high culture and processed into fine jazz piano beads. For neat conversation was also the fusion trio project, the young Japanese Hiromi that swept like a whirlwind over the keys of the piano.
The most amazing, aufwühlendste appearance, however, came from Cat Power. The singer-songwriter is known for her emotional instability. In the fall they still had canceled performances due to personal and financial problems and was therefore eagerly anticipated by their fans. Fog moved over the diffusely lit stage, a fan spun by two incense. Maybe Charlyn Marshall wanted to sell spirits to give the room its own demons.
The first body is not visible, she breathed with a delicate, fragile voice the opening lines of "The Greatest", this fantastic song, which is about how the flow of life and love can break every strong will.
Like almost all of their songs can Cat Power "The Greatest" present as piano ballad, but her fantastic band let him grow this evening, with metallic guitars and rumbling drums. It growled the madness. Nevertheless, the singer and her audience were at the end of a half-hour sets almost inseparable.

_________________
"Ready to get depressed?" - Chan, 11/16/13

_________________
"Ready to get depressed?" - Chan, 11/16/13

---
Permissions in this forum:
You
cannot
reply to topics in this forum