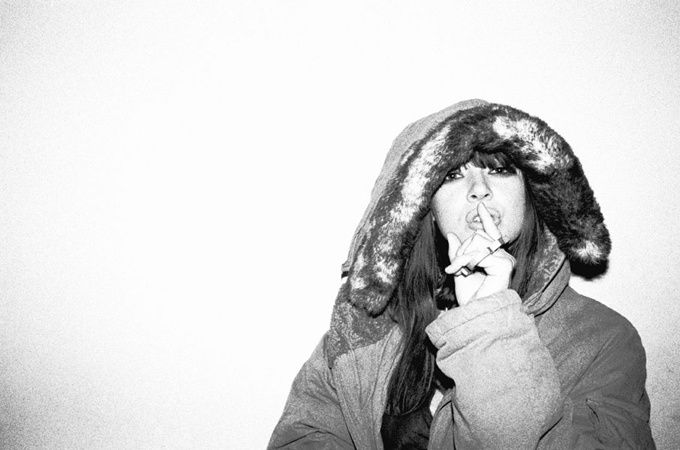 Peut-être avez-vous déjà vécu cette situation: parler de Cat Power à quelqu'un et s'entendre répondre "Cat qui?" C'est que le statut de Cat Power semble paradoxal: si pour nombre d'entre nous, l'artiste nous parait essentielle, voire viscérale, elle demeure inconnue du grand public. Il suffit pour s'en persuader de regarder le nombre de sites internet qui lui sont consacrés...
Contrairement à certaines de ses contemporaines comme Norah Jones, Cat Power ne vend pas des millions d'albums, n'accumule pas les disques d'or, ne remplit pas les stades. Pourtant son nom revient partout. Pas un article sur une jeune chanteuse à l'univers rock/folk sans que soit avancée la référence à Cat Power. Le mot est lâché: "référence". En dépit d'une discographie somme toute assez chiche au regard de presque 20 ans de carrière, Chan Marshall apparait comme un mètre étalon (un silver stallion?) du Rock féminin contemporain, à l'image d'une PJ Harvey.
Longtemps a circulé une légende à propos de l'album "The Velvet Underground & Nico": elle disait que si l'album avait connu un flop commercial à l'époque, toutes les personnes qui l'avaient écouté avaient ensuite crée un groupe de Rock. On n'en est pas encore là pour Cat Power mais il parait très significatif de retrouver par exemple aujourd'hui une artiste se produire sous le nom de "Myra Lee", qui est à la fois le titre du second album de Cat Power et celui de la mère de Chan Marshall...
Cat Power serait donc aujourd'hui une artiste culte d'avantage qu'une artiste "mainstream", bien que le succès de The Greatest et son apparition sur la BO du film "JUNO" aient considérablement élargis son audience. L'album qui doit sortir dans les prochaines semaines pourrait nous apporter une réponse: peut-on être "culte", rester intègre artistiquement et avoir un succès populaire. Au vu de ce que Chan Marshall nous a proposé sur scène depuis un peu plus d'1 an, la deuxième proposition ne devrait pas trop nous inquiéter...
----------------------------
Have you ever talked to somebody about Cat power and heard the answer "Cat Who?" ? The fact is that Cat Power's status seems paradoxical: if many of us consider the artist as important and maybe even vital, she's still unknown for most people. If you need a proof, just look how few web sites dedicated to Cat Power are out there...
Unlike many of her fellow female singers like Norah Jones, Cat Power doesn't sell millions of albums, she doesn't have gold records (does she?) and she doesn't perform in stadiums. Yet her name seems to be everywhere. There is no newspaper article about a new indie folk/rock female singer without a reference to Cat Power. That's the word: reference. In spite of her small discography, Cat power became a standard for feminine contemporary rock, like PJ Harvey.
For a long time, there used to be a legend about "The Velvet Underground & Nico" album: it said that in spite of it's commercial failure at the time it was released, everybody who bought the record during the 60's created a Rock band afterwards. CaT Power's influence is probably not that big yet, but it seems relevant that you can find an artist who chose "Myra Lee" as her stage name...
In spite of the success of "The Greatest" and "Juno"'s acclaimed soundtrack, Cat Power is still more a "cult artist" than mainstream. Maybe will her soon to be released album bring us the answer: can Chan be commercially successful and remain an Indie icon?

Great topic. I supposed you could say its a bit paradoxical that she is so good but isnt more widely known. But then that happens to alot of musicians. As you noted, Velvet Underground is a great example. Not very widely known, albums didnt sell much in their day, but now, that first album is almost universally hailed as a classic and shows up on music lists all the time. Same thing applies to Nick Drake. If she isnt more widely known, it's not for lack of touring, especially in the 2000s. I'd say it has more to do with the music industry climate that has changed in the last 15 or so years. She isnt heard on the radio. She's put out a few music videos which probably didnt get hardly any play, but then who watches MTV anymore? Music industry changed due to 2 huge factors. Number one, at least here in the states, radio is now so incrediblely formatted to repeat the same crap over and over, that hardly anything new or worthwhile gets played. Number two, and the biggest thing, is the explosion of the Internet Music Phenomenon. Back in the 60s, you had this type of "Filter", the 3 TV stations would have performances from bands, and you had the emerging FM radio format. Outside of just going to see a band, you had those 2 things to hear new music and decide if you wanted to get the album. With the internet, there's really no more "Filter". Which I guess is good and bad. Good because anyone can get their music heard. But bad because there's like a billion bands on the internet and the really good stuff sometimes gets missed. I'd have never got into Cat Power, but a good friend of mine introduced me to her after seeing what music I liked. She was right, Cat Power fits right into my musicial tastes. I've always loved female singer songwriters. I like music thats adventurous, challenging, thought-provoking, eclectic. Her stuff is all of these things.

I dont know if she has a Gold album. Maybe "The Greatest" went gold? "Jukebox"? I know there are ebay sellers who try to sell fake gold records of hers. Doesnt really matter to me how many albums she sells. Just as long as she keeps making music I'll be happy, just picked up a 2nd copy of The Covers Record on vinyl to give to a friend.

Cokelike




Messages

: 3375


Thanks

: 17


Date d'inscription

: 2012-02-14



I think something that tells you a lot about Cat Power's status is that pretty much any young female songwriter that plays the piano or acoustic guitar gets compared to Cat Power. To me its just a terrible misrepresentation and lazy journalism, just like how any female muscian with an attitude used to get compared to PJ Harvey because it was an obvious point of reference for journalists. I think Chan's status is similar - she's a critically acclaimed cult figure thats been around long enough to become a point of reference for jounalists.
The reason I think its misrepresentation is because I don't see what Chan has to do with the coffee table folk brigade. Any young chick who has a guitar and some woes gets compared to Chan but as far as Im concerned Chan's music was always more optimistic and hopeful than that depressing shit.
I can't remember which journalist it was that wrote it but my favourite description of Chan's music is "too punk to be folk, too folk to be punk." I think thats pretty accurate. You are correct that most people have never heard of Chan. Its almost the cliche of the cult band if you know what I mean. You know its an established narrative now in popular music - [INSERT BAND OR ARTIST NAME HERE] made some amazing game changing records that hardly anybody bought but they had a very loyal fanbase that loved the records so they were able to tour each year and make just enough money to keep going. It's the Big Star/Velvets/the Fall/Tom Waits mold.
Basically, Chan is like Captain Beefheart... but hot and with better records.

Moon Pix 1985




Messages

: 2


Thanks

: 0


Date d'inscription

: 2012-08-29



Speaking of influences...

Covers of Cat Power songs are numerous but not by professional artists.


_________________
Bitchin', complainin' !
Nicolaoua wrote:Pas un article sur une jeune chanteuse à l'univers rock/folk sans que soit avancée la référence à Cat Power.
Et hop, encore une facilité de plus de la part des Inrocks:
http://www.lesinrocks.com/musique/critique-album/le-single-de-la-semaine-show-me-your-love-de-swann/
Le pire c'est que ça n'a rien à voir avec l'univers de Cat Power. Si je devais faire un rapprochement, ce serait avec Keren Ann et Carla Bruni, et en moins bien. Ce qu'il ne faut pas lire parfois...

_________________
Bitchin', complainin' !
Moon Pix 1985 wrote:I can't remember which journalist it was that wrote it but my favourite description of Chan's music is "too punk to be folk, too folk to be punk." I think thats pretty accurate.
http://e.mosh.cn/22348
''In Japan, she was even hailed as the only hope of folk music.''

_________________
"Ready to get depressed?" - Chan, 11/16/13

Cokelike




Messages

: 3375


Thanks

: 17


Date d'inscription

: 2012-02-14




---
Permissions in this forum:
You
cannot
reply to topics in this forum