Back in 2012, we created the performances section to add details about each concert. As I have always especially enjoyed the 2003-2005 solo concerts, I began there. Also, Chan wasnt touring at the time so I had to start somewhere. In the course of re-listening to all the shows from that timeframe, I realized that Chan would often play a certain guitar riff at some point during her solo shows. I came across a review of a show from someone from the matador forum who quoted Chan as saying something like, ''These are my blues licks, I play them when I'm happy''. Ever since then, I have referred to this guitar riff in the setlists as ''
Blues Licks
''. I never knew if this was something Chan wrote herself, or if this was just some riff Chan learned early on for practice or something. But after listening to the Barcelona concert, I think we now have an answer. 
Here is an example of what I am talking about. Note that she says ''Judah Bauer taught me that.'' (I didnt notice her saying this until I just made this post):
At the Barcelona concert, she actually talks about the riff and sings come lyrics. 
"Goin' down south... I cant sing it and play it but I would play that.. for 20 years... in my room alone, in a fucking subway, wherever, somewhere but anyway it reminds of that Goin' down south, goin' down south, goin' down south where the cool winds blow...''
So what song has these lyrics?
''I'm goin' down south, I'm goin' down south, I'm goin' down south, I'm goin' down south, the chilly wind dont blow''
Pretty close, huh?? The riff and the lyrics. After hearing this, I read a little about R.L. Burnside and guess what? He re-recorded this song with the Jon Spencer Blues Explosion. 
Further more... we can now identify the jam from the 2/9/12 Istanbul concert as the same song. 
There used to be a clip available on Gregg's website of the band playing at the Chanel 2007 show, and the band played this song there too, though I have never found a copy of the video. 
Anyway... I now think that this is what Chan is playing, ''Goin' Down South'' by R.L. Burnside. 
Guitar look familiar?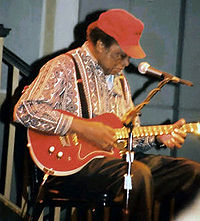 What do you all think?

_________________
"Ready to get depressed?" - Chan, 11/16/13

Cokelike




Messages

: 3375


Thanks

: 17


Date d'inscription

: 2012-02-14



Well, it sounds a lot like it Sherlock!
_________________
Bitchin', complainin' !

---
Permissions in this forum:
You
cannot
reply to topics in this forum