11/13/13 - Washington DC, Sixth & I Historic Synagogue
Setlist:
House of the Rising SunHateLove And CommunicationGreat ExpectationsFoolSatisfaction Good WomanColors And The KidsIn This HoleThe GreatestNamesUnknownUnknown DemoWhyCan I Get a Witness?UnknownSayUnknownThe MoonBaby DollWerewolfSea of LoveWhat Would the Community Think?Troubled WatersFrom Fur City Framboise Je' taime
This is the 68th performance of the year and the 9th solo performance of the year. Nico Turner is the opening act.
(tigerheartbeats)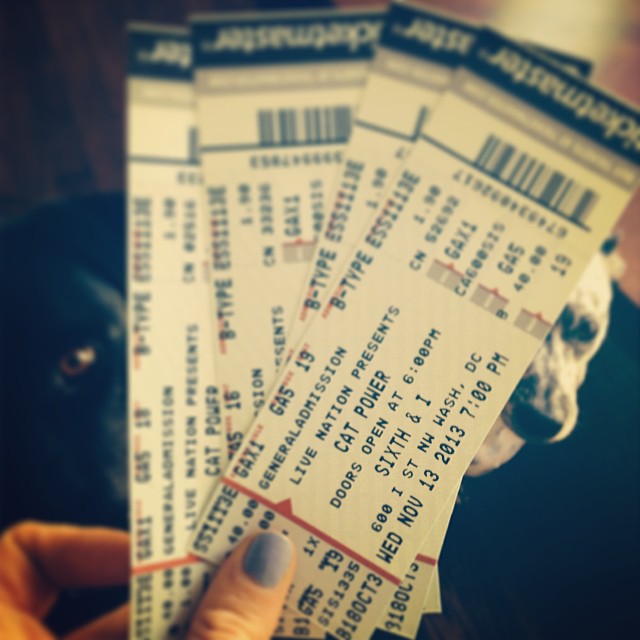 Last edited by Cokelike on Sat 15 Mar - 1:04; edited 2 times in total

_________________
"Ready to get depressed?" - Chan, 11/16/13



Messages

: 137


Thanks

: 3


Date d'inscription

: 2013-05-30


Age

: 25


Localisation

: FRANCE




_________________
"Ready to get depressed?" - Chan, 11/16/13

_________________
"Ready to get depressed?" - Chan, 11/16/13
http://consequenceofsound.net/2013/11/live-review-cat-power-at-dcs-sixth-i-synagogue-1113/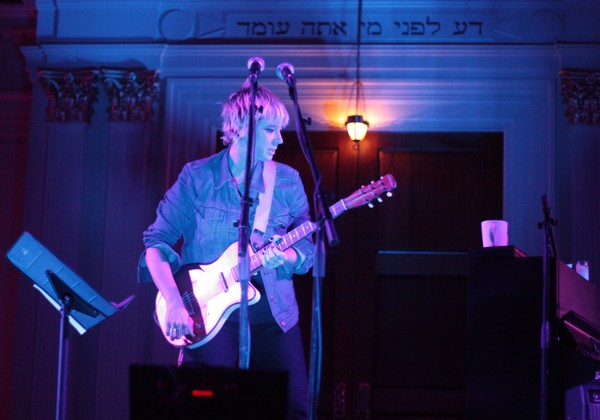 Chan Marshall puts on no acts. For a performing artist, it's an interesting fact to focus on.
For better or worse, Marshall has never splayed out anything but her true self–in whatever form it chooses to take. And it seems at least partially out of her control. Often for Cat Power, the truth is the hardest thing to swallow. Recognizing the fragility and erraticism is difficult for everybody involved. All the apologies, all the fuck-ups, all the fidgeting, the manic internal (turned external) monologues–they're all there. The tension of uncertainty is so palpable at a Cat Power show that it almost takes center stage. Marshall stands, or even crouches, a little off-center. We look on with tense palms, quietly hoping for us all to make it out alive.
At Sixth & I Wednesday night, Marshall did little to trump her reputation as manic pixie nightmare girl. Songs bled into one another with abrupt and indecisive transitions. Her head uncontrollably swiveled and tweaked with every strum or piano phrase. Often a physically pained look occupied her face. It was a Cat Power show, for sure. Perfectly imperfect, in it's refusal to be anything but. And for the most part, her renditions were gorgeous and compelling. The songs were there, undeniable in their sparseness.
But Marshall was sincere in her overt appreciation of the crowd of support, apologetic in her unsure renditions, and sweetly loving about it all. "You're mad at me…" was the anti-mantra she continually whispered to herself when she fumbled a chord or forgot a lyric. She even ripped a hangnail out, wincing in pain, before the set actually got going. It was uncomfortable, but the discomfort accounted for something special: a real, gloriously imperfect person performing genuine songs from the heart. Cat Power has an immaculate catalogue of beautiful songs; songs of personal impatience, impossible longing, and tortured narratives. They, along with her oft-dominant persona, shone bright through all the expected Marshall-fanfare.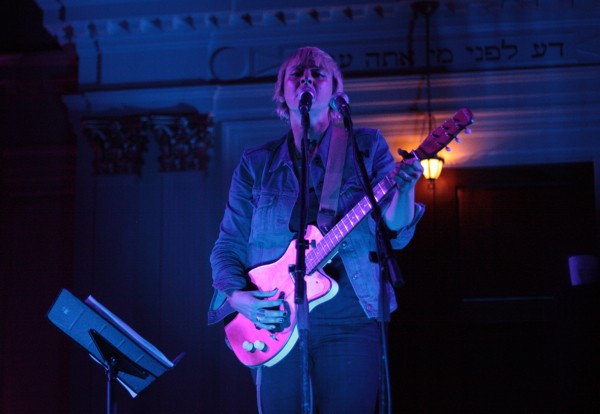 Marshall played an extensive set behind an electric guitar and an upright piano, interchangeably. There were deep cuts, Rolling Stone covers, and even seemingly impromptu French pop songs. You Are Free's "Good Woman" was a biting, beautifully simple ode to "if you love them, set them free." Marshall looked visibly affected by the song's themes–but then again, this could have been physical distress. The chilling "Names" told half-remembered tales of childhood abuse, while everyone gazed on rapt. During the more difficult moments of the set, cheers were loud and supportive, her loyal fans yelling on with equal praise and encouragement.
In live performances, Marshall exhibits what seems like an endurance test of authenticity. How long can she continue to play before something goes awry? When will she get too frustrated and cut the show short? Will she play my favorite verse? In some ways, this peripheral apprehension makes the performance stronger. We are so worried it will all fall apart, that when she hits her strides, she hits them hard. These songs are real. Even when they're technically played wrong, the music comes out "right" because it is a true expression. It's not the most fun you will have at a venue this year, but it may be the most suspenseful.
Setlist:
House of the Rising Sun
Hate
Love and Communication
Great Expectations
Fool
Can't Get No Satisfaction (Rolling Stones Cover)
Good Woman
Colors and Kids
In This Hole
The Greatest
Names
Unknown
Unknown Demo
Make Me Feel So Bad
Can I Get a Witness?
Unknown
Say
Unknown
The Moon
Unknown
Werewolf
Sea of Love
What Would the Community Think?
The Devil's Daughter
From Fur City Limits
New Song in French?

_________________
"Ready to get depressed?" - Chan, 11/16/13

_________________
"Ready to get depressed?" - Chan, 11/16/13
Review:
http://brightestyoungthings.com/articles/live-dc-cat-power-sixth-i.htm
Chan Marshall is notorious for her erratic solo sets but at Sixth & I on a frigid November night she performed with such warmth and intimacy to make you quickly forget all that. Sixth & I is a special place and its intimate, cavernous, and inviting atmosphere lent well for Chan as she performed 26 songs with grace and minimal interruptions.
I have seen her twice, once solo during her "The Greatest" tour and the other with her back up band, the Dirty Delta Blues, during her "Jukebox" tour. She generally stays on point while performing with a full band but is known to be more unpredictable when it comes to her solo shows. While there were certainly traces of her anxiety here tonight as she started up certain songs, her apologies and tinkering are more endearing now, not distracting. Supported by the encouraging hollers and applause of support from the crowd throughout, she's performing with a chip on her shoulder and is more self-assured than years past.
Her setlist dug deep into her catalogue, rotating between guitar and piano acts. Opening with her stunning take of "House of the Rising Sun," she included a handful of unknown tracks and demos. Old favorites like "The Greatest" and "What Would the Community Think" were obvious crowd pleasers. The highlights of the evening were her performances of "Good Woman" and "Say." The heartbreaking "Names" recalled troubled childhood friends and acquaintances and hearing "Colors and Kids" again was a true delight. The biggest disappointment of the evening was her repeated abandoning of songs midpoint, with multiple verses left many times. Chan's guitar playing on these songs was subtle yet intricate. But what will always astound me and audiences alike is that voice. The spacious resonance of this synagogue accentuated it all the more and Chan knew how to utilize it best by singing afar from her microphone at times. Hearing her voice again in the live setting reminded me just how much heartbreak and intimacy her voice can convey.
My friend commented how troubling it is to witness her obvious nervousness and insecurities on stage. It is easy to feel that way, especially in the context of her recent financial and health problems. However, I choose to see that on-stage vulnerability and imperfectness not as a weakness but in an odd way, a sign of grace and humanity. Seeing these songs performed by a solitary Chan on-stage with one instrument and that voice was enough to melt my heart and fall in love with these songs all over again.

_________________
"Ready to get depressed?" - Chan, 11/16/13


Similar topics
---
Permissions in this forum:
You
cannot
reply to topics in this forum