Last edited by Cokelike on Tue 3 Dec - 1:57; edited 4 times in total

_________________
"Ready to get depressed?" - Chan, 11/16/13
I know I just shared this song with some of the forum, from the Nashville show. (Whole show will be uploaded for everyone soon.)

Here it is again, but really incomplete.

Let Me Go:


_________________
"Ready to get depressed?" - Chan, 11/16/13
One of the best news of the year so far!
_________________
Bitchin', complainin' !
Admin




Messages

: 2614


Thanks

: 18


Date d'inscription

: 2011-10-03






Messages

: 137


Thanks

: 3


Date d'inscription

: 2013-05-30


Age

: 25


Localisation

: FRANCE




_________________
"Ready to get depressed?" - Chan, 11/16/13

_________________
"Ready to get depressed?" - Chan, 11/16/13
Last edited by Cokelike on Sat 22 Mar - 21:57; edited 1 time in total

_________________
"Ready to get depressed?" - Chan, 11/16/13

_________________
"Ready to get depressed?" - Chan, 11/16/13
Review and Picture
http://www.stompandstammer.com/index.php?option=com_content&task=view&id=5627&Itemid=66
Last night, I spent a few hours that I can never get back witnessing the spectacle that was supposed to be a Cat Power show.
Besides being forgettable, the opening act was also forgivable, because I figured Chan Marshall was giving this woman a chance to shine, and why not? Mentoring is good, right? I retreated to the lobby. 
After a long set break that could easily have been accomplished in ten minutes, Chan appeared, strumming a twisted version of "House of the Rising Sun" on a strapless, slippery acoustic guitar that she could not physically keep aloft.  The song itself was dropped when she couldn't quite grasp it either.  The next song followed this pattern, and an electric guitar with a strap was substituted midway, to somewhat better effect.  Here, I thought she was slowly getting it together – shaking off some jitters and finding her groove back in her old hometown. I was wrong about that. 
Songs, none complete, came in halves or very small fragments. When she sang, I was reminded that Chan Marshall has a voice as singular and instantly recognizable as Billie Holiday or Patsy Cline – a sound no one else can make and one that will be listened to as long as humans walk the Earth. It is astonishingly beautiful. She also played riveting, between-"song" blues riffs that I prayed would evolve into actual tunes. No gods answered these prayers. 
Chan asked, "Are you mad at me?" early in the show. I wasn't, yet. Well-meaning audience members shouted, "No!," "Never!" and "We love you!" as encouragement.  So, Marshall plowed onward, driven by demons, drink and/or drugs, but certainly by demons. She moved to the piano, where she tried and failed to remember some songs and muttered non-sequiturs off and on-mic. Again she found her voice in brief passages of seeming lucidity, only to be distracted and completely derailed by a sound or a movement in the crowd. The tension was exhausting. 
After an hour or so, I still held onto a slowly suffocating hope that she would snap out of it and deliver at least one complete song performance. By the time she had moved back to the guitar station and then back to piano again, I was over it. By now, she had asked if we were mad at her at least a dozen times, and now I kind of was. She was being deliberately annoying by asking that question at ever-decreasing intervals, practically begging us to show some anger. No one did, at least not before I gave up and left, partly out of protest but also bored of her manipulative stage act. 
Now, go to YouTube and see how many fantastic performances this woman has given that are posted there. How many multiples of this are undocumented? You know she can do it – she's been successful at performing for many years  I don't know what kind of wagon she fell off of, but her relapse is total. We are talking full-blown kook of the highest degree. 
Who is letting her do this? Where is her management, the promoter, her family and friends? I have seen many hundreds of concerts, including notorious druggies and boozers and none has even come close to this level of disaster. I remember people complaining about Evan Dando being "wasted" at a Lemonheads show once, and I thought he was pretty good.  He may have been a little edgy at times but he delivered complete songs and they were pretty damn entertaining.  I'm sure the Grateful Dead were blasted on hard drugs more than once when I saw them. No biggie. They functioned at very high levels. Pun intended. You're welcome. 
This Cat Power business is an altogether different matter. Someone should take this woman to a hospital before she takes the easy way out. She is too old to not understand that there is a cure for her problem, although it will require the first real commitment she has ever made in her life.  Her fans should hold her accountable.  She owes that Atlanta crowd. My wife, Katie, and I paid over 80 dollars to see this show and we got about ten percent of Chan Marshall's abilities in return.  Katie says it's closer to seven percent. It's a ripoff, and she is as guilty as any Wall Street organization that is "too big to fail". 
Where is the Save Chan Marshall From Herself campaign? Sign me up. Some very tough love is in order here. Without it, we are not going to have her around for very much longer. And that is not funny, or pitiable, or romantic. It's just gross.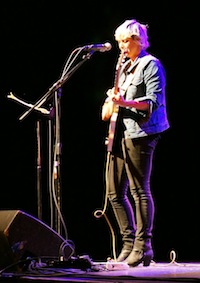 _________________
"Ready to get depressed?" - Chan, 11/16/13

---
Permissions in this forum:
You
cannot
reply to topics in this forum