11/1/06 - London, England, Roundhouse
Setlist (incomplete):
Soul SerenadeThe GreatestLiving ProofLived In BarsCould WeThe MoonWhere Is My LoveI Dont Blame You *Paths Of Victory *Werewolf *John, John *House Of The Rising Sun *Cross Bones Style - Nude As The News - Satisfaction MedleyTracks Of My Tears
* solo
Setlist (Video):
The Greatest - 3:28The Greatest 2 - 3:07Lived In Bars - 3:52Could We (myspace) - 1:02Where Is My Love - 2:31Where Is My Love 2 (myspace) - 1:48I Dont Blame You (myspace) - 0:45Paths Of Victory (removed from youtube) - 2:59Talking - 0:59Werewolf - John, John - 8:19 John, John - 3:24Cross Bones Style - Nude As The News - Satisfaction Medley - 7:10Cross Bones Style - Nude As The News - Satisfaction Medley 2 - 2:57Tracks Of My Tears - 2:59Total Time - ~43:00
This is the 63rd performance of the year. ''Paths Of Victory'' and ''Werewolf'' make rare appearances here.
At this point Chan and the band are in Europe for the 3rd Leg of shows here. The previous trips were only a total of 3 concerts and 1 TV performance. This time around is also short, just 6 concerts and 1 TV performance in 1 week. 
This is the debut concert of Chan's newly acquired ''Chestnut Custom Guitar'', which she will use in place of her long-time main guitar, her Danelectro U1, which was broken by a stagehand on 10/28/06. 
---------------------------------------------
Chan at the Roundhouse
http://a4.ec-images.myspacecdn.com/images01/128/2965b03537cc850037bb2f93ff3765d6/l.jpg
---------------------------------------------
Review
http://www.musicomh.com/reviews/live/cat-power-roundhouse-london
 If you're stumped for that Christmas gift for that second or third cousin you never see, but are somehow obliged to proffer Yuletide felicitations to, you could do worse than Cat Power's The Greatest album. Or that is what mucho respected label Matador would prefer you believe.
Which, logic dictates, is the reason that Cat Power and the Memphis Rhythm Band are back in the dirty old town of London so soon after their Barbican show earlier this year, as said record has been re-released / repackaged just in time for all the Jesus-inspired stuff.
Of course it would be churlish to say that Chan Marshall isn't welcome. Having not long confessed on US TV to her battle with the ever-demonic drink, this is a rejuvenated Cat Power who gives every impression of enjoying her music for the very first time.
The principal tune in this regard is tonight's performance of The Moon. On record, the most basic of circular melodies serves to underline the song's simple motif of the transience of man to stark effect. Now Chan moves like it's prom night all over again to a backbeat that brings The Moon down from its fearful orbit of Heraclitus-style angst as though it was born to party like it was 2099.
When the band takes a break, Ms. Marshall sniffs out the chords on the piano that swiftly take the form of I Don't Blame You. Said to be written in memory of T-shirt salesman Kurt Cobain, Chan mentions the unlikely Nick Rhodes as an admirer of the tune. Then a woman known only as 'Courtney', found at the same showbiz party, gets a name check…
Though the lead-in track from 2002′s You Are Free appears almost indistinguishable from the pristine studio version, the tongue-in-cheek celeb name dropping hints that Cat Power is beginning to inhabit a different country than the Indie homeland that's been only too happy to keep her close to its hearth side.
And given the knowing applause, all conspire to make I Don't Blame You something of a shoe-in for that eventual 'Best Of…'. Curious position for a song that speaks of the distrust of audience consensus…
Another Chan change are the moments of rank uncertainty. Or rather lack thereof. House Of The Rising Son, for the first time in this contributor's experience, is ran through without hesitancy.
Satisfaction reinstates all its gloriously frustrated chorus, and the band's strings run down the deathless riff with guitar-envy venom. Another conundrum wrapped up in a contradiction, for it seems that Cat Power really is getting satisfaction after all.
Whatever bedevilled Chan Marshall in the past looks to have been banished as surely as Lucifer to the world below. The only question remains is what happens next? Well so far, the news is that even in rapture, Cat still has the power to bewitch.
--------------------------------
Review
http://www.chimpomatic.com/reviews/345/cat-power-the-roundhouse-london/
I arrived with mixed feelings about tonight; I had been a moderate fan of Cat Power before being rather taken by her latest album, The Greatest. I had heard the rumors that live, she blows very hot and cold; sometimes enlightened, sometimes frustratingly shambolic. 
Then to confuse matters further, the 11-piece band take the stage and launch into a Charlie Parker-style jam. Although compelling, it is completely unexpected and proves to be something of a curve ball from what follows. Much chin stroking ensues. 
Cat Power aka Chan Marshall then sheepishly ambles on stage - clutching a mug of tea, looking not unlike a cleaning lady who has taken a wrong turn. Then things begin to make sense, both the music and the preconceptions that I had had, as the band launch into Living Proof. Immediately striking, her voice proves to have other-worldly qualities and absolutely stunning and yes, Marshall herself is restless and quirky but endearingly so. However the strong and tight ensemble of musicians prove to be a muscular, well drilled, accomplished and much needed foil for her. 
Later, the band leave the stage and she sings alone, accompanying herself on piano, then guitar. There is a plaintive I Don't Blame You and she turns The Animal's-owned House of the Rising Sun into a mournful strum. In this intimate setting she truly excels herself. The band then return for a rousing finale, including a reinterpretation of Satisfaction as a soulful blues stomp, to great effect. Thrilling stuff. So, she is great after all.
-----------------------------------
Review
http://www.rockfeedback.com/magazine/detail/cat-power-london-roundhouse-1-11-06
This roundhouse place is pretty swish isn't it? I wonder if it'll ever stage a gig as good as this one again? I've seen a few sides of the story. Yeah, I've seen Chan Marshall giggle into her own songs until they become shambolic, I've seen her too embarrassed to even finish them, I've seen it all crumble in to extended sessions of tuning up or going off on anecdotes for hours on end. But I've also seen it work. I've also seen Chan - Cat Power - completely lost in a song, enjoying the sound of her incredible voice and delicate compositions as much as anyone in the audience. I've not seen it like this.
She's confident. She has to be, to present something like this to fans who have come to expect the first of the situations I described. They'll even stick up for sets like that mess I saw as momentous, something I just don't 'get'. This is slick. This is polished. This is the Memphis Rhythm Band. This is a band who, as Cat Power's backing musicians, take all the pressure of performance away from the woman herself. They're consummate professionals. So all CP has to do is use the one thing that was never in doubt - her voice. She uses it brilliantly.
OK, so for the first part, she pretty much just plays 'The Greatest'. But that's what the band are for, and this is where she is now. It's an accurate snapshot, and besides, these are excellent musicians, and with that voice on top of it all it falls thankfully nearer 'Heart Attack and Vine' era Tom Waits than it does Jools Holland's Rhythm and Blues Orchestra. It could have gone either way. There was slap bass.
But these were Cat Power songs, and so they were still fragile even when a dozen people were playing them. It's a fragility that belongs to the woman herself though much more than it does the actual songs. Any frailty in the music is just something that's rubbed off from time spent near the creator. The band piss off stage for a bit, and Chan's left on her own. She's going for it - she's playing the most disturbing, sparse version of 'The House of the Rising Sun' you'll ever hear. She continues through more barely there compositions, getting lost in one of them, complaining she can't hear well enough. We clap. The Cat Power we knew is still in there, somewhere. Funny, though - we can hear her fine. The room's packed, and she's not even really using the microphone - standing a good five metres away from it and bellowing as loud as she physically can. It sounds INCREDIBLE.
Better, even, than the sparkling reworking of 'Nude At The News' going in to an invigoratingly sinister cover of The Rolling Stones' 'Satisfaction' that followed it. Better, even, than I've heard one woman with a guitar ever sound.
-----------------------------------
http://www.flickr.com/photos/barneybritton/sets/72157594370684460/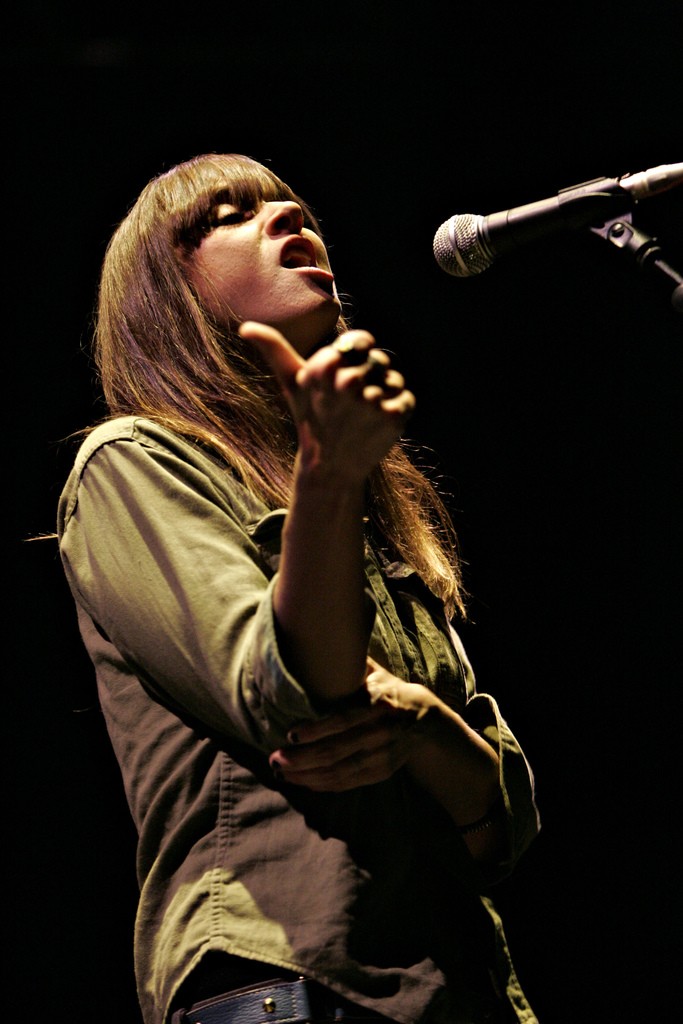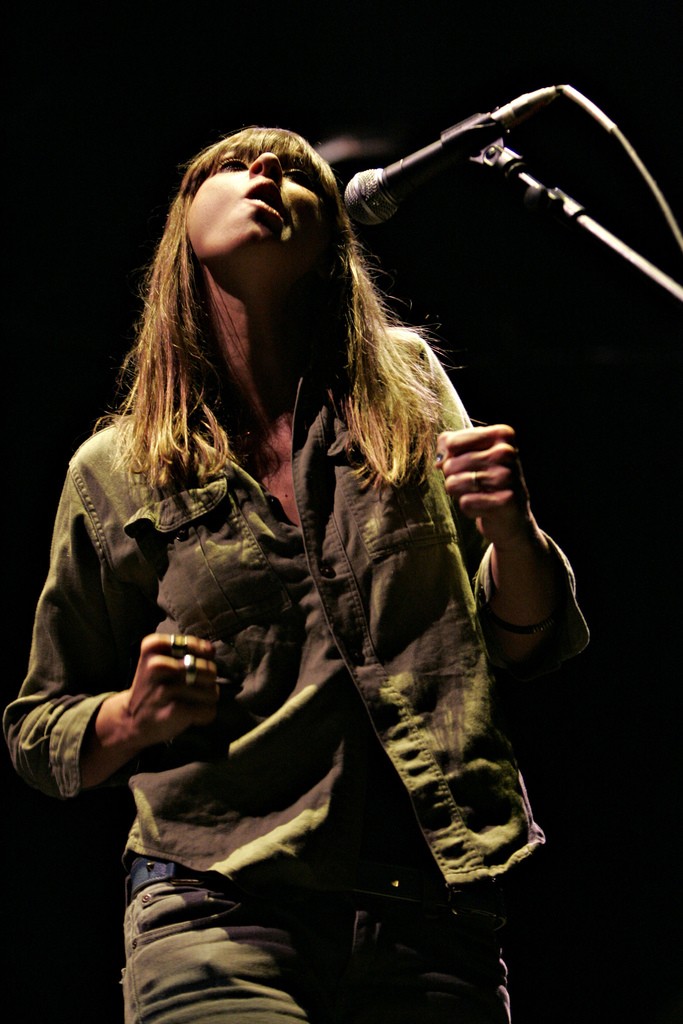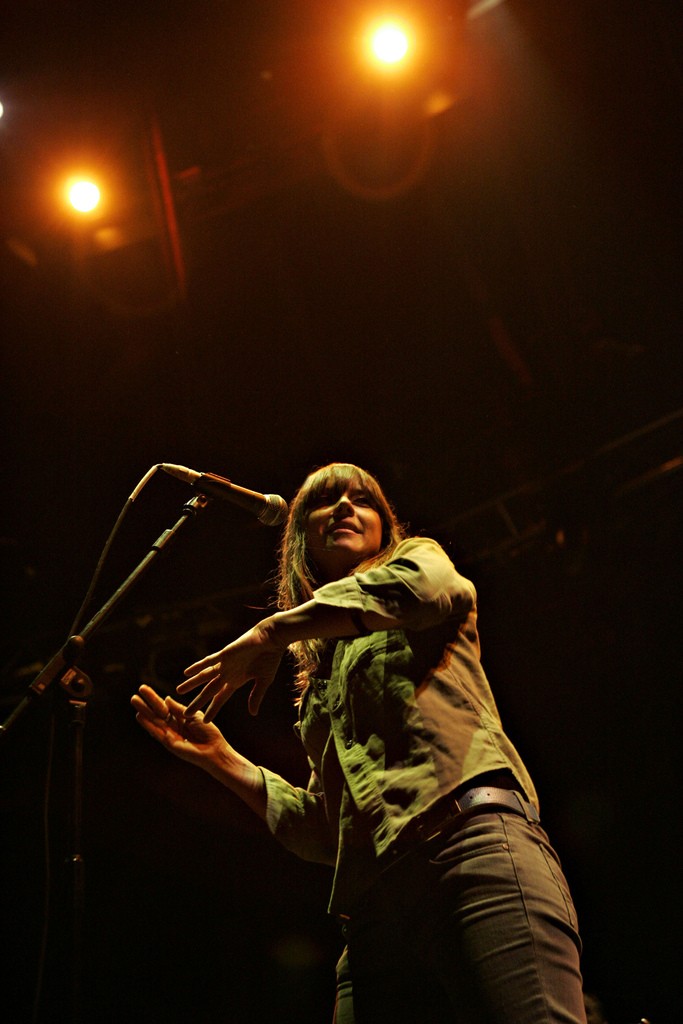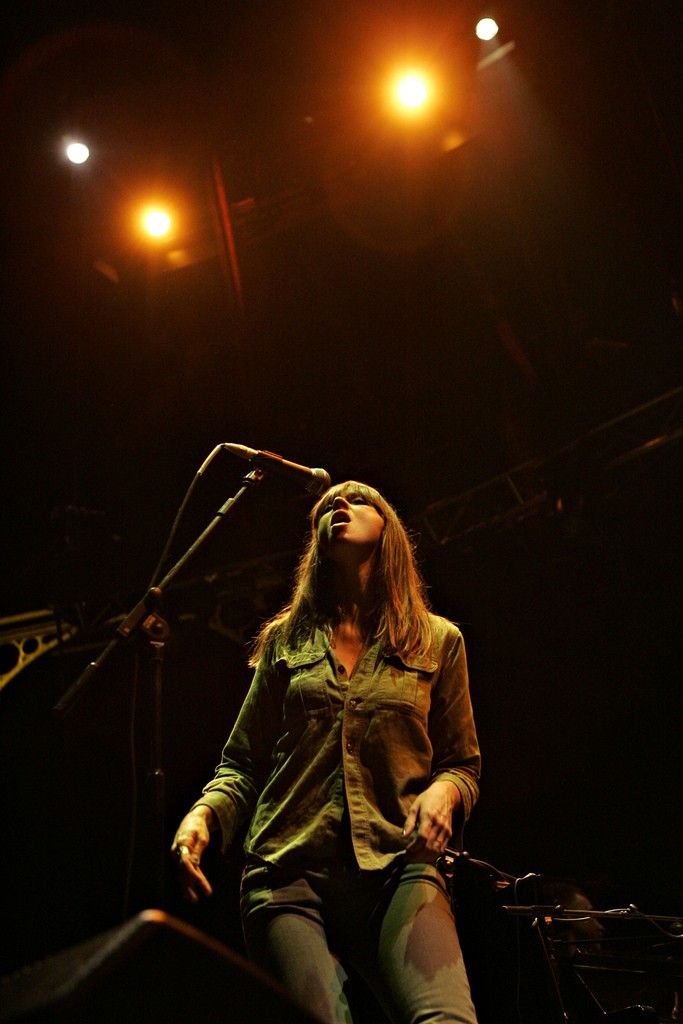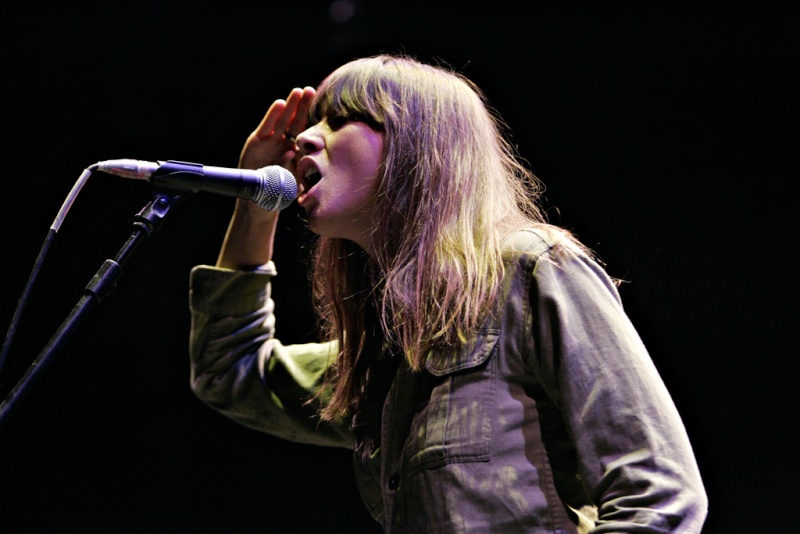 -----------------------------------------
Short Review
http://www.paxmodept.com/telesto/blogitem.htm?id=95
I went to see Cat Power at Camden's rejuvenated Roundhouse venue last night. This is the third time I have seen her and I was really surprised. Previously she had played solo sets and had been her notoriously shy self. This time, freed from her guitar and backed by a big band, she was a completely different performer. Dancing around the stage and generally entertaining the crowd with her charmingly kooky behaviour. Excellent night.
-----------------------------------------
http://www.flickr.com/photos/fjordaan/292526315/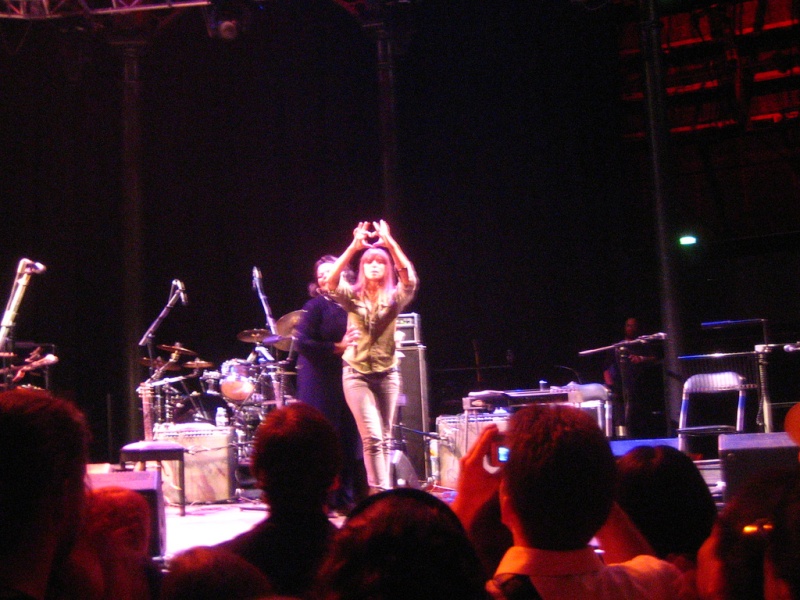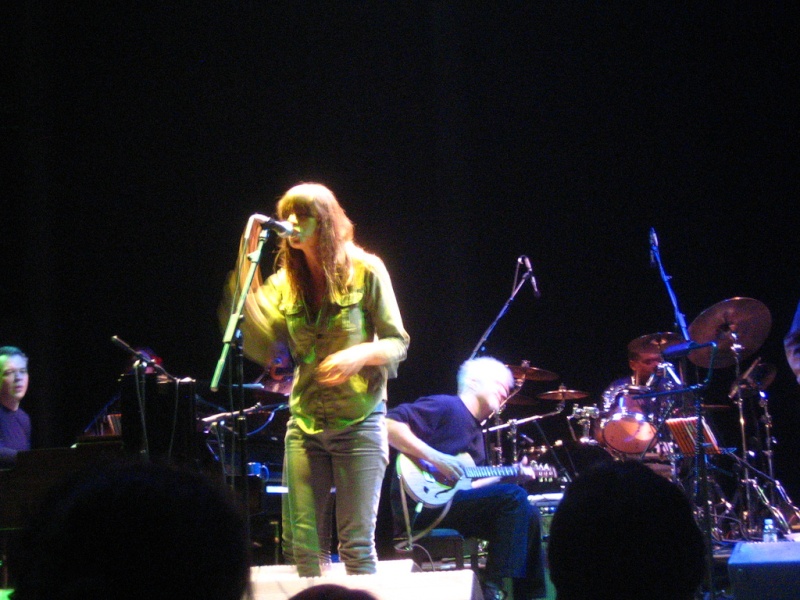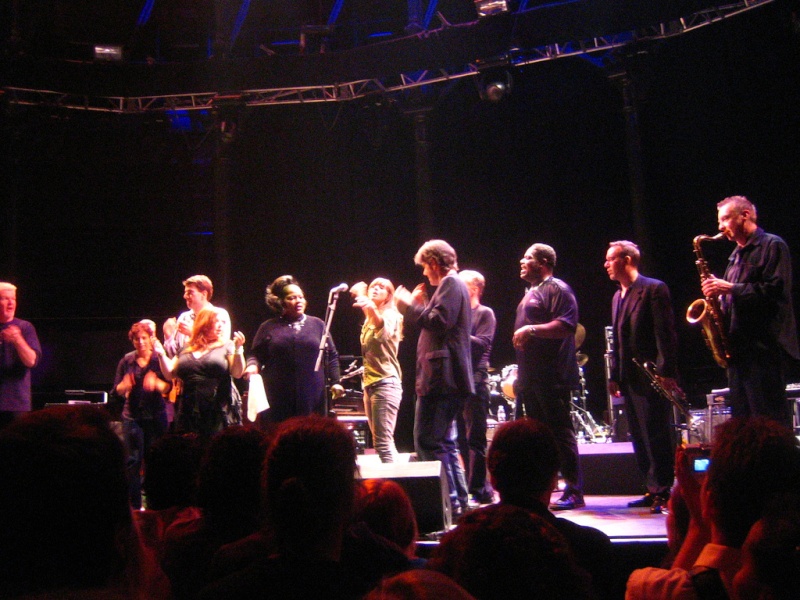 -----------------------------------------
http://www.flickr.com/photos/cnbscene/302067888/sizes/o/in/photostream/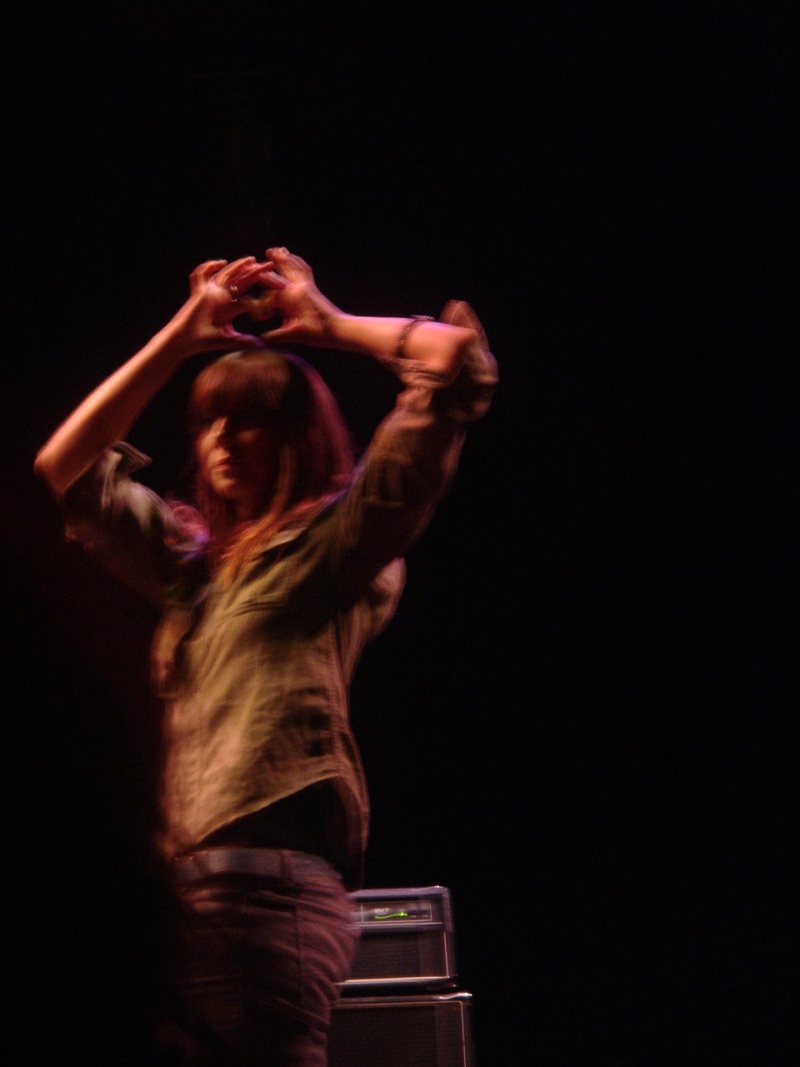 -----------------------------------------
The Greatest:The Greatest 2:Lived In Bars:Where Is My Love:Talking:Werewolf - John, John:
John, John:
Cross Bones Style - Nude As The News - Satisfaction Medley 1:Cross Bones Style - Nude As The News - Satisfaction Medley 2:Tracks Of My Tears:

_________________
"Ready to get depressed?" - Chan, 11/16/13



Messages

: 3201


Thanks

: 17


Date d'inscription

: 2012-02-14





Similar topics
---
Permissions in this forum:
You
cannot
reply to topics in this forum